Malnutrition is something that athletes need to take very seriously. Working out obsessively day-in and day-out burns a large amount of calories and the energy burned needs to be replaced in a 1:1 ratio, at a minimum. Exercise not only takes energy, but it also tears muscle fibers down. If the proper nutrition doesn't add back in the building blocks, muscle can be lost and energy levels can be driven lower. This is the exact reason why weight cuts for combat athletes can be so atrocious.
It's bad enough for the Average Joe to try to restrict calories from their current eating regimen, but when an athlete who's physically pushing his body every day tries to dial down his caloric intake, there is not only a physical toll on the body, but a mental one too.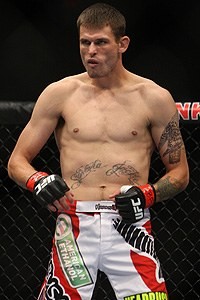 Tim "The Dirty Bird" Means first entered the UFC in the 155-pound division, even though he stands 6-foot-2. Most guys that height are, at a bare minimum, fighting at 170 pounds, but most are in the 185- to 205-pound range. He's a naturally skinny guy, though, as his moniker might suggest. Yet, thin frame or not, 155 was still a stretch for him.
---
Advertisement

---
Means was a longtime veteran of the King of the Cage promotion, where a lot of UFC fighters got their start. He fought in multiple weight classes under the KOTC banner, and even earned titles in both the junior welterweight and lightweight divisions. The lightweight title win earned him a short-notice ticket right into the UFC, where he went 2-0 in just four months. It was a great start to his Octagon career, but that was on the surface.
Many athletes are trained to stretch that caloric depletion to the limit and typically bounce right back. Wrestlers do it all the time. However, everybody has a limit, and Means found his quickly upon entering the Octagon.
"I was running on flat fumes at 155 pounds," Means told Combat Press. "I had a couple weight cuts where I was feeling good — I made the weight, I felt better than I ever had — but I was still running on fumes and had a hard time with heartburn and muscle fatigue, and I didn't recover enough."
Eventually, making weight became a challenge. In his third UFC outing two years ago, the Albuquerque-based fighter faced Jorge Masvidal and, while he made it the distance, suffered his first defeat in the promotion. Three months later, he faced Danny Castillo, didn't make weight and subsequently got cut. Two months after that, he went back up to 170 pounds to face veteran Pete Spratt on the Legacy FC stage and scored a first-round TKO. His body was much more responsive.
In his second Legacy welterweight fight in January 2014, Means was feeling really dominant physically, which showed when he scored an even quicker first-round TKO, and the Zuffa brass came knocking once again. The company likes his style and his heart, and, based on his next three fights, they've got to love his performance too.
While his initial return to the UFC didn't go as planned — he dropped a decision to rising star Neil Magny — it wasn't all bad. He was able to take away a lot from the fight.
"I didn't give up," Means said. "I chose to stay on my back and tried to outbox him and dirty box him there. It's not something that looks good in the judges' eyes — staying on your back. I learn more from my losses than from my last fight. I need to get up fast, scramble, work that takedown defense and my own takedowns. I need to create opportunities and create positions for myself where I can get guys hurt and get out of the fight."
This is a good lesson for a guy with his style. In fights that went the distance, Means is 4-3-1. In fights that go to finish, he's 19-3. Regardless of energy levels, his best fights are the ones he gets out of quickly. He's a finisher by nature. His body type may look bird-like, relative to others in his division, but his finishes are dirty as hell, another reason his nickname is so fitting.
After Magny, Means went on a 3-0 run in the Octagon. Things were starting to look up. After two decision wins in 2014, he faced Dhiego Lima in February. Lima represented easily one of his toughest opponents to date.
Lima was a middleweight finalist on season 19 of The Ultimate Fighter, and his brother Douglas is the current Bellator welterweight champion. Dhiego is a welterweight by nature, but he fought up to get the UFC contract. Means was his third UFC opponent and an underdog going into the fight. Apparently, the oddsmakers were not considering the fact that two of his previous losses in the promotion were while he was running on fumes. The oddsmakers were proven wrong, as Means took Lima to task and won by TKO in just over two minutes of the first round. Finding the right weight is a big key to his recent success.
"At 170, I don't have those problems," said Means. "The gas tank feels full, I feel calmer, I don't have to stress about weight cut, and I can focus on the fight a whole lot more. That's been just an awesome vibe in itself, just being able to take a moment when I'm down there at the UFC a couple days out, taking in the sights, eating, hydrating and enjoying my job, instead of stressing out over having to make 156 pounds. It's gotten a lot more fun."
Means is a true professional. He's a fighter's fighter. When he's in the right division, he's the type of guy who will pretty much take anything the promoter puts in front of him. That is exactly why he's fighting this Saturday night at UFC on Fox 15, less than two months after his last outing.
About four weeks ago, former CFFC welterweight champ George Sullivan, riding an eight-fight winning streak including five knockouts, was set to fight Kenny Robertson this weekend. A few days later, Robertson had to pull out with an injury, and Means got the call, so to speak.
"I didn't get asked if I wanted this fight," Means admitted. "My coach called me up and said, 'Hey, you're in shape and we're fighting again.' That's the way we do it with Tom Vaughn. I watched a fight after coach had called me, and I wanted that $17,000 just to show up and fight."
Vaughn is the head coach at Fit NHB in Albuquerque, N.M., where Means trains. Vaughn is a tough coach who knows his fighters well, and he knew Means would take the fight. Sullivan is a tough, tough dude, but "The Dirty Bird" has the skills, the size advantage, and the now the stamina to pose a very serious threat on short notice. Means knows that Sullivan is a great fighter, but he's ready to show the UFC brass that he is on his way up the ladder.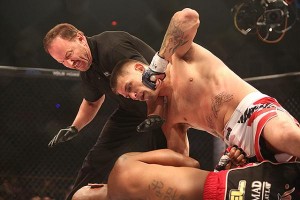 "He's got good takedowns and appears to be pretty strong. You know, he's a big bear of a guy. I'm going to have to touch his chin, make him start breathing hard and get tired, because of all the big muscles he has," Means strategized. "I need to watch those overhand rights that he throws and try to stick him with front kicks and those lead jabs.
"I'm going to bring constant pressure. I moved up from 155 pounds to 170, and I have a lot more energy. I'll not only come forward, but I have offense behind that now. And, I've been doing a lot of timing drills, a lot of drilling, and a little bit of sparring in there, but mainly just timing and scrambling drills. The cardio is there. I'm six pounds under where I normally am right now, so the weight's coming off nice, and I'm just ready to fight, man."
At 155 pounds, it was a push for Means to say he's ready to fight on less than a month's notice. He would have taken the fight, but the stress of cutting weight would have depleted his effectiveness. At 170, he's relaxed and ready to roll.
Weight cutting is a necessary evil, but it needs to be done correctly. Every fighter has a limit. Anthony "Rumble" Johnson missed 170 pounds so many times that he was cut from the UFC. Now, he's on a nine-fight winning streak and is facing Jon Jones for the light heavyweight title next month. Means may not quite be in line for a title shot yet, but a dominant win over Sullivan will definitely move him up the rankings. Saturday night, he will be ready to show the world why he belongs in the mix.
As for his body type, Means is okay being "The Dirty Bird."
"Unless something crazy happens, I'll stay at 170, filling out with muscle and trying not to be the skinny guy, but it's just my style. As long as I'm strong, skinny works for me, man."
Means would like to thank his coaches and training partners at Fit NHB, his three kids, his fiancé, his family, friends and fans. He would also like to thank his sponsors: TKOVapor.com, Classic Barbershop, DC Mouthguards, Trent Cotney P. A., Hayabusa MMA and Unleashed Sports Nutrition. Follow Tim on Twitter:
@MeansTim
---
Advertisement

---