At first glance, professional bull riding and MMA don't have a whole lot in common. But when you dig deeper and think about it, the sports actually share a lot of parallels. Both sports involve adrenaline, risk of injury, hard work, teamwork and the requirement of performing in the spotlight.
So, when you think about Shannon Sinn and her bull-riding father, it's easy to see how she came to be a professional MMA fighter.
Sinn's family lived in Iowa when she was in elementary school, and her father was a professional bull rider. It's a lot of hard work and preparation for just a little bit of money, much like MMA. And of course, like MMA, there is always the threat of injury. Sinn's father suffered an injury to his leg and needed care at Colorado University's hospital. He was in bad shape and was facing a possible amputation and a long recovery process, so they moved the family from Iowa to Colorado.
---
Advertisement

---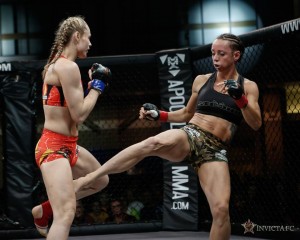 "Dad no longer rides bulls; mom nixed that," Sinn stated matter-of-factly in an interview with Combat Press, "and it goes without saying that mom really doesn't like MMA either. Dad loves it, but mom watched a grappling match on YouTube and almost had a fit. She doesn't like knowing that someone is in the cage or on the mat trying to hurt me, and she doesn't like me trying to hurt them either. After I won one of my local fights, she was in the bathroom apologizing to my opponent. She isn't allowed to come to my fights anymore [laughs]."
In high school, Sinn actually competed in less dangerous sports, including track and field. She was a well-rounded athlete who got to compete in the Junior Olympics and who is one of the top long-jumpers at Idaho State, where she attended on a full scholarship. After competing at such a high level, it was hard for Sinn to come home and not get involved.
"I hated just going to the gym and lifting weights and getting on the treadmill," she admitted. "I wasn't keeping up after school and my [then] husband went into a sambo gym. He said he thought I would love it. I went for the cardio, but the fighter in me took over and I started grappling right away. At the time, I was the only other girl in the gym when Michelle Blaylock was training for her first fight, so I became the body to help her train. After two or three fights, I realized I was going through fight camp too, but at least she got the reward of getting in there and competing. So, I decided to try it, and I loved it."
Sinn went 5-1 as an amateur and started off her pro career with a win by armbar in the first minute of the first round. However, she has gone on to drop two decisions, the most recent to Andrea Lee.
"I was so excited when I got the call for Invicta, but I didn't know who my opponent was going to be for a while," said Sinn. "My coach knew Andrea was fighting, and he thought they were waiting to see how she did before they announced the fight. I really had no idea what to think. I knew she was amazing, competing in Muay Thai and back-to-back fights. I saw a lot of hype and a lot of talk about her, and it was all for good reason.
"Coming into the fight, I knew it was a level up. It's Invicta. I know it was a fair decision. I am hard on myself and have been hard on myself since then. I haven't watched the fight, but I knew before they announced it that she won that fight. She clocked me good in the first round and I don't remember much else except fighting out of a bunch of sub attempts. I should've listened to my corner. At one point, I had her against the cage and I should've taken her down or at least gone for the takedown. Who knows? If I had actually listened to my corner, the fight might have gone differently. I told her before they announced the decision that I wanted to train together."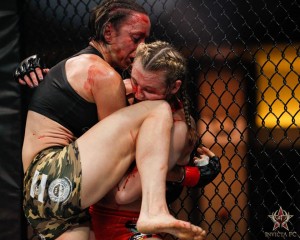 For most professional cowboys and cowgirls, competing isn't what pays the rent. It's no different for most MMA fighters. Sinn gets up at 4 a.m. in the morning to deliver foods for Aramark.
"It's a great way to get a workout all day long," she said. "I don't get to train all day, but it's what I have to do. And I think it helps me stay in shape."
Like bull riding, MMA is a pretty small community, even in a quickly growing state like Colorado. Sinn has trained with Cat Zingano and trains a little bit with Raquel Pennington. This month, Sinn will face fellow Coloradan Maureen Riordan at Invicta FC 12. Riordan made her pro MMA debut with a loss to UFC rising star Marion Reneau.
"Maureen and I trained together for a while in the beginning, but we had our differences in the gym," Sinn revealed. "She was the reason why I left. There was a lot of talk with the local promoters to get us to fight. I was up for it, but it was turned down. So, I am really glad I get the chance to fight her now. But I am keeping it calm — in my head, this is just a fight. I am training the same and not putting any emotion into this one.
"I do admit, though, that it will be fun to hit someone in the cage that I dislike. That's going to be nice. Of course the win is important, but it's more than that. It's about being willing to put it all on the line, to make an exciting fight, and to not just play it safe.
"From what I know, I will dictate the fight because of the kind of fighter I am and the kind of fighter she is. I can tell you for sure that this will be an exciting fight. I am coming off two losses — I want and need this win. And the fact that it's her makes me want it even more."
The cowboy's way is to work hard and to play hard. Sinn embodies that spirit. Now, it's time for her to build her legacy.
Shannon would like to thank her sponsors: SIC Chic, Air Loop, Hair Design by Rachel, Proper Rail Bar & Grill, Spartan Labs, MMA Roadhog, Denver Chiropractic, and Smokin' Photos. She would also like to thank her coach Albert Rosales, and everyone at Grinders MMA, Trials MMA, Z's Training, 10th Planet Jiu Jitsu, her fans, her friends and family. Follow Sinn on Twitter:
@ShannonSinnMMA
---
Advertisement

---