Bellator's bantamweight division is arguably the promotion's most exciting weight class. It has produced many great fights over the years for the company and that doesn't seem destined to change anytime soon. One of the many talented fighters boosting the roster is veteran L.C. Davis, who has fought for promotions like the WEC, Affliction and the IFL.
After dropping a split decision to Ryan Roberts to close out 2013, Davis bounced back when he signed on to Bellator in 2014 and reeled off two wins. With Scott Coker running things over at the Bellator offices, fighters can now earn a crack at the belt without having to go through those rigorous tournaments. With two wins to his name under the Bellator banner, Davis feels a win over veteran Hideo Tokoro could set him up to be next in line to take on champion Joe Warren.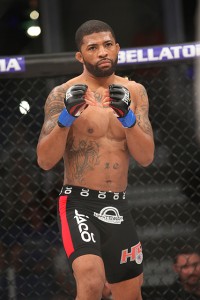 "I feel like I should be right up there," Davis told Combat Press. "I would be 3-0 in the organization and undefeated as a bantamweight, and that should put me among the top guys. With what I have done throughout my career and what I've done lately, with this win I should be knocking on the door of a title shot."
---
Advertisement

---
Although Davis has had plenty of success during his nine-year professional career, he still feels he has a lot to prove. He has had the pleasure of fighting for many of the top promotions out there, but a piece of gold would certainly vindicate all his hard work.
"I've done it all," explained Davis. "The only goal I really have left is to become the world champ. That is why I am still doing it. I feel like I am really close to that goal and I am going to keep pursuing until I get it. While I am knocking on the title shot door, I feel young, I feel strong and I still feel great. I am ready to keep going forward with my goal."
One thing that might get in the way of his dream is his opponent. Davis is coming off two very impressive wins inside Bellator, whereas Tokoro is on a two-fight losing streak and has yet to fight for Bellator. Given Tokoro's losing streak and his lack of exposure with the U.S. fans, many, including Davis, questioned the matchmakers decision to pair the two fighters.
"I was actually a little disappointed, because he hasn't even fought in the promotion," Davis admitted. "I was hoping to get a little higher of a profile fighter. But the guy has fought everybody. I looked up his record and there is no one he hasn't fought. He is a Dream champion — grand prix champ — so he is a worthy competitor. It is unfortunate he is coming off a losing streak and it is unfortunate he hasn't fought for Bellator."
Many great fighters from Japan come over to the states heavily regarded as great fighters, but once they step inside the cage stateside they look mediocre at best. Many of these Japanese fighters cite the extensive travel as the contributing factor for their the lackluster performances while competing in America.
Davis has been on the other side of the spectrum. He competed in Japan in 2009 at a Sengoku event, where he suffered a decision loss to Michihiro Omigawa.
"I fought in Japan myself and that flight is no joke," said Davis. "It's really rough, being way out of your time and food and just everything else. I am definitely going to exploit having the home-field advantage. The fight is in Oklahoma, which I am a Midwestern boy, so I should have family and friends there. I am looking forward to being the hometown guy for this one."
If the win over Tokoro doesn't earn him a title shot, Davis has a backup plan: fight. He likes to stay active and was disappointed he only go two fights in 2014. Davis is looking forward to being more active this year and in years to come. The more wins he racks up, regardless of opponents, the harder it will be for the promotion to deny him a title shot.
"I'm shooting for four fights this year," Davis revealed. "I definitely want more than two. Three or four would be ideal. I prefer four, but three would be cool. Anything less than two is not what I am looking for and will just delay me a title shot. I didn't choose to only fight twice last year. It was just kind of how things fell. I was hoping to perform more than that, so hopefully this year is a more active year for me."
No one knows what is in store next for Davis. However, one thing is certain. He still has a clear goal and the talent to get him there. Now, he just needs to go out there and make it happen. Bellator is giving him the platform. It is up to Davis to perform and make his last fighting dream a reality.
---
Advertisement

---