Terrion Ware and Joe Murphy are two fighters in a very similar situation. Each man is on the rise, and another win or two could be all it takes to earn them an opportunity inside the UFC's Octagon. There's just one problem. Right now, they stand in each other's way.
Resurrection Fighting Alliance will hold its 23rd show when it invades the Hangar in Costa Mesa, Calif., on Feb. 6. Ware and Murphy represent the show's main event. They are two of the area's top prospects, and they will square off in a pivotal match-up.
You see, in the world of MMA, the RFA is the UFC's minor-league affiliate — the Oklahoma City RedHawks to the UFC's Los Angeles Dodgers. The RFA puts on a bunch of matches between highly touted prospects. Some of those prospects go on to capture RFA belts. More often than not, that leads to a call from the UFC. Not only is the RFA producing a great amount of UFC-caliber fighters, but those fighters are finding great success once they step inside the Octagon.
---
Advertisement

---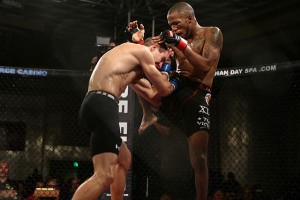 Though this fight between Ware and Murphy is not for a championship belt, Ware knows what a win means. If we were to follow history, it means he will get the call he has been waiting for since he started in the sport.
"I think I'd be one away," said Ware. "I think my next fight could be for a title. If not, the UFC might pick me up then. There is [a] rumor that they dropped a couple guys and [are] looking to revamp the roster, but I let my manager handle all of that. And I think this win either gets me a title shot or a chance to fight for the UFC."
Ware is no stranger to championship belts. He is the current BAMMA USA bantamweight champion. Though he earned and defended his belt, the talk of him possibly fighting for the UFC within this calendar year has picked up considerably since he signed to fight for the RFA. It just goes to show the difference between the RFA and other MMA leagues.
"I think right now the biggest difference is the exposure," Ware explained. "Now they have AXS TV to do highlights of the fights. You got Inside MMA with Bas Rutten, and all those guys are covering a lot of the RFA and it gets us more out there publicly. It's not that BAMMA [USA] doesn't have good fighters or anything like that. I just think right now with RFA and Ed Soares and all those guys are doing an amazing job as far as promoting their promotion and getting guys out there and getting them to the UFC. RFA, right now, just has that exposure."
Ware's career could have taken a completely different path during the month of August 2014. At Tachi Palace Fights, Ware took part in a fight against a guy by the name of Joe Soto. They had a heck of a fight that resulted in Ware losing via third-round submission in a very competitive affair. After the win, Soto went on to sign with the UFC. After weight-cut issues forced title challenger Renan Barao out of his title bout at the last minute, the UFC called on Soto, who was already scheduled to fight earlier on that same card, to step in as the headliner and face champion T.J. Dillashaw. That opportunity could have been Ware's had things played out differently that night in Lemoore, Calif. Nevertheless, Ware has taken some positives from sharing the cage with a guy that gave the current UFC champion a good fight for almost five full rounds.
"In this sport, confidence is everything," Ware explained. "Not to say that I didn't have confidence before, but coming up before I even started training, I watched Joe Soto win a world title at Bellator. And going into that fight, I was eager to see how I'd do. I was confident that I could go in there and get a win, but still I was unsure of what would happen the longer the fight went, because people out there were saying he was going to submit me in the first round. I went out there and I put on a show, and I had an opportunity to beat him. Then I made a small mistake and got caught with the choke. Then, to get see him go out there and fight for a world title and actually put up a fight and do well and now he is ranked in the top 15 — for me, in my eyes, it lets me know that if he is top 15, then I should at least be at top 20 or top 25 at that level. It definitely gives me confidence."
The landscape in today's MMA is completely different than just a few years ago. Most fighters who want to fight for a big show usually don't get much advance notice and end up taking a fight with very little time to prepare. Ware has done just that a few times in his fighting career, but none shorter than in his RFA debut fight, where he competed on just seven days' notice.
"If an opportunity like that [presents] itself, I would definitely do that again in the future," Ware admitted. "It was pretty tough. I am always training year round, so as far as being in shape and being ready to go it wasn't that big of a deal. It was more so cutting the weight. When I train for a fight and I have six to eight weeks out, I am able to draw back on my calories and be able to get my body peaking towards that last final week or so and start cutting weight. So, to take it [on] a couple days' notice — literally, the day I took the fight, I was eating some cookies and dropped what I was eating and ask[ed] my boss if I could leave because I had taken a fight and I had to start cutting some weight — I would say that was the hardest part."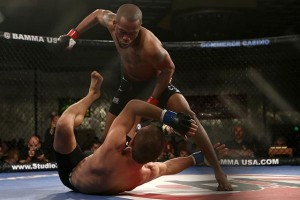 Ware is only a few years into his professional MMA career, but he has racked up 15 total fights and has fought for some of the more respected shows, such as the aforementioned Tachi Palace Fights and BAMMA USA. He has also seen the inside of the RFA cage once before and walked away with a win. Ware is very comfortable staying that active during a short amount of time. He doesn't see himself slowing down anytime soon, either.
"When I started this, it immediately became a passion," Ware revealed. "I didn't set out, when I first started as an amateur and then pro, to get as many fights as I could. It just so happens to be that I have a style that people want to see, and promoters want me on their card. I'm constantly training and I am always in shape. Lucky enough, I don't have any serious injuries and promoters will ask me to fight on short notice, one week notice or two weeks' notice, things like that. And I seized those opportunities because of my fighting style. Even the fights that go to decisions, they are super exciting and I am never in a boring fight. Promoters and [fans] want to see that, and I kept just getting the opportunity to fight."
As a fighter's career progresses, they go through different phases of opponents. When they start off, they might fight guys who do not belong inside the cage with them. As they get better and work up the ranks, they will have to start fighting stiffer competition if they want to get to the top. Some guys will try to work their way up by never really fighting another top-tier prospect. Then you have guys like Ware, who feels like the way to get to where he wants to be runs through guys like Soto and Murphy.
"That is how the fight game goes," said Ware. "In the beginning, you have talented guys and you have to build them up. My first couple of fights was against guys with losing records, but those guys had the experience. You can have 14 or 15 fights, but eventually you have to get out there and test your skills as you move up. If started my career fighting guys who were 8-1 or 7-0, I would be 7-8 or something and I wouldn't be headlin[ing] RFA. I would be in the undercard of some local show. So, you build yourself up, get some cage experience and then, when you have enough time in the training room to build your skills up, then you test yourself against these guys. Right now, I am at that point where I want to test myself against these guys so that the UFC goes and signs me. And I am ready to go when I get in the UFC."
It seems like Ware is a man with a long-term plan. The next step in that plan is to remove the one thing standing between him and an RFA title shot, as well as a potential UFC contract.
---
Advertisement

---