All fighters for GLORY 88, including Badr Hari and James McSweeney, hit the scales and hit their targets. GLORY Kickboxing returns to Paris, France on Saturday, Sep. 9, live from Dome De Paris.
Badr Hari and James McSweeney
The heavyweight main event got locked in as Badr Hari came in at 261.5 pounds and James McSweeney landed at 260 pounds. The co-main event will see the GLORY super bantamweight title be decided between Tiffany van Soest and Sarah Moussaddak. The American champion landed on 120.5 pounds and the top-ranked French-Moroccan challenger weighed in at 121 pounds.
The Moroccan-Dutch Badr Hari is one of the most important kickboxers in history. It was his inspiration that caused Morocco to become a nation focused on creating world-class kickboxers. From fighting during the combat sports boom of Japan in multiple K-1 Grand Prix's to competing for GLORY Kickboxing heavyweight titles, Hari has competed across generations.
---
Advertisement

---
The UK-born McSweeney is a veteran fighter who has competed in both kickboxing and MMA. He has competed in a multitude of organizations including K-1 Kickboxing, the UFC, ONE Championship, KSW, GLORY and much more.
GLORY 88 Weigh-In Results
Main Event
GLORY Heavyweight Grand Prix Qualifier
#6 Badr Hari (118.6 kg/261.5 lb) vs.
James McSweeney (118 kg/260 lb)
Co-Main Event
Super Bantamweight Title
Champion Tiffany van Soest (54.7 kg/120.5 lb) vs.
#1 Sarah Moussaddak (54.8 kg/121 lb)
Heavyweight
#4 Nordine Mahieddine (106.9 kg/236 lb) vs.
Abderahmane Coulibaly (100.4 kg/221 lb)
Featherweight
#6 Denis Wosik (64.9 kg/143 lb) vs.
#8 Berjan Peposhi (64.9 kg/221 lb)
Light Heavyweight
Pascal Touré (95 kg/209 lb) vs.
Stefan Latescu (93.8 kg/207 lb)
Welterweight
Karim Ghajji (76.9 kg/169.5 lb) vs.
Nikola Todorovic (76.7 kg/169 lb)
Lightweight
Jonathan Mayezo (69.9 kg/154 lb) vs.
James Condé (69 kg/152 lb)
Middleweight
Iliass Hammouche (84.8 kg/187 lb) vs.
Florian Kröger (85 kg/187.3 lb)
Welterweight
#10 Diaguely Camara (76.7 kg/169 lb) vs.
Ilyass Chakir (77 kg/170 lb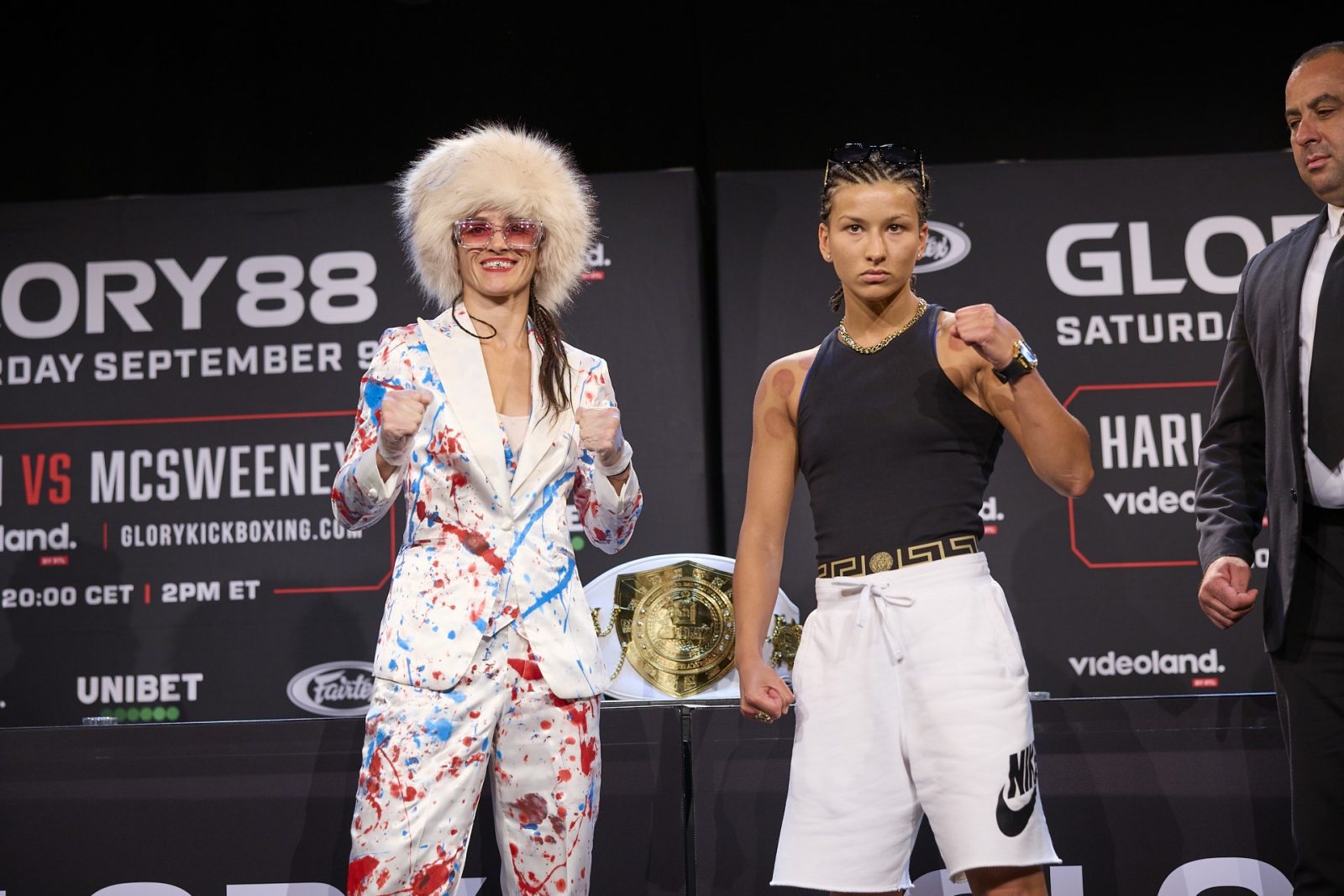 ---
Advertisement

---