For young up-and-coming fighters, getting into the UFC is the ultimate goal. For those who achieve it, it becomes not only a dream come true but the toughest test of their careers. They fight to win, they fight against the best fighters in the world, and they fight to stay relevant. Some fighters give up. Some fighters take time off. But for some fighters, such as "Super" Steven Siler, they make the most out of a seemingly bad situation and strive to make their journey back home. In Siler's case, that starts with the chance to become the inaugural Titan FC featherweight champion.
"I'm excited to fight for the Titan title. Even at this point now where Titan is still trying to build, I feel that they are the number-three brand," Siler told Combat Press. "UFC will always be number one and Bellator is the clear-cut number two. But I think World Series [of Fighting] getting rid of [Josh] Burkman and getting rid of Steve Carl and Georgi Karakhanyan and I think they are losing a lot of their star power, whereas Titan is building up their star power and slowly starting to pass World Series. I figure Titan is the third best organization, and to be champion of that, that's definitely a big deal."
It's very unusual that a fighter who is coming off the worst skid of his career, losing his last three fights en route to his UFC release, is granted a shot at a world title. The story of how it unfolded is in itself quite surprising.
---
Advertisement

---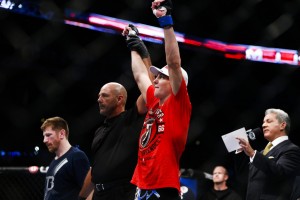 "I've been telling a lot of people this story," Siler said. "I was watching Titan FC 31 because I had a buddy on there already who was fighting. I had just barely signed with them, so I was definitely interested in what was going on with the organization.
"And I see Desmond Green knock out Miguel Torres, and I hear the announcer say Jeff Aronson just jumped and said that he's getting a title shot. I grabbed my iPad immediately and I started to tweet, kind of to complain, because there was that Brazilian guy that just went through the tournament to go for the belt. And as soon as they said Desmond Green was getting an immediate title shot, I started to tweet and complain—'What did you do to deserve a title shot? You knocked out a WEC bantamweight. Miguel Torres is not a featherweight and he's past his prime a little bit. So what did he do to deserve that title shot?' And the announcer goes, 'And he [Aronson] wants you to fight Steven Siler.' And I said, 'Oh, did he just say my name?' I was shocked. So I immediately delete my tweet and said, 'Let's go. Let's have fun with this.'"
Have fun with this is right. Green is a highly decorated wrestler and former Bellator competitor who went 3-2 during his Bellator tenure and got back in the win column with his aforementioned victory over Torres. With the scheduled tilt between Siler and Green set for Titan FC 32 on Dec. 19, it comes less than 50 days after Green's last bout. Most would feel Siler has the advantage, given that his body will be the "fresher" of the two, but Siler sees it in a completely different light.
"It's probably going to work to his [advantage] because we were supposed to fight Nov. 20, so he got the extra time and time off that he probably wanted," explained Siler. "And he's apparently training at Tristar, where he's getting a lot of good training there. So he's probably getting better and I'm not going to diminish his skills, but I guarantee it's going to be a fun fight. I can tell he's going to be a tough guy and he's a really, really, really good wrestler. He's good with his hands and he is really athletic. I know he's going to be tough, but I am not really worried about that because I know how good I am.
"There is a reason why I have five UFC wins. There's a reason why I got as far in my career when I wasn't supposed to, and I know I'm going to take this fight. I have 43 fights and I have been fighting five times as long as him. I just know how good I am, and that's why I know I'm going to be the Titan featherweight champion."
Yet, Green brings an all too familiar obstacle that Siler has to overcome: wrestling. When revisiting Siler's most recent losses, it has been the wrestlers who have grinded on him and worn him down. So, how has Siler prepared to combat this? Well, he's hoping a slight change of scenery to the famed MMA Lab in Arizona will help.
"I felt it was more stylistic out here," Siler admitted. "We have a lot of good wrestlers here, tough conditioning and a lot of good partners out here. Another part was, at the Pit, a lot of my training partners just fought at the Showdown Fights and so a lot of people are taking their time off, like they deserve. And a lot of guys are too big. Burkman is a big 170-pounder. Court [McGee]'s kind of injured and another big 170-pounder. Everything just seemed to make sense to come out this way.
"DeAnna Bennett has been a great training partner and she [fought] Friday [at Invicta FC 10]. Burkman's actually heading out to Vegas to train at Couture's for a couple of weeks anyways. And the coaches aren't going to be there because they will be off with the fighters, so it just made a lot of sense to come out here with Coach [John] Crouse, who I felt I had a great relationship with. I've come out to Arizona for trips all the time, and I always come into The Lab one or two times a week when I am down here. This time it just made sense to do a camp where Coach Crouse is going to be here, plus the next UFC—well not the next one—but [it] will be in Arizona, where a lot of the guys down here are already fighting, which is around the same time that I am fighting. So everything just seemed to come together and make sense to come out this way."
And that's not all. The Lab hosts a slew of other fighters who are doing their part to help Siler improve.
"Ben Henderson is a really good wrestler and Efrain Escudero is a really good wrestler, and they have a lot of really good college kids coming into wrestle. I'm working with a lot of good wrestlers to improve my wrestling game. The problem I kept on having was, I was playing the bottom game too much, especially in the UFC with [Dennis] Bermudez and [Darren] Elkins—where I feel like I have a really good ground game and they were really good at not getting tapped out, and it was a point game. Now I'm working on not staying on the ground but getting up."
It seems that Siler is making strides when it comes to the holes in his game. Although he is setting his sights on getting back into the famed Octagon, he is not looking past Green.
"I think it's going to come down to experience," admitted Siler. "I think, like I said, he is very new and no matter how talented he is, I think he is going to make a mistake. This is going to be my 43rd fight. I think professionally, and I know how to capitalize on those mistakes.
"I went through kind of a down part of my career, and those three losses—I've never had three losses in a row. Even though that Rony Jason fight shouldn't have been a loss, it's still a loss on my record. I kind of lost my hunger, and when the UFC cut me, it definitely lit a fire under my butt where I know I had my dream and I screwed it up and I need it back. I feel bad that he has to be my first opponent, but I am definitely getting back to the UFC and he's just the first fighter that has to be in my path.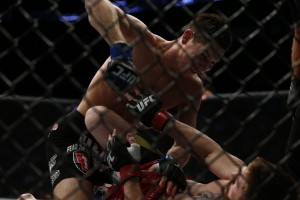 "One of my teammates is doing that right now. Josh Burkman hasn't fought in the UFC for a good six or seven years and now he's fighting Hector Lombard on one of the biggest cards to start the year off."
For a fighter whose career started off at a bleak 5-7 record and now stands at 23-13, Siler has learned to make the best of his experience. He knows exactly how to deal with rough patches in a career that started just two months after his 18th birthday.
"In all fairness, those first 12 [fights] was me not training and not even knowing what MMA was," Siler explained. "I thought it would be cool to get on local TV, and I was still in high school for a lot of those fights.
"They had the Ultimate Combat Experience that was on local TV, and my buddy who eventually got into the UFC, Jorge [Lopez], was training in MMA and we would always get drunk at parties and he would kick my butt, so I figured if I am taking it from this dude, let's see how it goes with a guy my size. I signed up with a local TV show and ended up going 5-7 in 12 fights. Eventually people told me that I had potential and I should probably take it serious and start training, and I won my next 10 after that. My first loss after that was to Chad Mendes, who turned out to be pretty good. Then I won my next four and lost to Cole Escovedo, but that was more of me beating the crap out of the kid and getting a little cocky and getting triangled."
So, considering that Siler feels there were some questionable losses in his career, one would have to assume Siler would be chomping at the bit for the chance at a rematch, right? Wrong
"I've never really had bad feelings towards a fighter, even if they beat me," he admitted. "It is what it is that night, and I'm not too mad about it because I know that on my best night I know how good I am. I just want to get back home to the UFC, and once I get there, I will be happy again."
Steven would like to thank Flagship Financial and Will Farrar. He would also like to thank Warrior Fuel, adding, "They have helped me out through some hard times. They have given me the energy to get through practices and it's helped me out a ton." Follow Siler on Twitter:
@Stevesiler
---
Advertisement

---