The wilderness—or the Outback, as it's called in the country that is referred to as "Down Under"—is an amazing place. Some of the world's deadliest animals call Australia home. Just thinking of the many different varieties of snakes and spiders alone would set off a panic attack in someone who suffers from ophidiophobia or arachnophobia. While the scenes that play out on the television may suggest that native wildlife roam the streets much like your domestic pet, the truth is that tourists who visit the major Australian cities may find their trip comes to an end without a single kangaroo sighting, unless they visit a zoo.
For a visitor to the country, it's always important to set out a list of things that you want to see or do. UFC fighter Marcus Brimage is coming to Australia, and he has two things that he wants to accomplish during his trip to Sydney. First and foremost, he wants to win his fight, a bantamweight clash with Chinese prospect Jumabieke Tuerxun, and second, he wants the true Australian experience.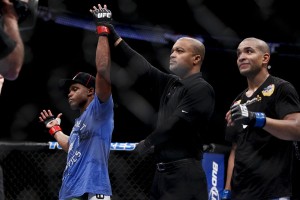 "I feel like I got an upgrade. I went from watching cockfights to kangaroo fights, so I'm very excited," Brimage playfully suggested to Combat Press. "[I'm looking forward to] my victory, first and foremost. Second is the kangaroo fights. I'm so serious about that. I'm not leaving Sydney, Australia, until I see two kangaroos fight. When you're in Rome, you do what the Romans do. When I was in Mexico, I wasn't going anywhere until I saw a cockfight. Now that I'm fighting in Sydney, I'm not leaving until I see two kangaroos fight."
---
Advertisement

---
Fighting professionally is a tough career path, there's no doubt about it. Being able to do something that he loves so much—and also having the opportunity to chase down some kangaroo fights—that's certainly not something that Brimage could have experienced in a regular 9-5 job. Thinking about what he could have been doing if he didn't find success in mixed martial arts doesn't cross his mind too often.
"To be honest, I try not to [think about it]," Brimage laughed. "I'm happy. This is what I want to do with my life. If I wasn't a professional athlete fighting in MMA, I'd be committing spiritual suicide. I'd be going through life punching the clock, not really happy with life. I'm happy with my life. I'm living my dream. I'm fighting with the UFC, and I'm pretty good at it too."
His upcoming bout at UFC Fight Night 55 on Nov. 7 against Tuerxun will mark the second time in Brimage's career that he has fought outside of North America. Many fighters dread the extended travel time that comes with fighting in the Oceania region, but Brimage sees it as an opportunity to introduce himself to a whole new group of fans.
"Truth be told, nothing [is bad about the trip]. The weather is good. There are tons of really great fans there," Brimage said. "It's a long flight but, other than that, everything is on the upside. I can't wait to fight in Sydney and put on a great show for all the fans out there."
Brimage was originally slated to meet Erik Perez at UFC 180, the first UFC event to take place in Mexico. When Perez pulled out of the fight with an injury, Brimage was temporarily without a fight until he stepped in to replace Patrick Williams for the Sydney event. His Nov. 7 bout is one week earlier than his originally planned fight, though.
"I was already in camp," Brimage admitted. "I was already getting ready for the Mexico City card, but this is better. Sydney is at sea level. In Mexico City, I would've had to deal with an altitude difference. I'm now fighting at sea level in a warmer climate. I'm going to thrive, 100 percent."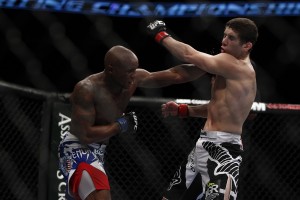 Brimage's last two appearances inside the Octagon ended in disappointment. He dropped a split decision to Russell Doane in his last fight, but many people thought he should have taken the win on the scorecards. With the very real possibility of suffering three straight losses in the UFC in front of him, Brimage tries not to look at what could happen after his fight. Instead, he stays optimistic, like he has throughout his career.
"Truth be told, you take each fight a fight at a time," Brimage said. "People ask about the pressure. Look, I'm all good because I clearly won my last fight. That was my first fight with a year layoff. I already got the kinks out, so for this fight I'm going to be on point.
"This fight means everything to me. Every fight I get in the UFC means everything to me. Like I said, one fight at a time. This fight is very important. Not because my back is up against the wall after two losses; it's important for me because it's in the UFC. That's all that matters."
That and, of course, getting to see kangaroos fight.
---
Advertisement

---