Every kid has dreams. Big dreams. Mine? At 11, I wanted to be the first female Major League Baseball player. Since I stopped growing at age 11, that was a very, very, very difficult dream to make come true. I did get a scholarship to play softball, though, so there's that.
Mixed martial artist Dominick Reyes had big dreams, too. He wanted to play football in the NFL. When he was a kid, he wanted to be a starting safety for the Dallas Cowboys. So, he worked his ass off and entertained offers at multiple schools. He ended up at Stony Brook University.
"They made me feel wanted," Reyes told Combat Press. "No one wants to be just be a number. Other places were like, 'Yeah, we'll take you,' when Stony Brook made an effort. I knew I was going to get a great education, too."
---
Advertisement

---
Reyes went on to start all four years. He was All-Conference and "got the full college experience," in his words. He was the school's first football player to graduate with a Bachelor's degree in Information Systems with a focus on both business and economics. Basically, from hardware to software, programming to networking, data-mining to database management, and everything in between, he can do it.
"It was tough," said Reyes, "but I've always been into technology. I wanted to go into the NFL first, though. When I graduated, I went through the [NFL] Combine, put up some good numbers, and I was projected to go in the fifth or sixth round. I had my hopes up. I really wanted to play for the [Washington] Redskins at that point, to carry on Sean Taylor's legacy."
The universe had different plans for the young athlete. For some reason, Reyes went undrafted. He didn't even get a call for free agency. He was, ahem, upset. He felt the NFL passed him by just because he played at a smaller school. Despite his skills, size, speed, and knowledge of the game, he was overlooked just because he didn't play for USC or some other big-name school.
"I was pissed," admitted Reyes. "I still have a chip on my shoulder because of it. My brother, Alex, owns Cage Combat Academy in Victorville, California. My family and myself helped him build it. I had wrestled in high school, and made state, but my senior year I got a little distracted."
Senioritis. It can afflict even the most focused of the high schoolers.
Reyes came home from college each summer and trained in his brother's gym to stay in shape, work on balance, and have fun. It was great cross-training and, unbeknownst to him at the time, it was laying a foundation for what was to come.
After the NFL ignored him, Reyes was ready to hit something or someone. He started training MMA in May or June and took his first amateur fight in October. Ever since then, he's been on a rampage. He went 5-0 as an amateur. He's now 5-0 as a pro. Only two of his fights have made it out of the first round — both of those went to decision. The rest? He ended them with his hands, his feet, and submissions. He's the new breed of 205-pounder — the well-rounded athlete.
"I loved crushing guys on the field as a safety and I love hitting guys with my hands and feet in the cage," said Reyes. "Fuck the NFL. I want to prove to them and to everyone else in the world that I am a world-class athlete, and I won't rest until I do."
Reyes is polite, respectful, and well-spoken. There is also an underlying intensity, a fire, that burns right below the surface.
"In MMA, it's me versus him in the cage," Reyes said. "There isn't any of this, 'if that guy had caught the pass, we would've won,' or, 'if the quarterback has a bad day…' It's all on me — 100 percent accountability. This game, MMA, is physical, mental and spiritual. I love the chess-match mentality and the spiritual aspect. For me, it's all about self-discovery.
"You have to take a deep-dive in yourself to find out what you're made of, to find out if this is really what you want, whether MMA makes you happy and brings you joy. Because, the weight cuts, the training, the dedication [and] the sacrifice are all brutal.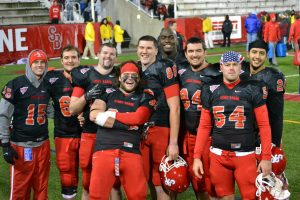 "But I also think the more you sacrifice, the more you want it. You've got to find your reasons or else the uncertainty of the future will hold you back. Now, I've gotten to a place where I find the calm. When that door closes, I am in my own world. Just me and my opponent."
Reyes has been an MMA fan for a long time. He got to see the Chuck Liddell and Randy Couture fight in person, interestingly enough. Now, he has his sights set on running that same division.
"Oh yeah, Forrest Griffin helped put the UFC on the map, got nationwide attention. And Chuck Liddell, Randy Couture — they were all so exciting," said Reyes. "The light heavyweight division is great. We are big enough to have power and strength, but not too big so that we're sluggish.
"It's a division where natural athletes, football players like me and Alonzo [Menifield] can easily fit. The future of the 205 division is guys like me. I hope to bring my athleticism, my drive and my sportsmanship to the UFC so I can be a good role model. I want to beat the best and face the most challenging guys I can every time.
"Every fight is a big fight. I have a lot to prove in the ring and out of it. Some people, especially kids, think you have to act the fool to get notoriety, but I want to show kids you don't have to be crazy or a fool to get noticed."
The undefeated Reyes is getting noticed, for sure. The Legacy Fighting Alliance is the grandest stepping stone on the way to the UFC. The organization is known for being a proving ground for the fighters who have their eyes on the UFC. Reyes is slated to fight Jordan Powell on June 2 at LFA 13 in Burbank, Calif.
"I've had my eyes on them for a minute and working with the goal to get into LFA," said Reyes. "It's a big stage with a lot of eyes on it, and that's exactly what I like. That feeling you get with the lights pulsing, the music, the announcer, the roar or the crowd — the bigger the stage, the better for me. I loved it when I was playing football and I love it now.
"When the cage door closes and it's me and him, I know I have what it takes to beat him. He isn't a black belt in anything. He isn't a better fighter than me. I just have to work harder than him. I know he is a tough guy and he is a guy who fights really hard, but I know what I have and I know what I want."
Powell is an 8-6 fighter, but don't let the record fool you. The majority of his losses came in the middle of his career, in 2014 and 2015. He is on a three-fight winning streak and is a great test for Reyes.
"Everything has to come together for a person to win in MMA," Reyes said. "Your training, your nutrition, your conditioning, your friends and family — if one of those things is out of whack, it can throw you off. It's like a suit of armor. If you have a chink in your armor, you can win a battle, but eventually your weakness will be exposed and it's going to cost you.
"Muscles don't win fights. Looks don't win fights. It's what's inside — technique, discipline. These things win fights. I train with my brother at his gym most of the time, but the last two fights I've had camp here at Elevation. Once I can get my finances sorted, I can see moving out here to go to the next level. I love the challenge."
Reyes lives up to the name Dom. You know, from The Fast and the Furious? He grew up in Southern California, and he loves snowboarding and dirt bikes. Any action sport and he's in. It's the thrill, the fun, the challenge. But like the Dom in the movies, Dom in real life lives by his code.
Reyes has struggles. He's had to overcome. He's had to adapt. When it counts, Reyes wins. He may not have fulfilled his childhood dream of playing in the NFL, but you can damn well count on him making it into the UFC.
Dominick would like to thank his sponsors: Nutrition Edge in Victorville, Stine Chiropractic, Hayabusa and Mata Leon Management. He would also like to thank The Bullet Hole Training Center with Craig Buchanan, Cobra Kai with Joe Stevenson, Cage Combat Academy with Alexander Reyes, and Elevation. Follow Reyes on Twitter:
@DomReyes
---
Advertisement

---