"It pisses me off I'm not champion yet. It pisses me off."
2016 wasn't supposed to be this way for Darrion Caldwell. The Bellator MMA bantamweight belt was expected to be around his waist already. He was the uncrowned champ to many, the best bantamweight in the promotion, and all that was missing was the hardware to prove it. But this is MMA. This is life. It's unpredictable.
For Caldwell, it started with the title fight between Marcos Galvão and Eduardo Dantas and the injuries that delayed that fight. Those delays also kept Caldwell from fighting the winner of the bout. While he could have sat around and waited, that wouldn't have resulted in a paycheck and it would have left a fighter who considers himself to be in his prime sitting on the sidelines. A fighter doesn't sit, he fights. So Caldwell jumped at the opportunity to not only fight, but headline a Bellator card for the second time. His opponent would be Joe Taimanglo, the pride of Guam and a one-time featherweight trying to continue his own run at bantamweight. Analysts, betting lines and the media all expected this to be quick work for Caldwell. But that's predictable, and this is MMA. This is life.
---
Advertisement

---
For two rounds, Caldwell controlled the fight. Then came the third frame. A mental lapse, as Caldwell calls it, occurred, and a takedown opportunity from too far out was read by Taimanglo, who sank in a guillotine choke and forced the former NCAA national champion wrestler to tap. The undefeated streak was over. Caldwell's 9-0 record moved to 9-1. "The Wolf" was tamed.
Now, the question would be, what next? How would Caldwell handle losing for his first time in his MMA career? What changes, if any, would occur?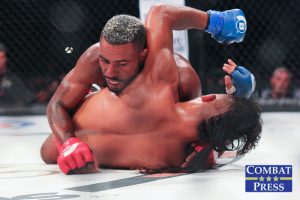 "I was in the back after that loss and I knew immediately, it was time to get around coaches that, this is all they do. They put in the time," Caldwell told Combat Press. "I can't have a half coach. I can't have half teammates. I got to have a full-time system around me, and that was the most important thing, is finding somewhere it's go time, all the time."
The full-time system Caldwell found was one engineered two hours down the road, with titleholders such as Bellator's own Phil Davis and the current UFC bantamweight champ, Dominick Cruz. It's a gym seasoned to success by Eric Del Fierro, a coach as knowledgeable as any.
"That Friday, I lost. That Monday, I was down at Alliance watching them spar and then I was just mind-blown," said Caldwell. "I couldn't believe guys really trained like this. I just knew I needed to be here in this environment. I made a permanent move down there, came in Monday, watched them practice, [and] I was already sold. I knew this was where I needed to be. I had never seen anything like it. This is where I'm coming.
"I looked at two apartments that same Monday. Then, one of the wrestlers there from New Jersey — one of my buddies, Jimmy, who trains here — he said, 'I got an open spot, and if you want, you can stay with me until you figure out a living situation.' So I'm grateful for the opportunity that he let me move in with him and immediately start training after my loss. Then, I was able to find my own spot just a couple weeks later."
It's a situation that Caldwell believes will work out. He has a plethora of guys to work with finally. These are elite fighters he's seeing on a day-in, day-out basis.
"Whenever you got the best guy in your weight class at a gym, you're gonna want to train as much as you can with him," Caldwell said. "So I've been training a lot with Dom [Cruz] more than anyone, but when you're in this gym, every guy you're going with is a stud and you'll learn from [them], whether it's Dominick Cruz, Jeremy Stephens or Justin Lawrence, who I actually had trained with in Arizona for a little bit — and that was great; he helped me before my Joe Warren fight and he's one of my favorite guys to train with because he's one of the hardest workers here. When you get around 50 Justins, it's like, man, it's awesome. These guys are just fighters down here. They live, breathe and eat this."
It's not just the training that is getting better, though. It's also been the guidance Caldwell receives that has improved. Every fighter at Alliance will testify to how selfless the aforementioned UFC bantamweight champ Cruz is as a teammate. He's there to make everyone better, and his leadership hasn't gone unnoticed by Caldwell.
"The guy has been nothing but great," said Caldwell. "He's been a shoulder I can lean on ever since I got here. He's been like, 'This is where you probably lack. This is where I'm seeing where you lack,' and he's taken me pretty much by the hand and taken me to all his workouts, giving me the formula that he's doing — 'This is what I'm doing. I'm giving you this formula. If you don't want it, don't take it, but if you do, I believe you can be a champion.' So just hearing that from the best guy in the world, pound-for-pound, you got to take that opportunity and run with it."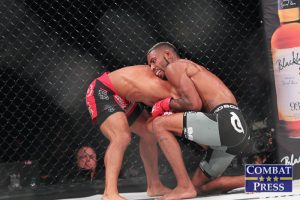 Everything about Caldwell's current circumstances sounds encouraging. His focus is different. He has "tunnel vision," as he calls it. He's not going to Thackerville, Okla., at Bellator 167 to lose again. He's angry, determined and ready to feast on an opponent who's given him even more of a reason to seek vengeance after defeating him in their previous meeting.
"Joe has pissed me off," said Caldwell. "Don't get a lucky win and then start talking shit. Leading up to that fight, it was nothing but respect from him. Then he started posting other shit, and I was like, 'Whoa, this is out of character for Joe.' Or maybe that's just him. Maybe he's a little sneaky fuck like that.
"That was the only fight where I wasn't really pissed, because he was so nice. He was like a little female, so sneak[y], like, 'Oh my god, I'm so excited to take this fight. Thank you so much.' He was like a female. I never really seen that. All the other opponents I was facing — there was Shawn Bunch, who was like, 'Yeah, we fighting, bro. Be ready,' and I called Shawn like, 'What? You took the fight?' He's my bro, and he was like, 'Yeah, I took the fight. Be ready.' And it pissed me off. Then I get to Joe. Joe, this guy. He's so soft, so gentle. I'm like, man, I don't really know how to get pissed at this guy. But now it's different. Now I see his true character. He's a fake fuck.
"I doubt he'll be talking shit after this fight. I know he won't be talking shit after the fight. This is another opportunity for me to take that step to be the champ. I'm not gonna let it go to waste. I'm gonna go ahead and beat Joe and then claim what's mine."
The work has been put in. The talk has been talked. On Saturday, Dec. 3, at the WinStar Casino in Thackerville, Caldwell will be out to prove that Taimanglo's win against him was nothing but a fluke. If he comes out with the win, he might not have to be pissed off for much longer. He'll be well on his way to finally claiming that championship he so badly desires.
---
Advertisement

---