He's fixed flooded basements. Repaired fire-damaged homes for his father's restoration company. Helped his teammates at a local concrete company. He's even started his own MMA gym. Dan "The Hitman" Moret sure knows how to keep busy.
Moret, whose own MMA record stands at 10-2, would like to make fighting his full-time career. The UFC, of course, would top the list of preferred employers. But first, the Mankato, Minn., native will have to win his next fight for the Resurrection Fighting Alliance on July 15 in his home state. Moret, a featherweight, is set to face the undefeated Alex Gilpin and extend his own three-fight winning streak.
A wrestler by trade, Moret fell in love with the sport as a fifth-grader and achieved All-City and All-Conference honors in high school. It was while Moret installed chain-link fence in Iowa for a teammate's father that he had his first introduction to MMA.
---
Advertisement

---
"We saw some local fights, and I stood in the crowd," Moret told Combat Press. "It was after a few beers that I said, 'I could take these guys,' and the other guys on my team encouraged me to give it a try. I fought 14 amateur fights, went undefeated, and won a few belts before turning pro. I went 3-0 before signing with RFA."
Moret credits his first coach, Muay Thai specialist Ray White, with helping to develop his striking to go with his wrestling. Moret also trains with Greg Nelson at The Academy Fight Team in Minneapolis. He credits Nelson with helping him further develop his skills by allowing him the freedom to train with other teams across the country.
"He's not like other coaches who wants to keep his guys around," Moret said of Nelson. "He allows me to travel and train, to learn and gain new experiences."
Part of Moret's journey took him to Power MMA in Arizona, but not before a stop at Alliance MMA in San Diego, courtesy of UFC veteran Myles Jury.
"I sparred with him for his fight against Mike Ricci in the UFC," Moret said of Jury. "I met some guys who ended up going to Power MMA, along with [UFC fighter] Johnny Case. We fought on some of the same cards before, and February of this year was my first time there. I love what Aaron Simpson has put together there."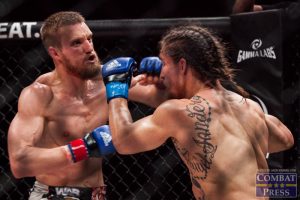 Moret trained with Power MMA again for his upcoming fight against Gilpin, a five-fight veteran. The combination of coaches White and Nelson has really allowed Moret to hone his stand-up skills as he gets ready for his bout with Gilpin.
"I knew that if I really worked on getting a few things down, I could excel in the stand-up," Moret said. "I was always a boxing fan too, and coach White helped me develop my Muay Thai through coach Nelson."
Moret sees his fight with Gilpin as a showcase to put all of his skills together as he continues on his march through the RFA with the hopes of eventually being signed by the UFC. He noted that he primarily used his wrestling to win his last fight earlier this year, but that he knows it's going to take more than just elite wrestling to make it to the big stage.
"I'm looking for the finish," Moret said. "I'm looking to put him away and knock him out — that's how I can get to the UFC, which is my ultimate goal. The 145- and 155-pound divisions there are stacked, and you have to win impressively."
In addition to his coaches and teammates, Moret credited his friends and family for his success in MMA. He would also like to thank his sponsors: Garden of Life, Gamma Labs, Hayabusa, Combat Corner, Rounders Sports Bar & Grill in Minnesota, Arctic Cat, Cities Edge Motorsports, Raven Crest Tactical and Mr. Mouthguard. Follow Moret on Twitter:
@DanHitman
---
Advertisement

---