What's your excuse?
It is the responsibility of any grown adult to make ends meet. Regardless of what entitled people think they deserve handed to them on a silver platter, it's up to every individual in a free market economy to stake their own claim and provide for his or her family. If someone doesn't want to do the work, then they have no room to complain. Unfortunately, social media allows anybody to voice their opinion, no matter how misguided it may be.
The topic of fighter pay in mixed martial arts has become a polarizing subject in recent years. Fighters are not paid very much by promoters. That's just a fact. Relative to other more mainstream athletes, the pay is pretty dismal. Training camps are expensive, some coaches and managers can be sleazy and many combat athletes are forced to go out and find sponsorship money to fill in the gaps. If not, they can actually lose money by competing in the sport they love. However, while sponsorship money helps, that's not the only option to make ends meet.
---
Advertisement

---
There are two types of athletes in any sport: the ones who make it work, regardless of how much they make in competition, and the ones who sit around complaining that the sport is not supporting their lifestyle. In MMA, there are athletes who lay concrete, paint homes, work in sales, and many who own their own small businesses. Fighting does not lead to a luxurious lifestyle for most of the competitors, so the smart ones go out and make a living for themselves.
With the onset of the UFC-Reebok sponsorship deal, an interesting dynamic arose in MMA — the proverbial separation of the men from the boys. For the ones who have their own sources of income outside of fighting, it may not have been a great deal, but for the ones who feel the UFC should coddle them, there has been a barrage of complaints launched. The fact is, no matter how good of a college wrestler or kickboxer someone was at the amateur level, just like anyone else, if someone needs money, he or she needs to go out and make it. That's the American way, and UFC veteran Chris Camozzi has taken that idea and run with it.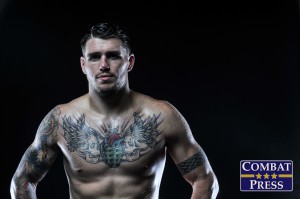 A few years back, long before the Reebok deal, Camozzi and his wife purchased Performance MMA, a gear and apparel shop that is actually located in the same building as his gym, Factory X Muay Thai, in Englewood, Colo. The decision to embark on this new journey was simple.
"We're trying to build it and establish an income to make money outside of fighting, because I don't want to be one of those fighters living fight to fight," Camozzi told Combat Press. "If I happen to get hurt or something like that, it would be terrible. Right now, we're not making NFL money, so I need to establish an income outside of that. I want to make a comfortable income for my family and build from there, maybe open another one, I don't know."
Performance MMA was previously at a bit of a stalemate, but had a ton of potential. There was definitely room to grow, but it's not like Camozzi has a degree in business or anything. He has been a fighter for his entire adult life, and they have very much grown their enterprise out of the school of hard knocks. Like any other business focusing on MMA products, the life span can be short and the stable of clientele relatively thin. The couple has been focusing on expanding the reach of the business.
"My wife and I have done a good job, since we took over the business, of expanding that demographic," Camozzi explained. "It used to just be a fight shop. But now my wife has brought in a ton of women's stuff. We've got yoga people, crossfit people, and it's kind of all over the board for those niche sports.
"We're bringing in more brands, always searching online to see what's new, what's popular, and taking requests from people. We've also hired MMA Advertising to help with the marketing, and they've done a great job of really changing it up with out-of-the-box marketing. It used to just be Google AdWords, which everybody does, so nothing separates you. But they do Facebook ads, Instagram ads, Twitter ads, and they're spreading the money out a lot further than it was before."
MMA Advertising is the same group that runs Ingrained Media, Camozzi's longtime management team. When Camozzi was allowed to have outside sponsors prior to the Reebok deal, the company did a great job of coaching him on the marketing aspect of his career, as well as securing a decent stream of sponsorship money. That flow of cash definitely slowed down after the UFC's new sponsorship program, but Camozzi's managers have been able to translate their other skill sets into Performance MMA's business.
"A lot of people don't like the Reebok deal, and I would like to make more money as well by having my own sponsors, but that's the deal that was signed for us, so I'm going to focus on the things I can control," Camozzi said. "Basically, when I signed the Reebok deal, knowing what I was getting into, it is what it is. I need to find money elsewhere, and that's what I do. Believe it or not, people may not think I'm the most popular fighter, but my management company did a great job of getting me sponsorship money, and when I found out what some of the other guys were making, I was getting three times as much in sponsorship money than some of the guys who were considered more popular than me.
"But I've been with Ingrained Media since 2008. I'm probably one of the only guys that's been with their original managers since the beginning. Ever since the day I signed with them, they've been kind of grooming me in business and marketing and teaching me stuff. Jason [Genet, Ingrained Media President] and Jordan [McCreery, Ingrained Media Senior Vice President] will go so far as to write me an email on what I should be doing. They show me editing skills and times to post things. I've basically been in school the whole time."
Camozzi has grasped a concept that too many coddled fighters have yet to understand: change the things you can. If someone doesn't like something, it's up to that individual to do something about it. Complaining through the media will get that person nothing more than a pink slip, just like in any other business. The Colorado-based fighter knows that the UFC is running a privately owned for-profit company, which is not a charity. Running his own business has helped him to understand that a lot better.
"I think the biggest thing is that, if you have a complaint, you have to do something to fix it," said the small-business owner. "You have to be proactive. I do think they have their favorite fighters and stuff, and I don't know what makes them decide to get behind one or the other. For me, I would love to make more money. Everybody would love to make more money at their job, but I've also learned since running my business that it's a business too. Businesses aren't trying to throw out money unless they have to. For me, if I can get the gear as cheap as possible and turn around and sell it, then nobody should complain, because I'm not going to offer to pay more, and neither are my customers."
Camozzi may not have a degree in business, but he has more business acumen than the guys who sit around, complain and do nothing to better their situations. But, make no mistake, Camozzi is still only 29 years old, is only halfway through his current UFC contract, and will make his 15th Octagon appearance tomorrow night at UFC Fight Night 83 in Pittsburgh. Standing across the cage will be Joe "Diesel" Riggs.
Riggs has one of the longest active streaks in MMA, having fought professionally since 2001. His career is long and storied. Back in 2003, he actually fought standout referee Herb Dean in Dean's second pro fight. Riggs has fought so many famous fighters that it's not even worth trying to list them all. In December 2014, he made it back into the UFC for a second run, and he is currently 1-2 in his last three fights. Camozzi loves the match-up.
"This is a great fight for me, and I'm so excited," said the Coloradan.
In August, Camozzi faced another veteran, England's Tom "Kong" Watson. After repeated groin strikes, Watson was deducted a point in the second round, but it didn't affect the outcome of the fight. Camozzi was frustrated, but he still dominated on all three scorecards.
"I wasn't very happy," Camozzi admitted. "One might be an accident, but after a couple, it seemed like he was doing it on purpose. It really affected my cardio, because those shots take a lot out of you."
It's hard to disagree with Camozzi's assessment, considering Watson holds belts in a few different striking arts. However, Camozzi got the win, and he's ready to show up in a big way against Riggs. After dropping a few fights to jiu-jitsu experts and wrestlers in the past, it will be a refreshing change of pace to face Riggs, who is a well-rounded brawler that has only been to decision seven times in 58 outings. Even with a more ideal match-up, Camozzi is still focused on the area he feels needs the most work.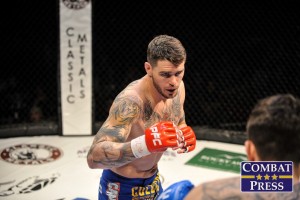 "I started doing judo at our gym, Factory X, about two months ago, and that's been helping my throws a lot," said Camozzi. "I've always liked upper body and Greco-Roman throws to the floor, so I train at Factory X, and then, one day a week, I train at MusclePharm with Leister Bowling. There are so many guys that can help me with wrestling. I wrestle with Brian Rogers quite a bit. He's a big, strong guy for me. My brother [Brian] has a lot better wrestling than a lot of people think, and we've got a guy named Ian Heinisch at the gym who is just a stud wrestler. I wrestle with Sonny Yohn down at MusclePharm, as well as a bunch of other great guys."
The fact is that Camozzi's life is all business. Whether it's Performance MMA, his UFC career or cornering his teammates, the grind never stops. Unlike the guys who sit around and "rest" between training sessions, he is always working on something. He reaps the fruits of those labors and doesn't worry about where his next paycheck is coming from.
"I'm trying to be a businessman and a fighter," Camozzi said. "If I wasn't doing Performance, I'd probably be doing something else that can make me money outside of fighting. It's a learning process, for sure. I've got a good relationship with the UFC. For me, they've been good to me. The fights I've taken on short notice, they've taken care of me, and I feel like we have a good relationship, and I'd like to build on that, as long as I stay healthy for seven to eight years. I hope one day it gets to NFL money, but right now it's not. Running this business has opened my eyes to a lot of things."
The guys who whine and complain have a lot to learn from Camozzi. And, just like everyone else, today, he is focused on his next opponent. Tomorrow night, the businessman is ready to show the brass that good pay or bad, he's focused on his climb toward the top of the middleweight heap.
"I'm going to make him quit. I usually have heavy pressure, and I'm going to make him want out of there. I have all the tools; I'm young, I'm hungry, I'm stronger than I've ever been, and I'm just ready."
Camozzi would like to thank his team at Factory X, Ingrained Media, MMA Advertising, his main sponsor Koios, and his wife, Sasha. Follow Chris on Twitter:
@ChrisCamozzi
---
Advertisement

---