#CALLMEDANA
The good news: he called. Or, at least his matchmaker did.
A lot of fighters believe they belong in the UFC. Even with some top-level pros either moving to or staying put in other promotions like Bellator or the World Series of Fighting, Zuffa LLC's bread and butter is still the most widely followed and highly regarded promotion in professional combat sports. However, for every fighter that may belong there, there are dozens that aren't quite at that level.
---
Advertisement

---
When a relatively young, 27-year-old fighter continuously pines for a spot in the big show, it's not unusual for people to largely ignore him, write him off, or even go so far as to sit on their keyboards and lob social-media insults at him. The louder a guy gets, the more the trolls awake. But, every once in a while, there truly is a diamond lying in the rough.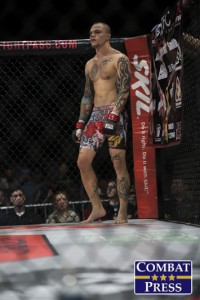 Anthony "Lionheart" Smith is that 27-year-old diamond. He's the No. 1 middleweight in the Midwest and the Northeast. He has 35 professional fights under his belt, and he is one of the few fighters in the history of MMA to go almost 30 fights before going to a decision. He may have 11 losses on his record, but seven of them were pre-2011. The most recent three defeats involved injuries or repeated eye pokes.
After a three-fight losing streak that included his last Strikeforce appearance and his only fight in the Octagon, Smith was downtrodden. He was still with his previous camp and had lost to UFC veteran Josh Neer. It was time for a change. So, in 2014, Smith made the move to Mick Doyle's Kickboxing across town in Omaha, Neb.
Since joining Doyle, a former Irish National and world kickboxing champion, Smith has gone 7-0, finishing six of those opponents. He secured and defended the Cage Fury FC middleweight title and avenged his loss to Neer with a first-round TKO. After his most recent win, which came only three weeks ago, Smith packed his bags and headed off to Ireland with Doyle to train with SBG Ireland, the home of UFC featherweight champion Conor McGregor.
"[SBG head coach] John Kavanagh was in Vegas with [Artem Lobov] for [UFC Fight Night 82], so he wanted Mick to run team training while he was gone," Smith told Combat Press. "So, Mick used it as an opportunity for me to go and train while he was there.
"Mick is originally from Dublin. He's like a legend in Ireland from when he held the title. John Kavanagh knew who Mick was, because he's a local legend there. Mick was traveling back and forth a lot and wanted to work out, so that's where that connection came from."
In recent years, the SBG camp, which includes athletes from all throughout Europe, has been on a big rise in the sport. They're sharp and focused, and McGregor is a shining example of the dedication the European fighters have for their craft. It was a bit of culture shock for Smith, who is used to the American style of training.
"Once you go, you realize why those dudes are being so successful," Smith said. "The way that they train, the way that their focus is, it's just fucking amazing. I was in the gym eight hours a day, because the dudes don't stop there. It was one of the best experiences I've ever had.
"It's not that much different to me, because the way that they train there is the way we train at Mick Doyle's. The guys in the States are real sparring-based — just breaking their bodies down and beating the shit out of each other. At SBG, their pace is really, really, really high, but their contact level is really low, so they don't take a lot of damage. It's why they can train like they do. They're not getting their asses kicked all day long.
"And, the culture's different. That's all they do. These dudes would rather be on welfare and not work, than not chase their dream of being professional fighters. They work more on training than most people in the States work in a week. The dudes just don't quit. They're just so focused. You see how Conor McGregor trains and the way that he focuses. That's how the whole team is."
While Smith was in Ireland having the best training experience of his life, there was a grassroots storm slowly brewing back in the States. After his win over Neer, Smith put on a cap for the post-fight interview that was embroidered with the hashtag slogan "#CALLMEDANA." Since this was the first fight that Victory Fighting Championships had aired on UFC Fight Pass, there were a lot of eyes on that particular main event. Smith has been growing very vocal and very frustrated after being overlooked by the UFC. In fact, prior to that bout, he was originally supposed to face Elvis Mutapcic, but after a short-notice injury, Zuffa pulled Mutapcic over Smith to fill in, which led to Smith's rematch with Neer.
After the VFC win, Smith was on top. Meanwhile, Mutapcic had dropped a poor showing in his UFC debut. The hashtag aimed at UFC President Dana White trended on Twitter for about 17 hours straight.
Earlier this week, Smith had just gotten back from Ireland and was in the process of setting up his next VFC appearance when he called his longtime manager, Train from DC Management, to set up a meeting to sign the contract.
"I called, and said, 'Hey, when do you want to get together to sign this VFC contract?'" Smith explained. "He said, 'Well, do you want to sign this VFC contract or do you want to sign this UFC contract?' So, obviously, I said let's sign the UFC contract. He said it's so-and-so, and I said I don't care. He said it's this Sunday, and I said I don't give a shit. He said, 'Alright, I'll work the deal,' and that's it."
The timing was not ideal for Smith from the perspective that he was just out of the country for a week and a half after a long camp, but the timing was perfect for breaking the news to his coach.
"I was on my way to the gym when I talked to Train," Smith said. "I got to the gym and I said, 'What are you doing this weekend?' And Mick said, 'Nothing.' I said, 'Well, do you want to go to Pittsburgh for this UFC fight?' And he said, 'Fuck it, let's go!' He didn't ask who or anything."
After sitting, waiting and taking out every top middleweight that would face him, Smith is back in the big show. Only, this time is different. He has a new camp. He is undefeated over two years and seven fights. He is fighting on a completely different level than ever before. A lot of guys try to say things like that, but Smith's results have done the talking.
"Now, it's time to start taking off everyone's heads," Smith said very boldly. "Now, I'm here. There [are] a bunch of UFC fighters that are on that roster that weren't looking forward to this. I know for a fact there's at least a few of them. They're sitting there like, 'Goddamn, this sucks.' Now, I just start taking them out one at a time. It's not going to be long before we're in big fights. The UFC is going to figure out quickly that they're wasting time, and they're going to want me on bigger cards. They can get their money's worth with a bigger name that people want to watch."
This Sunday night, at UFC Fight Night 83 in Pittsburgh, Smith faces Brazil's Leonardo Guimarães on the preliminary card as part of the Fox Sports 1 broadcast. Guimarães is 11-1 as a pro. He has a background in Brazilian Jiu-Jitsu and has fought mostly at light heavyweight or heavyweight.
Smith has three times as many fights as Guimarães, a height and reach advantage, and middleweight is his natural division. While he took the fight on short notice, Smith was not concerned about making weight, and the fact that the fight is on Sunday, as opposed to Friday or Saturday, gives him a little extra time for the cut.
"That definitely helps," Smith said with a chuckle. "No matter what, I'm going to take the fight. You know what I mean? It doesn't hurt that I get a couple days more than I'm used to. With the UFC, it's 185 [pounds] or nothing. There is no talking about it. It took me so long to get there [that] I can't start asking for shit now. I'll make the weight. It's not going to be fun and I'm not going to like it, but I'll get there."
Guimarães will not only be making his UFC debut, but he'll also compete in his first fight outside of Brazil. Naturally, when a fighter travels to another country for the first time, not a lot people know what he's all about. Smith is no different, but he doesn't even care that he knows nothing about his opponent. Since joining Doyle's gym, Smith has stopped watching tape on his opponents. He's started letting his coaches do that, so they can tell him exactly what he needs to know without Smith making his own assumptions based on what he sees differently.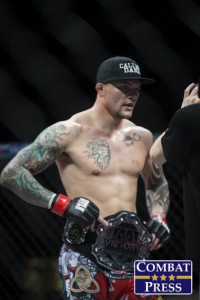 "My main focus on this fight, so far, is that I've got to go, man," Smith said. "I'm such a slow starter sometimes, and this isn't the stage to do it. I got a hand-picked $50,000 check dropped in front of my fuckin' face. That's what I'm looking at. This is a bonus fight. This is a dude that I can do whatever I want to, but if I don't go and I let him get a little bit of momentum going, that's what the difference is. I can't be a slow starter. I just got to fuckin' go. From the second the bell rings, I've got to put my foot on the gas and go."
There are typically two mentalities when given short-notice offers in the fight game. One type of fighter is calculating, padding his record while he's basically coddled by the promotion. Those are the guys that have little heart and would turn down a fight if they don't know who their opponent is. Smith is not that guy. Much like Donald Cerrone is known for saying, Smith will fight anyone, anywhere, anytime, and with no questions asked. This very much resonates in his experiences with the Irish fighters versus their somewhat soft American counterparts.
"They're a bunch of pussies," Smith said. "They want everything handed to them, and everything comes easy for fighters here in America. It's not like that for people in Ireland. They have to work and grind and push and fight and scratch just to get a little bit of fucking attention. You give them any little thing and they're going to run with it. They're going to do everything they can with that thing. I think that's why I related so well to those guys."
Smith has taken the long, grinding road to the UFC. He didn't jump out of some NCAA wrestling or kickboxing career right into the upper echelon of fighting. He started as a teenager and has fought every fight like it was his last. Finally, after roaring at the UFC brass for the last couple years, the lion will finally get a real shot in the big show and a four-fight contract to boot. The naysayers and social-media trolls can now focus their attention on someone else.
"To every idiot that always has something to say — 'He ain't gonna make it. He's not good enough. He'll never be back. Too many losses.' — I just want to take this and slap it in their faces. The people in my hometown and the cops were fucking with me all the time, and the teachers that said I wouldn't be shit. I've made it to the UFC twice. How many people can say that? Now who's the loser? Now who looks stupid? That's not my typical attitude, but that's my mindset right now. I don't see anybody saying anything now. All of those people got their tails stuck between their legs."
All it took was one hashtag and a string of impressive performances. Now, Smith's here.
Smith would like to thank all of his fans that tweeted and texted #CALLMEDANA. He would also like to thank his coaches and training partners, family, friends, managers and sponsors. Follow Anthony on Twitter:
@LionheartSmith
---
Advertisement

---