The old adage of "having your back up against the wall" is one of the worst experiences that a mixed martial artist can have. The situation usually presents itself when a fighter has reached a time where they have lost their last two or three fights and it seems like they are on the brink of a pink slip or even complete irrelevance. However, sometimes a fighter can make the best of this situation and defy all odds. Dan Hardy had a tough four-fight losing skid before winning his last two fights and retiring from the sport. Frank Mir was one of the worst, as his four-fight losing skid had many asking the former champion to hang up the gloves for good. Mir went on to knock out his next two opponents, a feat that he had never accomplished before in his illustrious career. Then there's GLORY kickboxing middleweight Wayne Barrett.
Barrett burst onto the scene as one of the most highly touted prospects in kickboxing back in 2013. When Barrett arrived in the ring at GLORY 9, it was only his second professional kickboxing bout. He delivered a crushing knockout to introduce himself to the fans. Barrett would go on to win his next bout before being matched up with Joe Schilling. In quite the upset, Barrett ended up defeating the much more experienced Schilling. Barrett won one more bout after his battle with Schilling before running into not only the first loss of his professional career in a highly controversial split decision against the aforementioned Schilling, but suffering subsequent losses to Jason Wilnis at GLORY 18 and Simon Marcus just six months ago at GLORY 20.
"You know, to take that time off was really good for me." Barrett told Combat Press. "First of all, I got a chance to just regroup and heal some injuries that have been plaguing me for a long time now. I feel great, man. I mean, I watched the fight with Simon Marcus and I could just tell and I could just see how tight I was. Some of it was due to some injuries and some of it was just due to other things, but I was able to make some changes all around in my camp mentally and just even physically. So I feel like a new person now — and I know that lot of guys say that, but I really do. I feel new. I feel different. I feel like I'm doing things my way again.
---
Advertisement

---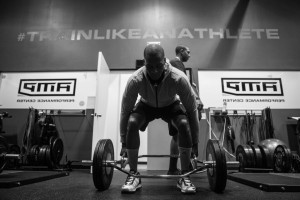 "When you get to this point, I think a lot of fighters and me, myself, I wasn't ready for all the he said, she said and so many people in your ear — so many people telling you what you should do. 'You should do this. You should stop doing this.' I'd fight it and obviously anyone that can see my style changed a little bit my last couple fights, and that's just not me. I'm not upset at it. I tried it. I'm done with it and that's it.
"I'm learning… [staying] on the positive note, I'm in there with some of the greatest guys at the highest levels, you know? Like Joe [Schilling]'s the man to many people. Simon Marcus… that was kind of like for my fight, that was kind of like my GSP vs. Matt Hughes I, where I just respected him so much and I had been watching him for so long. I think there was a little bit of that. I won't make that mistake twice. And with Jason Wilnis, I fought Jason Wilnis with a terrible injury and as a professional I should have known to back out of that fight instead of being too overly confident. But, like I said, it's all three guys that are seasoned. All three guys that's got three to four times as many fights than I have. All three of them have a professional world championship that they hold. I'm very thankful, and this last fight with Simon Marcus has really, really, really helped me to come along mentally."
As many fighters have said before, overcoming the mental aspect of the game is one of the most important tools a fighter can have in their arsenal. It's the push that gets them through being rocked or nearly being submitted. It's that voice inside their head telling them not to give up when they can barely walk or that rear-naked choke is cutting off all circulation. It's the driving force behind all that they are.
"I am human," Barrett confessed. "So I will be totally honest and I will always try to be a fighter that's honest with up-and-coming guys and fans and everything. I went through that dark time. I went through that time where I was just like, 'Wow. Why am I losing? What's going on in my life?' To be honest, a lot of things had to change also. I want to be a champion, but I have to change my lifestyle. I have to change a lot of things that I was doing outside of the ring that were distracting me, and I think that helped me. So everything that has happened to me… Yeah, I'm looking at it positively now, but it did take me a little while to get through that dark time of the blame game and the disappointment or the uncertainty. But I'm thankful that I was able to go through it and understand what it takes to come out of it. I hope that people understand that if you do go through those dark times, don't stay there. You won't be there forever as long as you make the proper changes and keep the right people around you."
Amidst his last fight, Barrett decided to take it into his own hands to find a way to take care of expenses. Barrett decided to start a GoFundMe account to help pay for his trip out to Dubai for GLORY 20. The feedback was extraordinary. He was able to raise over $3,700 toward his goal of $5,000. It was the people that he surrounded himself with that ultimately contributed to his support group.
"It was great to see the fans support me," Barrett admitted. "It was great to see that people really believe in me. That always is a great thing. And it does help. I mean, at the time, I'm doing this full-time right now. I'm not working another job. At that point, I wasn't teaching at a school. I was just really trying to focus on my career. So it was something that helped me. It really, really, really was a positive thing. And I've seen a ton of people that are in my circle now… everyone that I know now is doing it. It's so crazy. It made me feel great that I can do things and help other people and help up-and-coming fighters, like, 'Wow. That's a great idea. Wayne's funding his fight through GoFundMe, why don't I?' So now, like every time now when I go on, a buddy of mine or someone I know that's friends with me on Facebook, they all have GoFundMe. So I'm like, 'Wow! Alright this is cool.' It does help.
"I am a guy, though, that I do feel bad when I don't bring home that win for all the people that invested in me. But again, I appreciate the fans and I appreciate everyone that had something to do with me being where I am today. I'm going to keep fighting and I'm going to show them that their investment is not in vain."
Many fighters would have considered walking away from the sport after dealing with the mental roadblocks that Barrett has endured. But as a true fighter and warrior does, Barrett regrouped and started his ascension, both metaphorically and literally. Barrett will be taking on Dustin Jacoby at GLORY 24 in Denver. Colorado is home to Mile High Stadium and is well known for its extreme altitudes. It's a daunting concern for any fighter, especially those who have never experienced it before.
"I've been in Denver since last week. Everybody had me freaking out about this climate, but I haven't felt it," said Barrett. "I'm feeling great. I'm really confident. I'm very comfortable and I'm looking forward to this. I'm looking forward to the return of Wayne Barrett. Man, I've never felt like this. It's kinda eerie. It's like I'm fighting and I already felt like I've won and I'm not afraid to say it. I just feel confident. I feel different. My body feels so alive. Like I am ready. I'm ready. I'm so ready for this guy."
In Jacoby, Barrett will be taking on a former MMA fighter turned kickboxer riding a two-fight winning streak and a fellow kickboxer whose career started about the same time as his own. Jacoby was granted the opportunity to be a part of the GLORY middleweight qualification tournament and knocked out both of his opponents at GLORY 23, just two months ago. Being that Barrett hasn't fought since April and Jacoby recently fought, many would consider that Jacoby has the advantage as being the fresher fighter.
"I think that a lot of people think certain things are advantages and some aren't. I don't think so, because I'm different from anyone that he's fought in that tournament," Barrett explained. "I was asked to be in the tournament, but I wasn't 100 percent yet and, honestly, the guys… They kept calling and calling, and I was like, 'Hey guys, I'm sorry.' This was the first time that I ever said no to GLORY. Everyone was kind of shocked and they were like, 'Maybe he is injured.' I don't say no. I don't hand-pick fights. GLORY calls. I just say yes. So they knew something had to be up. I mean, the guys in the tournament, they weren't on my level. That's no disrespect to those guys, but they don't fight the way I fight. They haven't been in the scene or GLORY scene as much as I have. All my fights except for my first pro debut have been on television or have been in the GLORY ring. Two of the guys that came in were some guys that I knew from back home and it was their first debut, and another gentleman… It was catered for him to win. When I heard the lineup, I knew he would win.
"I mean, he's a guy who, ever since I saw his first interview when he came down to 185 [pounds], he just keeps focusing on all this power. Power and power and power. It just comes off that he's not really versed as a technical guy, and you can see it because he just goes crazy out there. If he can't hurt you or you hit him too much, he just starts to swing. And that's really what he does. If he wants to swing wild, great. If he wants to stand in the shell and cover up and try to chop my legs, I'm ready for that too. I mean, whatever he does, unfortunately, he just does not have the answer for this fight."
The main event of GLORY 24 will feature Joe Schilling and Jason Wilnis, two men that are all too familiar to Barrett. It's a fight that decides who will be the next man to challenge for GLORY middleweight gold. It's also a fight that Barrett will have a very close eye on.
"Right now, I see Joe coming out. I mean he has good footwork, he moves, he's got great hands," said Barrett. "If I wasn't hurt, and being that I was able to go the distance with Wilnis with the kind of injuries that I had — and like I said, I never try to disrespect guys; I'm just being very honest — I know what kind of shape I was in in that fight and I was able to still keep going into the third, so I don't see Joe having a problem with him."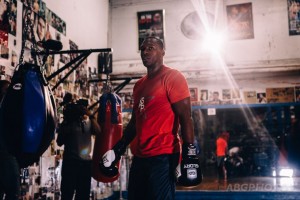 In the event that Barrett and Schilling are both victorious, it would not be unusual for fans to clamor for the completion of a trilogy between these two men. Obviously, Schilling would be fighting for the title in his next bout, and that leaves Barrett in a semi-limbo position if that's what he wanted next. But it isn't.
"Man, listen, I want to, first of all, get back on the winning track," Barrett said. "I want to show guys that I am back. I want to show guys that I'm here. You best believe I have my list of redemption of anyone that I have lost to. I want a rematch."
The one thing that Barrett couldn't stress enough is the changes he made in preparation for this fight.
"I really went back to just being Wayne," Barrett admitted. "I didn't take any sponsors. I just really, really focused on just going back to basics — going back to being just Wayne Barrett. I don't have to do anything special for anyone. I'm very thankful for every sponsor that's ever been behind me prior and those guys are amazing. But it's just me. The only thing I'm going in this fight with is me, God [and] everyone that he's put in my corner for this training camp, which is great. All I tell people is if you don't have a sponsor, if you're going through a hard time, just keep your head up. Keep moving forward, and if you believe in yourself, things will fall into place.
"Friday, I'm telling you, it's going to be the return of Wayne Barrett. I'm gonna be so happy to raise my hand."
---
Advertisement

---