"I decided I wanted to be the best, and the only way to be the best is if you're a champion."
That motivation as a competitor lies with many, but only a select few get to embark on their journey and achieve it. After finding success on the regional circuit in his home state of Illinois, Will Brooks signed with Bellator. Eight fights later, he was at the proverbial mountain top of the organization. He put together a 5-1 mark and captured a Bellator lightweight tournament win to set up a fight for Bellator's interim lightweight title. In May 2014, Brooks defeated Michael Chandler to win the interim championship and then defeated Chandler again in November of that same year to become the undisputed champion. Brooks continued to run roughshod over the division by successfully defending his title against Dave Jansen at Bellator 136.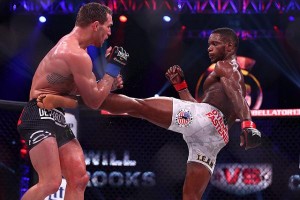 "Now it's my job to continue to keep that going and make sure I'm doing everything I possibly can to hold onto that title," Brooks told Combat Press. "[It's my job to] make sure I make it hard for other guys to come and take that title."
---
Advertisement

---
The next man up to face Brooks is 23-year-old Marcin Held. The Polish lightweight has an impressive ability to make the man across from him tap in excruciating pain. A glance at Held's resume reveals submission after submission — kneebar, armbar, triangle choke, toe hold. If there's a limb exposed, Held will exploit the mental lapse and leave his opponent with a loss. However, Held has never faced an athlete quite as talented as Brooks.
"We train to make sure we're prepared for that, but overall I'm not overwhelmed by him and overly concerned by what he's going to bring to the table," said Brooks.
The champion trains out of American Top Team, a gym with a plethora of a talent to keep Brooks mentally and physically prepared for whatever challenge awaits. If he says he's not overly concerned with what Held brings to the table, it's hard to question him after knowing the fighters he's up against on a daily basis.
"We always have different training partners for every camp, constantly mixing it up," explained Brooks. "We have so many talented, high-level guys in our gym. One guy I've been training closely with is Dustin Poirier. I've been training with him closely since I've been at American Top Team. Thiago Alves, I'm training with right now. Daniel Straus, Robbie Lawler, Jorge Masvidal, Nik Lentz. Mike Brown is a legend of the sport [and] a WEC champion. It's good to have those guys in there. You can't come in there and be halfway committed to what you're doing."
The build toward the Brooks-Held fight has been relatively quiet, with neither fighter willing to engage in verbal sparring. However, as a champion, a fighter becomes a target, which means he can expect a bit of trash talk coming at any time, even if it's from someone outside of the weight class. Recently, Brooks and featherweight titleholder Patricio "Pitbull" Freire engaged in a Twitter feud after Freire slighted Brooks for being the co-headliner — and not the main event — of Bellator 145 on Nov. 6. Usually, the heavier weight class gets top billing, but not in this case. Freire made sure to remind Brooks, telling the champ that he was on the undercard while Freire was headlining.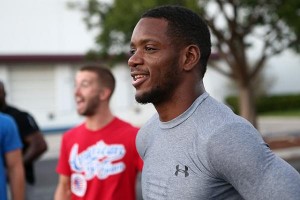 Brooks wasn't overly keen in engaging in this type of back and forth again. It's not because he can't necessarily back his words up, but because it strays from the values that have been instilled in him. That and, well, Mama Brooks wasn't all too happy.
"Our family isn't about talking, you know," said Brooks. "We're about going out there and taking care of business, whether it's in everyday life or competing, like what I do. She was a little frustrated that I lost track of that for a little bit, so, being my mom, she reached [out to] me and now we move forward. I was always taught to carry yourself like you've always been there, like it's not brand new to you, and it's something I try to implement in my everyday life."
Now, just a few days away from his next fight, Brooks is back to being focused. He has a little extra motivation, too.
"I want to be able to provide for my fiance," said Brooks. "We have a kid on the way, our first child on the way. [I want to] do the best that I can possibly do to be able to give them the best lifestyle that I can possibly supply them with. Different motivation, different responsibilities. It's not so much about me and what I want to do with my career; it's what I need to do to give her the life that I want her to have. It's just really a blessed time for me right now. I just continue to build on that, continue to invite and allow positive people in my life, and try to take advantage of those opportunities in a positive way."
---
Advertisement

---