When the UFC announces that it is holding an open tryout for an upcoming season of The Ultimate Fighter reality television series, hearts flutter all across the country, and even the world. Countless fighters see it as an opportunity to get their shot at the big time. It's the chance to be recognized for all the hard work, the training and all of the fights they've had in undesirable locations over the years.
It's the time to cash in. With a gym bag over their shoulder and a whole bunch of dreams in their eyes, the hopefuls make their way to whatever city it is that the UFC has chosen to host the tryouts – these days, that usually means Las Vegas.
Eric Irvin has made the trek to the tryouts before. He has worked himself up, only to be disappointed. Now, it's a distant memory, but he still remembers how it felt that day. Yet, when April 27 rolls around and it's time for tryouts for the show's 22nd season, he'll probably do it all over again. Only this time, he plans on making it.
---
Advertisement

---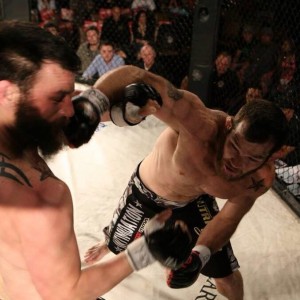 "Honestly, I haven't watched the last couple of seasons of The Ultimate Fighter," Irvin told Combat Press. "I remember, I tried out a long time ago. I was a 3-0 amateur when I tried out,and when I showed up there in Chicago, there was probably about 3000 people there. And I flew to Chicago and waited forever and got like a minute on the mat with a guy to show my skills. I think it was a 170[-pound] division and that guy weighed like 220 pounds but could make 170, and we grappled from our knees and there were no submissions throughout but we were pretty even. I mean, he had freakin' 50 pounds on me, but that was it. They were like, 'Both you guys didn't make it through,' and I was just thinking, 'Wow, that sucked!' So I haven't tried out since, and now this one has come out and I didn't really know about it and I've had a bunch of people contact me and ask if I'm gonna try out. They put a wide variety of guys on The Ultimate Fighter, so a win would definitely help."
Irvin's life growing up could best be described as hard. He moved around as a kid more than most people do in their whole life. It wasn't an ideal situation for the now 29-year-old, but he made things work.
"My real father, he left my mom and my brother and I when I was like two, and then after that there was Vince. He wasn't my biological dad, but he is my father. He took on being the father after that," Irvin explained. "He and my mom were together for 10 or 12 years. They never got married, but when they split up me and my brother went to live with my mom up in the city in St. Louis and we got into a bit of trouble there, mom was like, 'You're a hooligan. You've gotta go live with your dad.' So, that's when I went to live with my pops. We had a pretty good relationship because it was kinda just like me and him. So, he had to work early hours and late hours, so I kinda felt like the mom. I had to do the dishes and clean the house and always had dad's dinner ready for him when he got home and shit like that.
"That was all the way up to the age of 15 and then, during high school, me and my dad kinda butted heads a little bit and didn't see eye to eye and I moved out when I was about 16 or 17 and kinda lived on my own until I went to college. I kinda just bounced around and went and lived with one of my buddies for the longest time and then bounced around and lived with some other buddies and their parents right up until I left for college. It was always a little rough, but I wouldn't change it. If it wasn't for that kinda shit, who knows who I'd be."
While he had his slip-ups every now and again, Irvin was pretty good when it came to actually getting results. He was introduced to wrestling. He may not have been the best at the sport, and he may not have had any acclaimed wrestling seasons like other mixed martial arts fighters, but what he did have was dedication. And that's one thing that wrestling has taught him about life itself — to keep getting better and never give up.
"When I was in high school, I started wrestlin', and my pops told me I could only play one sport a year," Irvin recalled. "In my freshman year, I played football. And that was fun, but I wasn't really a huge fan. And then my buddies got me into wrestling in my sophomore year. I was a bit of a late bloomer compared to some of the guys who had been wrestlin' their whole life, and I didn't do so hot — I went to the state tournament and I didn't place. Then, a couple of the good studs from my team were gonna go on this recruiting trip to go to college, so it was kinda like, go to the military or go to college when I got out of high school. So, I went with these guys and got lucky enough to get a little bit of scholarship to go and wrestle mainly because of my grade at that point, because I always made pretty good grades. That was junior college, and I wrestled there for about three years. And that's where I kinda started to pick it up and get a lot better at it. I was a national qualifier, and my last match in college was a sudden victory overtime loss. And, man, nothing hurts so much as ending your career like that. If I had of won that match, I woulda been All-American.
"I got outta college and came back to Farmington [Missouri] and everyone was fightin'. I took a little bit of time off to not do sports — I mean, I'd been wrestling for six years — but everyone was doin' it and I kinda shacked up with those guys and that's pretty much the beginning of it. I'd trained for maybe six months and then took 10 amateur fights in a year using mainly my wrestling."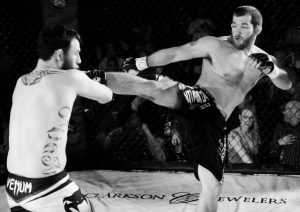 In his Shamrock FC: Showdown bout, Irvin squares off with 26-fight veteran Joshua Thorpe, who is currently on a four-fight skid. Thorpe, who sports a record that sits below the .500 mark, has had over twice as many professional fights as Irvin.
"I feel like if he had any advantage on me, that would be his advantage," Irvin admitted. "He has definitely had some cage time. But, I had 11 amateur fights [and] I've had 11 pro fights now, so to me, yeah, he's fought more professional fights but being in the cage is being in the cage. Yeah, at amateur it's a lower level, but you're still getting that cage experience. I'm not really worried. I'm pretty, well, comfortable at this point. He's definitely a veteran and I'm sure he's gonna be a tough fight."
The last time Irvin lost a fight was at the beginning of 2013 when he met UFC veteran Charlie Brenneman in a bout that ended in a second-round submission finish. Following his defeat, Irvin bounced back to win three straight fights. The momentum is going to do wonders for when he steps into the cage at the River City Casino in St. Louis on March 21.
"I'm looking to finish this guy," Irvin exclaimed. "He's a good, solid opponent, but I feel that I'm better and I just wanna go out there [and] get that finish. I train for a 30-minute fight every time, but my last two fights have been finishes and I wanna keep that going."
Eric would like to thank Nutrishop, Five Star Pizza, Huck Chiropractic, 573 Fitness, Universal Fitness and Destruction MMA. He would also like to thank his friends and family, as well as his girlfriend. Follow Irvin on Twitter:
@EricFight155
---
Advertisement

---