Entitlement is something that has become a bit of a problem in the generation that has been coined the "millennials." This generation loosely refers to people who were born from the early 1980s to the early 2000s. Whether it's things like the lack of scorekeeping in youth sports or parents generally letting their kids do whatever the hell they want, this coddling has led to some millennials thinking they are somehow owed something by society.
Fortunately, not all millennials are like this. Take 27-year-old mixed martial artist Anthony "Lionheart" Smith, for example. Other millennials could learn a lot from him.
Unlike a lot of the younger MMA fighters who train full-time, have no adult responsibilities and complain when they have no money, Smith is a father of two, a soon-to-be husband, a full-time concrete finisher and a professional fighter who, in 33 contests, has only been to a decision once. These combined statistics put him into a category almost no other fighter, let alone a millennial, could ever dream of, and he has a very simple way of explaining how he does it.
---
Advertisement

---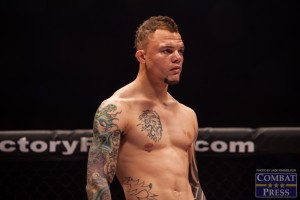 "I'm just not a pussy," Smith told Combat Press. "I've got two little tiny human beings that have to be cared for. And just because I want to chase my dream and do this fighting thing — while it is for them as well — when the fighting does stop, and it will, it will be a lot easier. I'll be able to spend more time [with them] and not have to work. But, for right now, I've got to. I've got to pay the bills. I've given my family a lifestyle that I'm very proud of. We've got boats and campers and a nice house, and I'm not willing to take that away from them because I want to train and sleep during the day."
Unfortunately, not all fighters share this drive to succeed not just in the ring but in life. These are the guys who constantly complain about unfair pay for fighters. While this may be true compared to other sports, the fact remains that everyone has to put in time to get the money and the lifestyle they want in this world. Smith recognizes this is a problem in the sport today. It's not just about what someone does in training. It's about what they do in all of life that really counts.
"A lot of the guys in the MMA world now are a bunch of spoiled little brats," said the concrete worker. "You've got to be able to rise and grind, and my grind is all around the spectrum. It's not just in the gym. It's not just at work. It's at all those things at the same time. When this thing does pop and I'm where I need to be, I'm going to explode, and the world's not ready for it. I'm almost there and I can't slow down now."
Even at age 27, Smith has had a storied career. Outside of being one of the few fighters in history to go through his first 29 fights with no decisions, he has fought in all the major organizations, including the UFC, Bellator and Strikeforce. His goal has always been a permanent spot on the UFC roster. He had that chance, but a combination of some dirty eye strikes from Roger Gracie and a knee that gave out while defending a kneebar by one of the greatest active Brazilian Jiu-Jitsu players quickly hit the skids on that dream. Smith didn't bitch and complain, though. He did what he had to do to better his craft.
After Zuffa released him in 2013, Smith suffered a third loss in a row to a fellow veteran from the Midwest. After the fight, he had to do some soul-searching. That search landed him at Mick Doyle's Kickboxing and Fitness Center in his hometown of Omaha, Neb. This was the best move of his career.
"When I got to Mick Doyle's, I was a nobody," Smith admitted. "I was coming off three losses. I had just got cut from the UFC. Then I lost to Josh Neer. I was a nobody, you know? They didn't have to take me. They didn't have to let me in the gym. They just wanted me to succeed and they had seen the potential for that.
"To this day, that has never changed. When Mick and Matt are talking to me, something really special is going on. They don't care about money and fame and big lights. They just want me to be successful. When I have Scott Morton, my jiu-jitsu and wrestling coach, and you mix in Mick and Matt Bentley, it's just a recipe for success."
Success is now coming in waves. Since joining his new gym, Smith has gone on a five-fight winning streak, which included two Bellator wins and the capture and defense of the Cage Fury Fighting Championships title against the Northeast's top middleweight prospect, Tim Williams. The promotion and fight fans of that part of the country were not happy about Smith winning the title, and, initially, they weren't taking him seriously.
"They didn't even have my plane land until like 5 o'clock and the weigh-ins were at 7," Smith explained. "I had four pounds to cut after already cutting from where I was at. A couple weeks out, I was probably at 210. I didn't have a lot of time to cut weight and I missed it on the first try. Everybody was being all hostile about it. It was kind of just a shitty deal, but I knew I had to get my weight cut down before they flew me in and I just had to perform.
"All these interviews that I did with people in that area, I told them I was going to finish him, it's going to be quick, it's going to be nasty, it's going to be devastating and it's going to be beautiful. They were just looking at me like I was fucking crazy. And, that's what I did."
In their first fight, in February, Smith submitted Williams in the second round. In the July rematch, he won by TKO barely one minute into the contest. Not only did the Nebraskan strip the local guy of the title, but he put the biggest exclamation point on the win with a knee before anybody could even get settled into their seats. It was both poetic and an indication of his intentions for taking on top-ranked guys. The next guy is going to have a big problem on his hands.
About three weeks before his last CFFC win, Smith already knew about his next opportunity. His manager, Train with DC Management in Omaha, has a good relationship with the Resurrection Fighting Alliance and had landed him a spot on the RFA 30 card, which takes place this Friday night at Pinnacle Bank Arena in Lincoln, Neb. Smith knew he needed a dominant win to secure the main event, so there was a lot of love behind the knee that Williams ate.
A few weeks ago, Smith learned that his opponent would be Brock Jardine, a former UFC and Titan FC welterweight who is stepping into a spot that a lot of middleweights wouldn't take.
"I think that whoever they put in front of me is a fucking idiot," Smith stated. "If they're trying to forward their career, I'm the worst person they could be in a fight with right now. I think that Brock Jardine is probably a more game opponent than Tim Williams for the simple fact that he's willing to stand and trade. He's more willing to get into that dogfight. But, as far as skill, I think that Tim Williams is probably the better grappler. I think that Tim Williams is probably more technical and skilled on his feet, but I don't think he was as willing to do it as Brock Jardine. I don't think Brock Jardine has that mentality. I don't think he gives a shit, because he's been there and done that.
"As a whole, Brock Jardine is as good as I'm going to get right now. I'm not going to drop names, but there were much bigger names and much bigger opponents that didn't even want to touch this fight. It was no's across the board."
Jardine is a tough fighter. After a recent losing streak, which included his release from the UFC, he decided to leave his former gym at The Pit Elevated in Orem, Utah, to seek out a better coaching staff, but he still trains with his buddies and fellow UFC vets Ramsey Nijem, Court McGee and Steven Siler. Jardine's wrestling was always good and his striking has gotten much better.
"I hate to be that dude, man, but I don't know anything about him," Smith admitted. "I know his record. I know his height. I know he's coming up from 170 [pounds]. This time, from what my coaches have told me, he's a super-tough gamer and he's a little bit of a brawler.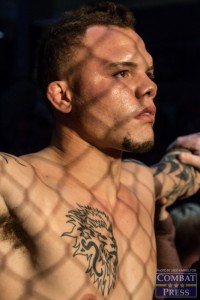 "Look, I'll win the CFFC belt, I'll beat Brock Jardine and if the UFC doesn't want me by then, I'll wreck [Andrew] Sanchez and take his RFA title. Then, if I've got to jump over to Legacy and take their title too, that's what I'll do. If I have to go all the way over to Cage Warriors in the UK, I'll just start collecting belts until the UFC calls me. That's my mentality going into every single fight. I'm done begging for my chances. After finally getting a real coach and doing things right for the last 18 months, I don't think anyone can touch me. There isn't a person in the UFC that I don't think I can beat. It's just a matter of time."
Smith is not entitled, but he's willing to put in the work to collect titles. He is not expecting the world to hand him anything, so he is going to get out there and get it for himself. He could literally go out there and get every possible non-UFC strap, but it would be ridiculous for the Zuffa brass to ignore him up to that point. The company know he comes to brawl, and it would take some serious ignorance to turn a blind eye to his recent resurgence since he switched camps. It sounds tough, but he does a really good job of making hard work sound easy. There are a lot of millennials in this world that should take a page out of the "Lionheart" playbook.
"I've really just been enjoying life, hanging out with my family. Training's going good, and I'm staying relatively injury-free," said Smith. "It's just the same old shit, different day. I've got practice every single morning at 5:30 a.m. with the team. I get to work at 7 a.m.. I work all day [and] get off between 3 and 4 p.m., go right to another practice and one more after that. I'm still doing three-a-days with a full-time job.
"You hear all these motivational speakers say, 'Sleep is for the weak.' But I couldn't do it without my support system. My fiancé, Mikhala, is huge in that. For the seven or eight weeks I'm training, she doesn't bitch and she doesn't complain, because it's all in the grand scheme of things."
Millennials, take note.
Smith would like to thank all of his coaches and training partners at Mick Doyle's Kickboxing and Fitness, Scott Morton, his kids, his fiancé Mikhala, Dynamic Fastener, Big Brain Tattoo, Lenny Renken, Mouth of the South, Nissan of Omaha, B & B Roofing, DC Management, Seven Fight Gear and Animal Instinct. Follow Anthony on Twitter:
@LionheartSmith
---
Advertisement

---