It's no surprise that Bellator's heavyweight division has gained some well-known fighters over the past year in order to increase competition and increase viewership. The notoriety of fighters like Kimbo Slice and Cheick Kongo has fans watching, even if these fighters haven't experienced much success in their careers. Bellator's approach has worked.
The company took it up another notch with the recent signing of Lorenzo Hood, a 26-year-old prospect whose fights have never gone past the first round. Hood hasn't fought since December 2014, but it hasn't been for lack of trying. He had four fights booked in 2015 and not a single one came to fruition, including spots on Island Fights 33 and 34.
"So I showed up, weighed in. I think I had two opponents [who] left in the middle of the night," Hood explained to Combat Press. "One guy got hurt and then I think the other one was… I really wasn't told what happened. It's been treacherous. You know, cutting weight and getting down and getting ready and it doesn't work out. It's a pain.
---
Advertisement

---
"I wanted to fight Chaz Morgan, who was undefeated. They didn't want to give me that fight. Dean Toole will tell you. I wanted to fight Dillon [Cleckler]. Those are guys that I was trying to fight — that I wanted to fight. I ended up getting Jeremy May, who was a UFC veteran, and I was excited about that. I was like, 'Oh man, he's a UFC vet and it'll be good and finally I won't have to hear [that] he hasn't fought this guy or he hasn't fought that guy,' and the next thing you know, Jeremy May, after weigh-ins, supposedly gets an injury to his ankle walking down the stairs. Then he's on Instagram in the middle of the night going home and he doesn't even tell anybody. Those are things that I can't control. Those are things that I can only do one thing. In that case, I ended up taking a professional boxing fight, just to get a fight. Just to do something. You can't control stuff like that and things like that happen and you just gotta keep going.
"Being off for almost a year now, ring rust is definitely a big factor. It's the only thing that I've been leery of, just, man, I've been out for a year, out of the cage. I mean, you train, you train, you train. It doesn't ever simulate a fight, regardless of how hard you are going. Fighting is definitely a whole different world. For me, it's a matter of mentally getting past that and, at that point, I feel that success is the next step."
Hood is accustomed to the feeling of success. His debut campaign in 2009 was no less than spectacular, as he racked up an impressive 6-1 record within that year. Four of those fights came within a single month.
"Man, you know, it's just wanting to fight," Hood said. "I wanted to fight. I kind of take the mentality like, if I'm going to do it, I'm going to do it 10 million percent. And the opportunities were there to fight and I was like, 'Hey, I gotta take advantage of it.' If I could fight every weekend, then I would fight every weekend. If I could fight Friday and Saturday, I would fight Friday and Saturday. It's just one of those things that I try and capitalize on. I felt good [and] I felt healthy, and my fights weren't going that long. I wasn't taking much damage, if any. God gave me the ability to go ahead and fight, so I was fighting and I took advantage of it.
"It's a huge advantage if you can finish your opponent and get him out of there in the first round. You feel good afterwards. You're definitely trying to stay in there, especially at heavyweight. As a heavyweight who cuts, if I can get a fight over with quick and they can give me a month turnaround, that's awesome. That way I can just hang around where I need to be and just stay ready where I am at."
One thing that heavyweight fighters deal with more than fighters in any other weight class is the fluctuation in weight, meaning that a heavyweight can weigh anywhere from 206 pounds all the way up to 265 pounds. Hood, like many of the larger heavyweights, is actually cutting weight. He starts at approximately 294 pounds to make the 265-pound limit, but he actually takes it a step further.
"I usually try to make like 258. That's my mark," he revealed. "That's where we feel best at."
Taking a closer look at Hood and his time as a professional, fans will notice an extremely large gap of time where Hood stopped fighting from 2010 until 2014. Many speculated a loss of desire or listed his departure as a "long hiatus." However, Hood wasn't just sitting around on the couch waiting for opportunity.
"I was playing pro football," Hood explained. "I was playing in Canada and professional Arena [Football]. I had a couple of combines and things that I went to during that time, and I was playing ball the whole time. Then I kinda got dinged up going to an NFL regional combine and I was just sitting around as I was healing up. I always loved fighting, obviously. Football was my first love. I missed the combat. I missed the one-on-one. I missed the character that it kind of builds and brings. And that was it. I got up, got some of my old stuff and went back to it.
"It's all about work. It's all about hard work and training and pushing yourself through the shitty moments, excuse my language. Just pushing yourself through those moments, which kind of sucks, and then hopefully you're hoping for that small, one-minute [or] two-minute window where your hand is raised and you get the microphone and get to say a couple things and get right back where you need to go to. Right back, looking forward to what's next."
Hood will be making his promotional debut at Bellator 141 on Friday against Raphael Butler, a six-fight veteran of Bellator. He is not looking past Butler in any sense, but he already has an idea about his future opponents.
"Kimbo Slice, for sure, which I feel like is just somebody who I want to get my hands on ever so badly," Hood admitted to Combat Press. "I've talked about this in a couple different interviews. I would fight him for free. That's a fight that I think, one, makes a lot of sense to a lot of people — two guys coming down from South Florida [with] beards [and] tattoos, [and] both knock people out. I just don't really respect where he came from and not paying any part of his dues. Coming in there and fighting Ken Shamrock. Yes, he's a [UFC] Hall of Famer [and] a legend, but he's like 50 years old and you go in there and knock him out and you go back to thinking you're the greatest, you know? It really irritates me.
"We tried to get a fight together with Kimbo in North Carolina and that fell through. His management team, they didn't give me the full details about it, but I don't think it was a good fight for him because he was in negotiations and talking with Bellator. He made the smart decision. I know that I would probably do the same thing. I don't want to fight an up-and-coming guy if I don't have to and I can go to the big show. Now we are in the same organization [and] we're in the same weight class, so he can't run anywhere. He can't really go anywhere. He has to buck up and do what needs to be done"
Kimbo isn't the only man on Hood's radar, though.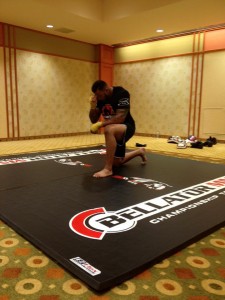 "Bobby [Lashley] is a hell of an athlete," said Hood. "He's a huge dude and a great athlete. I respect Bobby more just because of his wrestling experience and obviously what he did. As far as in MMA, though, I feel he was another guy who just walked in and was given guys to go beat up on and guys that they were 100 percent sure that he was going to beat.
"Part of being a fighter and part of the journey is dealing with the grind, the come up of being a pro [and] fighting for $75 in a bar somewhere and doing all these things. Not coming in because you're a wrestler in the WWE or TNA and all these other things and we're going to give you whatever you need to make you successful. You can tell those kind of things in a fight when a guy is getting pushed to that limit and facing that adversity and he has to go through it. I feel like those guys will shine brighter than those guys given those hand[outs]. It's a Seth Petruzelli versus Kimbo Slice thing. It's really funny to me, because what happens when you get knocked out by a guy a whole weight class underneath you and you're supposed to be the baddest dude on the planet? What do you say then?"
Hood speaks about the easy routes that Kimbo and Lashley took in their MMA careers, but he has come under fire online for the caliber of his own opponents that he has dispatched of ever so easily.
"In regards to that, I really don't have much control over that," Hood countered. "It's not like they call me and they ask me, 'Hey Lorenzo, do you want to fight this guy?' To my knowledge, every time a fight was given to my coaches and everybody else, we were always ready to fight and we always said yes. It just kind of happened that it didn't work out and the fight didn't go through, [but] it wasn't on our end. We were always ready, whether we were hurt or injured.
"But as far as caliber of opponents, I think that just comes from not being able to fight. We would go months on end calling. We would literally go through mixedmartialarts.com and would call every promotion on there and be like, 'Hey, did you guys need a heavyweight?' to the point of where we would just copy and paste, call them and they wouldn't answer, and we would just paste the text message and email. I would come to the gym and probably spend three hours in the morning doing that every single day. People don't understand that. They say, 'Oh, he handpicked.' I never, never once did that. We emailed. We called. We texted.
"And then it was, 'Hey, we had a guy fall out last minute. Does your guy want to fight?' And not that it even matters but just to show you how much I wanted to fight: these guys that I was fighting were making a couple thousand dollars more than me and I was making 400 to show and maybe a hundred dollars to win. I was having to go to these far places and travel, and I was the guy with the much better record. That was for me to fight. I wanted to fight that bad.
"Anybody is dangerous. Everybody is dangerous. Even Raphael has come up through Bellator and I think he's fought there four or five times, maybe more. That's fine and you can say he's fought better competition, but I don't really think that plays into our match-up because, at the end of the day, it's about him and me and not really about who he's fought or who I've fought.
"The heavyweight division is just one of those divisions that everything is thrown 100 percent hard. The experience factor in the heavyweight division, I think, plays less and less of a factor than [in] any other weight class. For me, it's more about your training and your technique and your game plan. It's all about the game plan and who that night comes out that night and can apply their game plan and stick to it."
A lot of fighters have stated recently how important the mental aspect is when it comes to fighting. Bellator lightweight David "The Caveman" Rickels has said before that the mental game way exceeds the old 50/50 adage. Hood agrees.
"Ninety percent of this game is mental. Maybe even more," Hood admitted. "Maybe 95 percent. That's why guys are hiring sports psychiatrists and people have these people back there with them talking with them and you hear guys screaming at themselves in the mirror. It's all mental. Everyone can train their bodies. Everyone can learn how to play lacrosse. Everyone can learn how to wrestle and do certain things. But, at the end of the day, it's the mental aspect that separates each fighter from themselves. That's what makes every fighter different — the mental game. That's the most important part of it all.
"Even as a professional athlete, whether you are fighting in the UFC, once you get hit, once that adversity happens — the injury, the blood, the cut — it's how you deal with that. You can't really train for situations all the time. Those situations just come about and happen. How you handle those is what separates you from the rest of the other people."
Fighters often watch film of their upcoming opponents in order to spot any weaknesses that they can capitalize on during the fight.
"I've watched his fights. Well, I haven't watched his fights, but my coaches have watched his fights. I never watch my opponent's fights," confessed Hood. "I never have [and] I never will. I don't ever want to see anything that they ever do. I just don't ever want to know what they do. I don't really care what they do or how they do it. I don't want to watch anything because then it gets stuck in your head and you're thinking about something that they are going to do and they may never do it. Like I said, it's the mental game of it. If you watch a highlight reel of a guy knocking out 13 opponents, you're like, 'Man, I gotta fight this guy now.' Regardless of how great you are [and] regardless of how tough you are, that's still in your head at some point. You never want that to diminish any part of the fighter that you are or the game plan that you want or to be scared of throwing something that you want to throw because he knocked that one guy out that one time. So it's a big factor for me [to] never watch any of my opponents.
"I never watch film, and that comes from playing football. I used to watch the offensive tackles and how they moved and if they had tendencies. And then, during the game, they wouldn't have that same tendency toward me. I was so stuck in the mindset that I [am] watching what they were going to do and how they were going to move and how they leaned left and how they leaned right on different plays. I really just wanted to get away from it because I didn't want it to be in my head when I was fighting. If I'm focused on what I need to do to win, there's a much higher percentage of chance that I'm going to win that fight as opposed to worrying about avoiding what it's going to take for me to lose and then getting caught with something that you normally wouldn't get caught with."
While it's quite the cliché to ask, it's always interesting to see the outlook of a fighter when they give their fight prediction. Anyone who has watched Hood's previous fights already knows what he's going to say.
"For the most part, I have said that I don't see it going past the first round," Hood said. "I think that we are two guys that are going to want to stand and bang. I don't know. It could be totally different. I could be totally wrong. His whole camp could have been working on trying to take me down. I feel like we both had four or five weeks' notice on this, and I think we both have a good game plan."
"The Dream Killer" is one of the more original nicknames in the sport today. Hood was given the moniker by his coach after another fighter's confidence got the best of him and backfired.
"We were sitting in the back of the room after a kickboxing tournament and there was a kid who was like, 'Oh, I'm going to beat you. All my dreams are going to come true.' He was like, 'I'm going to use you to start my career.' And we were just kind of laughing," Hood recalled. "So after we knocked him out, my coach and I were like, 'You know what? I'm going to start calling you 'The Dream Killer.' So that was that.
"When you fight me, you're going to have to earn everything about it, and I'm coming to take what you think is yours."
Lorenzo would like to thank his aunt, mom, brothers and sisters. He would also like to thank HeadRush, Future Legend, Elite Fitness, Strike MMA (the new gym that he just opened up), Team Top Notch, Coach Mac for getting him ready for this fight, his chiropractor Rory and anyone else that has helped him out. He would also like to thank Bellator for giving him this opportunity to fight. Follow Hood on Twitter:
@hood_zo
---
Advertisement

---