"I don't think I will ever truly know the extent of my potential; and that's a good thing to me. It keeps me hungry and very humble. I am going to do whatever I can do to try to do everything the best way I can. And if I teach something, I am going to teach it the best way I can, if anyone wants to learn from me."
These were Marina Shafir's words in an interview with Combat Press. Shafir, a member of the Four Horsewomen stable alongside Shayna Baszler, Jessamyn Duke and famous UFC champion Ronda Rousey, has entered the professional arena with a ton of hype. She has the least pro experience among the foursome, but she is seen as a promising future star. Sometimes, though, all that hype comes with its own set of drawbacks that the skilled judoka must overcome.
"Everyone seems to think that everything is just given to me," Shafir continued. "I've even been told this in interviews. But I know that 'the world owes me nothing; it was here first' — which is one of my favorite quotes by the way. People think I walk in expecting everything to be given to me, but that is not my mentality. I have worked for everything I've gotten. I watched my immigrant parents work for every dollar. We work for every ounce of respect. I just laugh at folks who think that; they should know better."
---
Advertisement

---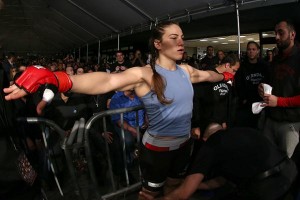 "The Supernova from Moldova" came to America when she was just five years old. Her father, a mechanic, and mother, a teacher, brought Shafir and her two older brothers almost halfway around the world to settle in New York. At age six, she started training judo. By age 12 or 13, she was actively competing at fairly high levels. However, in her very late teens, she abruptly stopped.
"Some folks think I just walked away because I was done. Not true," Shafir stated. "I hurt my lower back, badly. Plus, it was just so expensive to compete in judo. It's not like in MMA with all the sponsors. It got to the point where my parents were working overtime and I just felt selfish. Mentally, I was drained and I couldn't watch my parents go into debt, especially because I just wasn't winning as much as I needed to.
"When the rules started to change — more like bubble-wrapped judo — I knew it was time to quit. In judo, you have to compete to earn points to qualify for the national team, and it was just not… It just didn't feel right to watch my family struggle any more. It's really gotten hard for struggling judokas, and I was starting to hate it. So I quit."
Shafir found that giving up judo was OK, but giving up competition didn't work. That's when she started training jiu-jitsu.
"My mom now knows why I quit, so I think that's why she is so supportive now," said Shafir. "My love for competition never went away. I could never be one of those gym rats who just works out to work out or take Tae Bo or yoga or something. Jiu-jitsu really resonated with me. Judo to grappling to MMA made sense.
"I can tell you I did not start because of Ronda. We spoke once or twice a week, but we didn't even really talk about MMA. Her boyfriend was a douchebag and I hated my job. I guess I was interested because I watched the fights with my brothers. All of them — boxing, kickboxing, Muay Thai. Some country's sweeps are OK, some not. But it was all interesting. It just feels natural to compete, I guess.
"I am the baby sister of two brothers. Growing up my brothers wanted nothing to do with protecting me, it seemed. I was picked on, called names, bullied through middle and high school. I was the child of immigrant parents and my father put the fear of God in me. I didn't ever want to get in trouble. I was terrified of getting my parents in trouble. My dad was a strong man — special forces, sambo, power-lifting. I think he was afraid I would hurt someone.
"I was always the quiet crazy girl, but my brothers let me handle my own shit. Their friends would pick on me back then, call me the ugly duckling. I was at least allowed to throw them on their heads [laughs], because they were adults picking on a child."
Shafir trained MMA and kept in touch with Rousey. At the end of 2012, she moved to California to train at Rousey's gym with the likes of Edward Tarverdyan, and she became a member of the Four Horsewomen along with Baszler and Duke, who are also her roommates.
"When Shayna moved in, we were all watching these pro-wrestling movies and documentaries," Shafir recalled. "We watched the one on the Four Horsemen and just identified with it. It just felt organic and we went with it. It was simple and constructed by Shayna, really."
Shafir's MMA record is quite impressive — five wins and no losses as an amateur — and Shafir, like Rousey, finished all of her opponents in two minutes or less (well, the official time for one of them was 2:03). In her pro debut, she finished Chandra Engel by armbar in 1:57. Shafir looked to follow in her friend's unbeaten path, but then she fought Amanda Bell in August 2014. And Shafir lost.
"Nothing felt right leading up to that fight," admitted Shafir. "Well, nothing except the weight cut. That weight cut was the best one ever! But everything else? No matter — no excuses; it was all me. I just didn't put myself in the right environment. You have to surround yourself with people who recognize the goal you want to achieve. I have done a lot of internal searching, personal stuff. I got out of a bad unhealthy relationship. I lost control.
"And it was nobody's fault but my own. I needed to shift and I did. I made a change. I have surrounded myself with people who are going to push me — people who have set goals and achieved them and know what it takes to meet mine."
Shafir's goal is simple. She wants to be the best featherweight in the world. She has been quoted as saying she wants to earn the right to face Cristiane "Cyborg" Justino, the reigning Invicta featherweight champion. Shafir's next fight, which takes place Thursday night, will be the next stepping stone. She will welcome Amber Leibrock to the professional ranks.
"I absolutely watch video of my opponents, and I know who she is and what she does," Shafir said. "She is a hungry fighter. I really look forward to this challenge. I don't know how the fight will end, but I guarantee I've got a hunger. I mean, I have real fucking appetite for this.
"I train as much as possible and I watch Kung Fu Panda. My strength is my appetite. It drives me. It goes beyond food. I am still learning how to control it and to use it. I go to the gym longer and go more rounds, and longer rounds. I train harder because the more I train, the more I get to eat.
"I know I will always be a student. Nothing will ever change that. If I learned anything from judo, [it] is that it doesn't matter how much you think you know, there is always more. When you learn something and think you have it down, there are lots of other angles and attacks that go with it — different perspectives and techniques.
"What pushes me is also food, though — the taste of buffalo wings and apple pie à la mode — because nothing tastes better than those foods after a win. Oh, and a tall cold beer. Kung Fu Panda really is my spirit animal. I am Po. A couple of summer ales, a couple dozen naked buffalo wings, blue cheese — that is what makes work harder than anyone else."
Marina would like to thank her awesome teammates and her mom. Follow Shafir on Twitter:
@MarinaShafir
---
Advertisement

---