After putting his belt up for grabs against the appropriate opponent, Bellator welterweight champ Douglas Lima is planning to erase speculation cast upon him by a top contender and start taking names.
Lima is scheduled to defend his welterweight title against Andrey Koreshkov at Bellator 140, which takes place on July 17 at the Mohegan Sun Arena in Uncasville, Conn. Returning from a 15-month layoff, "The Phenom" is anxious to put fists on faces, yet is also equally as enthusiastic about shutting the mouths of his critics.
Lima's first title defense was expected to be against his current Russian counterpart, but the Brazilian suffered a rib cartilage injury in September 2014 that restricted him from competing for the remainder of the year. Once healed and prepared to return, Lima was set to put his title on the line for the first time against MMA journeyman and kickboxer Paul Daley at Bellator 134 on Feb. 27, but a knee injury prevented the champion from making it to the cage.
---
Advertisement

---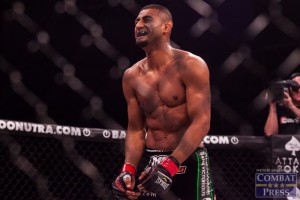 Daley, known to be outspoken and stir up controversy, called out Lima for faking an injury to avoid their fight. The comments made were quickly piled on by Daley's fans, which incensed Lima for two specific reasons.
"Some fans don't understand what I go through. Like, people that aren't in the sport don't understand this sport comes with injuries," Lima told Jason Kelly on Rear-Naked Choke Radio. "It's brutal. Training camps are miserable, you know. Training camps are dangerous, and most people don't understand that.
"Then you have my opponent saying I'm backing out, but what can you do? I get mad when I read stuff like that, but at the end of the day, what could I do? I had to pull out of some fights and had to do what was needed. Now I have to go out and show them."
The biggest welterweight fight that Bellator could showcase is Lima vs. Daley for the championship, but that's not to say the American Top Team product thinks Koreshkov isn't at the top of the weight class.
A winner of Bellator welterweight tournaments in seasons seven and 10, Koreshkov is currently on a four-fight winning streak. His only loss came against longtime Bellator 170-pound champion Ben Askren. Askren is also responsible for Lima's only loss under the Bellator banner. Even though Daley may attract more viewers than Koreshkov, Lima thinks there's nobody more deserving.
"It was supposed to be him in the first place," Lima said. "Before Paul Daley signed [with Bellator], it was supposed to be Koreshkov because he's the one that won the tournament. Then Daley came in and I think it was just a bigger fight for the fans, but now it's back to Koreshkov. I knew I was going to fight him down the line, and this is perfect timing. He's coming off an injury as well. We both haven't been in there for a while, and I like the match-up."
Koreshkov has the champ's undivided attention ahead of their Bellator main event, but a game of face punching with Daley is on Lima's radar.
"That one definitely needs to happen," Lima said. "I hope that one happens next. [Bellator President] Scott Coker, just give me him, please. It's OK to talk smack and all that, but don't say I'm backing out of a fight when I have a serious injury that could have ended my career, and then he goes and says that I'm scared. Him, as a fighter, he should respect that a lot more. He knows how many injuries there are in this sport. He knows I'm not scared of him."
Now injury-free and confident he will remain healthy, Lima aims to compete two more times in 2015. In a perfect world, Lima would like a spot on the Bellator: Dynamite card on Sept. 19. Daley happens to be competing on the card in the kickboxing portion of the Bellator and GLORY co-promoted show. Then, if all goes well, Lima would close out 2015 in a grudge match against "Semtex."
Joe Schilling, Daley's opponent for the Dynamite show, was forced out of the kickboxing match due to a medical suspension stemming from a knockout he suffered at Bellator 139. The suspension won't be served in its entirety by the date of the show. Therefore, it's not out of the question for Bellator to move the former Strikeforce welterweight title challenger to the MMA portion of the docket and grant Lima his year-end wish a few months early, assuming all goes well at Bellator 140.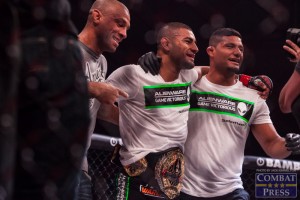 Along with letting out some pent-up aggression on Daley, Lima would get a chance to defeat a well-recognized combatant. The former UFC welterweight's relentless and successful kickboxing style racked up highlight-reel knockouts time and time again and garnered the attention of many fans. Daley was also part of the first slew of British mixed martial artists that found fame and fortune in the United States.
Daley is one of the few well-known fighters Bellator has had on its roster as far back as when former Bellator CEO Bjorn Rebney was at the helm of the ship, but the organization has been gobbling up any recognizable names since former Strikeforce President Scott Coker took over operations. Sure, Coker showcased a main-event farce with Kimbo Slice and Ken Shamrock, but he also acquired former UFC top-10 light heavyweight Phil Davis and former UFC welterweight No. 1 contender Josh Koscheck. Lima appreciates the logic behind signing established fighters to bring more attention to Bellator.
"The bigger the name, the bigger the fight," Lima said. "Most people only know about the UFC, so they don't know how big of a fight Koreshkov is. I'm happy about Koscheck and all these guys [joining Bellator]. I want the biggest names and the biggest fights. That's who I want to fight."
---
Advertisement

---