Regardless of an individual fighter's overall commitment to the sport, mixed martial arts is a grind. The fighting lifestyle might seem to be all fun and gains, but it's a ton of hard work. Even a short five-year career in the sport consists of constant training, continuous weight gain and loss, family sacrifice and a tremendous physical toll on the body. Some fighters embrace the grind, but others get tired of it and fall out after as little as one year.
Jeff "Big Frog" Curran is not only an icon of the sport as a fighter, but he has dedicated his life to training others to be competitive at the highest levels of the game. A martial artist since he was only five years old, this veteran of all the major organizations in the sport is a third-degree black belt in Brazilian Jiu-Jitsu under Pedro Sauer, a longtime student of striking coach Doug Mango, and the owner of Curran Martial Arts Academy in Crystal Lake, Ill.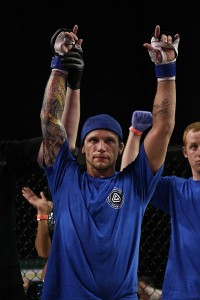 As a mixed martial artist, Curran has competed against some of the biggest names in the game, including Urijah Faber, Matt Serra, Raphael Assuncao and Mike Brown, to name just a few of the 53 opponents he has faced in over 15 years of competition. His pedigree is long, his record impressive with over 21 submission victories, and nobody faulted him when he decided to hang it up in 2013. Well, nobody except Curran.
---
Advertisement

---
Earlier this year, Curran announced that he would be returning to the cage after more than a year and a half of "retirement." But even at 37 years old, he just doesn't feel he is ready to step away.
"My career has been pretty lengthy, and I don't know when it's going to come to a close completely," Curran told Combat Press. "The way my last fight ended in a split decision, retirement just didn't sit well with me. I felt way too good to just kind of be done. I figured, retiring on a good note is one thing, but retiring on an okay note when you're feeling great is not so good. I've still got the itch, you know? I feel like I still have to try my hand at it as long as I can, because, otherwise, I'll probably regret not sticking it out longer."
Curran's last fight was against Pedro Munhoz for the Resurrection Fighting Alliance bantamweight championship back in August 2013. The win launched Munhoz into the UFC, and Curran decided to announce he was done. However, this Friday night, Curran will be returning to the cage to face a streaking up-and-comer in the co-main event at RFA 24, live from the Mystic Lake Casino & Hotel in Prior Lake, Minn. He's got some unfinished business, and there's no better platform to turn heads than the RFA.
The man facing off against Curran will be Melvin Blumer, a talented 33-year-old who will be fighting in front of a home crowd. Blumer is one half of the "Bash Brothers," and his twin brother Marvin will be in the bout just before Melvin's fight. Curran has done his research and knows not to underestimate his younger opponent.
"I checked him out. I looked into him, and I thought it was perfect," explained Curran. "I need a guy who's on the rise, to see if I belong. I don't want to fight any tomato cans. This guy, Blumer, and his brother are dangerous fighters. Melvin himself is on a five-fight win streak. He's a good finisher. I know that he's a prospect and he's going to be looked at for the big show soon, so I see him as one of the guys I need to beat in order to get to the top."
The RFA has been launching many fighters into the UFC, just like it did with Curran's previous opponent, Munhoz. Curran has competed in the Octagon before, and he's ready to get back. Brink of retirement or not, that's where he wants to spend the remainder of his career as a fighter. If a win over Blumer can get him there, then that's what he's shooting for. But, after being in the game this long, he knows he cannot overlook his immediate opponent.
"My only goal is Blumer," Curran said. "I'm not looking past him at all. I'm not looking into the future, but I would love to draw the attention of the UFC again and go thicken the pot in the bantamweight division and be among a lot of the other opponents of mine that are still there, sitting in the top 10. Those guys are still doing their thing there, and I feel like I should be. I hope that [UFC matchmaker] Sean Shelby, [UFC President] Dana White and [matchmaker] Joe Silva pay attention next Friday and say, 'You know what? Jeff belongs here, and we're going to let him try to finish his career off with the UFC.' That would be a dream come true, but, again, one thing at a time. Blumer's no joke."
In Blumer's five-year, 11-2 career as a pro, he has finished nine of his opponents by a fairly even combination of submissions and knockouts, but he has been submitted in both of his losses, which plays right into Curran's wheelhouse. However, at 5-foot-9, Blumer does pose some unique challenges for the vet.
"He's a southpaw and he's taller," Curran elaborated. "Those are always two awkward things for a shorter guy like myself to fight. Tall guys are one thing. Southpaws are one thing. But when they are taller than me and southpaw, it will be a tough fight.
"I just need to play my cards right. He's physical — he's a big [135-pound fighter] — so I have to be careful of his power. But, more importantly, he's got momentum, winning momentum, but that's where I think my experience factor will come into play, and that won't really play into my psyche about how I plan and how I fight or anything like that. I think that that's where a fighter like him is dangerous right now. It's hard to stop something that's moving with such good force."
Blumer has momentum, but he literally brings nothing to the table that Curran has not seen at some point in his career. That being said, the elder fighter spent the last year and a half honing his skills and really focusing on getting back to his roots.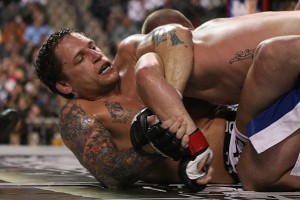 "I'm looking to be myself and be a little bit creative, like I was in my early days," Curran said. "I'm definitely going to look like a rejuvenated fighter. I know it's been a long time since I've been in the cage, but there won't be any ring rust. I've improved across the board — my ground game, everything — in the past 19 months. I've been continuing to work on all my weaknesses and strengthening my strengths. Hopefully, fans will see a whole new Jeff Curran."
Curran is a lifelong student in regards to MMA. He is always learning, but he is also an amazing instructor. With all of his years of experience and the sheer volume of contests he has been a part of, it is important to him to share his wealth of information with his students that seek out his guidance. So, what does he do when he's not in his own fight camps?
"Training other people," said the black belt. "I spend most of the day at the gym and then I go home to my kids and my wife, watch fights on the weekends, watch TV at night and just chill out. I don't have any other hobbies, other than spending time with my family, and teach and train and corner. I [was] an hour and a half away from home [last] Saturday, cornering fighters at the XFO."
Curran is a busy guy. He's a husband, a father, a teacher, a business owner, a promoter and one of the most seasoned veterans in the history of MMA. A split decision loss is no way for a man of this caliber to bring his career to an end, so it's almost poetic that he is climbing back into the saddle for a final run at MMA glory. It all starts this Friday night at RFA 24, live on AXS TV.
Curran would like to thank the RFA, his wife Sarah, his sons Ty and Jacob, his friends, and everybody that makes up Team Curran: Brian Butler, Monte Cox, Doug Mango, all of his training partners, all of his students, Pedro Sauer and his sponsors: Booster Fight Gear, Alienware MMA, Allmax Nutrition, Scramble and PRZ MAN. Follow Jeff on Twitter:
@BigFrogBJJ
---
Advertisement

---