Parents. When we were young, most of us would go to sleep at night and wake up in the morning to see their loving faces. In our earliest years, most people could count on that one constant. Those parents, in most cases, would express unconditional love for their children.
But what if they weren't there? What if, when the sound of a cry that could wake up the heaviest sleeper echoes through the halls, there was nobody to answer it?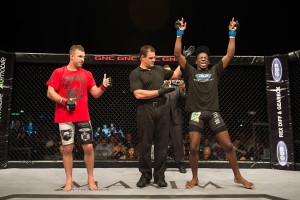 At their youngest and most vulnerable, children need to be nurtured and sheltered from all that is bad in the world. Sometimes things happen in life that leave a child without that care. In those cases, it's out of the child's control. They don't have the choice to make and, more often than not, they are alone.
---
Advertisement

---
Think about that for a moment. What if you had of been alone? What would your life have become.
Igeu Kabesa didn't have much when he was growing up. Although he was under the care of someone, it wasn't the same. For the most part, he was alone. He had a brother by his side, but even then it was still them against the world.
"Life for me was very hard," Kabesa told Combat Press, "growing up having no family but my brother [Texier Kabesa]. In children homes from the age of six, my brother always gave me hope [and] pushed me so we can get out of the hard times.
"When I was placed in a children's home, after four or so months the wrestling club came to the home [and] got some boys and girls. That time, I was eight years old and just fell in love with the sport and never stopped."
After winning multiple South African national wrestling championships, Kabesa reached a point where he felt it was time to undertake a new challenge. Kabesa, like other wrestlers who had tasted success in their chosen combat arena, saw mixed martial arts as the natural progression for his career as an athlete.
"Like everyone that likes to compete, you always wanna get better than what you were yesterday," Kabesa admitted. "Thing is, after wrestling nationals, I was by my coach's house and EFC came up on TV, and I told myself I wanna do that too. I was only 16 then, so I couldn't have a amateur fight. But when I turned 18, it took me one year before I turned pro. I could not stay out of the cage — just fight after fight, making a name. It was an awesome feeling, something I can't explain in words, but I must say it's every sportsman's dream to feel that.
"First thing first, I'm a positive person [and] keep myself around positive people in life. I just fit that in with my MMA career, and I know I'll be undefeated my whole fight career. I'll always be one beat ahead of my opponent."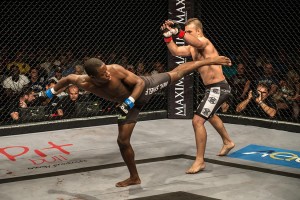 South Africa is a country that is passionate about sport. While most other youths in the country choose to take up a more traditional sport like rugby, Kabesa stuck by his roots in wrestling. After all, it is wrestling that led him on his current path in life, and it is wrestling that has helped with his immediate success in mixed martial arts.
"The training is different. [There is] more to learn as you start, but, like any other sport, the more you do it the better you get," Kabesa explained. "My wrestling success has proved again that wrestlers have the best base. [It] does not matter who I fight, they will always have the loss before the fight."
When Kabesa steps into the Hex at Extreme Fighting Championship 38, he will be standing opposite Saxon Delafield, who is coming off a victory over David van Schalkwyk at EFC 33. Kabesa heads into his April 4 bout sporting an unblemished record with four straight victories.
"Well, it's a never-ending winning streak," Kabesa proudly stated. "I'm in the best gym in Africa, have the best MMA trainer, best fighters in the country and I don't see myself losing to anyone."
Igeu would like to thank Soldier Boy Management and all of his coaches. He would also like to thank his wrestling coach, Tobie Alberts, who he says "is like a father to me."
---
Advertisement

---