If a fighter really wants to get taken seriously in the UFC, he needs to take the tough fights, plain and simple.
Case in point, last weekend's headliner. The world watched former UFC and WEC lightweight champion Benson Henderson walk right into Broomfield, Colo., to take on dazzling up-and-comer Brandon Thatch on his own home turf. Henderson fought 15 pounds heavier than his home division, dragged Thatch into the deep waters of the fourth round and tapped out his clearly larger opponent. The MMA Lab fighter was upset about a decision loss to Donald Cerrone less than a month prior, and he took the fight against Thatch on two weeks' notice. Henderson was angry and had something to prove. He took the tough fight and it paid off.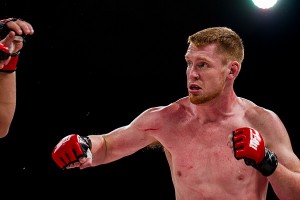 "Smilin'" Sam Alvey is generally not an angry person. Even his nickname makes that fact clear. However, he does have something to prove and he knows he needs to make a big splash to get some serious nods.
---
Advertisement

---
Alvey was a contestant on season 16 of The Ultimate Fighter reality show. The career middleweight went the opposite direction as Henderson, dropping 15 pounds to enter the show as a welterweight. He felt physically weaker, but he wanted to get his shot at competing in the UFC's coveted Octagon. Even though he lost in the elimination round, he got right back to work in his natural weight class and went 4-1 over the next year and a half, including a Maximum Fighting Championship middleweight title.
Almost two years after his TUF season first aired, Smilin' Sam finally made his Octagon debut against another very tough veteran in the form of Englishman Tom "Kong" Watson. Alvey was only able to snag one round in a back-and-forth battle in his UFC debut. His next outing came only three months later when he traveled to the other side of the planet to fight in Sydney, Australia.
At UFC Fight Night 55 in November, he took on Dylan Andrews in the New Zealander's own backyard. At 2:16 of the first round, Alvey cold-cocked Andrews, adding a whopping 15th knockout to his 31-fight record. That means half of his opponents over the course of six years have found themselves on their backs at the hands of this fiery Wisconsin native. The win over Andrews was not only a tough one in front of a foreign crowd, it was his first win in the Octagon.
"My first UFC victory was a huge weight off my chest," Alvey told Combat Press. "It is proof that if you keep your nose to the grindstone for long enough, you can make anything happen."
Alvey is a longtime member of Dan Henderson's Team Quest in Murrieta, Calif. The "grindstone" may even be an understatement given the guys who surround Alvey at the gym. Between Dan Henderson, Rameau Thierry Sokoudjou, Tarec Saffiedine, Jesse Taylor and Tom Gallicchio, to name a few, Alvey's camp is chock-full of high-level strikers and grapplers that grind hard day in and day out. However, a new addition to the camp may be instrumental in his next overseas victory.
"I have had some changes with my training this last camp," Alvey revealed. "My team has a new boxing instructor. His name is Gokhan [Yildizli], and he is the first Dutch kickboxer I have ever worked with. I am a huge fan of this new style — tons of power in every strike."
Yildizli was born in Belgium. He is the CEO of Duello Management, in addition to his role as the new striking coach at Team Quest. If there is one thing Alvey will need going into his next bout, it's tons of power in every strike.
About eight weeks ago, Alvey got the call for his next fight, and this one is a doozy. This Sunday night, he will be at the Ginasio Gigantinho in Porto Alegre, Brazil, fighting on the main card of UFC Fight Night 61. Standing across the cage will be Brazilian favorite Cezar "Mutante" Ferreira, winner of TUF Brazil, longtime student of Vitor Belfort, member of the Blackzilians fight team, Master of Capoeira, and third-degree black belt in Brazilian Jiu-Jitsu.
Pedigrees may mean a lot to some, but Alvey just went down to Australia to beat Andrews. He has no qualms about traveling into hostile territory once again to take on a very good Ferreira in his homeland.
"My first thought was how exciting this opportunity is going to be. In front of thousands of screaming and adoring fans, I will get to compete against one of the best Brazil has to offer," Alvey said. "The UFC wants Cezar to be the next big star from Brazil. A win over him will definitely make some important people look twice at me."
Ferreira is around the same size as Alvey. The American has a one-inch height advantage and the Brazilian has a three-inch reach advantage, but these differences will be negligible. Both men have won by both strikes and submissions, but Alvey has only been stopped once and never knocked out. Ferreira has been knocked out twice and still has a lot to prove. Alvey knows he has more experience, but he is coming into the cage expecting his toughest fight yet.
"Stylistically, the most dangerous part of his entire game are his insane and powerful kicks," Alvey admitted. "They can come at any moment and each kick is strong enough it could break any part of me. I'm ready for it, though."
It's interesting that Ferreira's BJJ background didn't come up in the analysis, but, frankly, he only has two submission wins in 11 bouts. It is a skill that has yet to be really exploited. If the Brazilian wants to strike, he definitely needs to understand that he's walking right into Alvey's wheelhouse.
That being said, Alvey still understands that he needs to be ready for a high-level BJJ player, and his choice of travel partners says it all.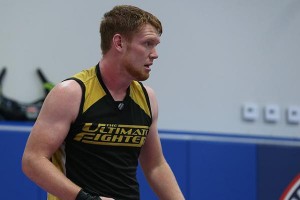 "I have once again brought my entire family to the fights," Alvey said, referring to his wife, McKey, and two kids. "My wife has been and always will be my chief corner, and, for this fight in particular, I brought my Brazilian Jiu-Jitsu coach, Ricardo Feliciano. He has mastered the art of Brazilian Jiu-Jitsu, and I'm hoping at least a little bit of that rubs off on me."
Feliciano is a BJJ black belt who also holds many gold medals from a variety of tournaments. Alvey's wife is always in his corner, but the addition of his BJJ coach shows that he is definitely taking Ferreira's ground game with all seriousness.
A win over Ferreira will be a big one for Alvey. For a guy who worked his way back into the mix over the last couple years, a fight against a Brazilian TUF champion in Brazil is a huge honor. The UFC brass will be watching closely. Ferreira may be dangerous in all areas of the sport, but Alvey is a proven competitor.
"Fans should expect to see the 'Fight of the Night' performance coming from the two of us," Alvey said. "We are set up to have anything happen and have the ability to impress everyone in the arena."
Alvey would like to thank his team, Team Quest, and his main sponsors, Dynamic Fitness and Crystal Glass. He would also like to thank his family, friends and supporters who have been with him over his long, successful career. Follow Sam on Twitter:
@SmilenSam
---
Advertisement

---