Earth, as planets go, isn't a particularly large one. Compared to Jupiter and Saturn, our planet looks diminutive. But when you think of it in "human scale," Earth is truly ginormous. If you were able to walk on water and you walked 10 hours per day, it would take you almost six years to circumvent the equator.
The United States is also one of the largest countries on our fine earth. If you were to walk from coast to coast, it would take somewhere around 100 days at 10 hours of walking per day. That's still quite the journey.
And despite these vast distances, to borrow a familiar refrain from the ubiquitous mouse, it really is a small world after all. In fact, Maria Rios's MMA career owes a lot to the fact that people move from coast to coast. Rios started life in New Mexico with four brothers and a sister. She wrestled and played basketball in grade school. She didn't play any organized sports in high school, but she stayed very active as she lifted weights with her father and brothers.
---
Advertisement

---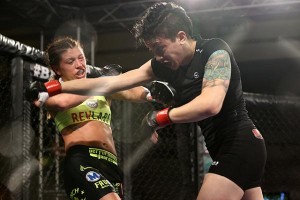 A friend of a friend encouraged Rios and her friend to come to a Brazilian Jiu-Jitsu class. The class required an orientation and Rios, after watching just one class, knew the sport was for her. She signed up for jiu-jitsu in 2004.
"I began competing right away as a white belt," recounted Rios in an interview with Combat Press. "I am quite competitive and got serious right away. In 2009, I won Worlds as a blue belt in no-gi and Nationals in Las Vegas."
Then she married a fellow who hailed from Maine and they decided to move back to his neck of the woods. Rios and her (now former) beau settled in the Portland area, and she started training at the Academy in Portland. Until then, competing in MMA hadn't been on her radar. But at the behest of her coaches, she started training and went on a 3-1 tear as an amateur in New England. But, it was time to move back to the West Coast.
Rios, while in Portland, happened to work at Trader Joe's with a fellow named Travis Davis. Davis had trained in Los Angeles at Systems Training Center, and when he found out that Rios and her husband were moving to the area, he highly recommended she give the gym and coaches a go.
"We came back to revamp," Rios succinctly explained the transition. "My family is bigger than his… I love it here. I stayed and he went back home.
"Training at the Academy was amazing and I learned so much from Amanda Buckner and Jay Jack. It was a fantastic place to be and to start my career, and I feel like Systems is taking me to another level. I am amazed at what this team has done for me. We've got a lot of really, really good guys. They push me really hard and are willing to share what they know. I couldn't have asked for a better team. The girls on the team are tough, and I am truly blessed to have ended up here."
So, after moving across the country a couple of times, Rios ended up in Los Angeles, teaching BJJ, adult kickboxing and MMA at the sister school Gracie Barra Encino. Her first professional MMA fight took place in August 2014 against Kate McGray.
"I knew she was a good kickboxer, so my plan was to get her to the ground and do as much damage as possible," Rios said. "It was the second time taking her down, and I was in half guard trying to hurt her. I landed some hard shoulder strikes, and she exploded up and rolled. I was able to mount her, and she was doing her best to shake me. I took her back, but the choke was on her chin. I thought she was trying to punch me, so I didn't know she was already asleep until the ref grabbed her arms."
Rios ended her first pro fight in the first round by rear-naked choke in just a minute and six seconds. In her second fight, which took place in October 2014, she was able to demonstrate her gas tank by going all three rounds against Ashley Yoder.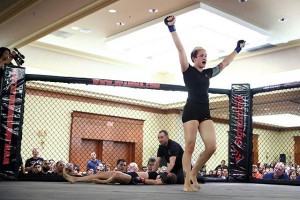 "I got stuck doing not what I was supposed to do, so it was a very frustrating fight," admitted Rios. "I was active in the clinch, but everything is a learning process. Towards the end of the fight, I finally let go. I didn't feel like she was dominant. Even when she took me down I was never in danger of being submitted, but I knew that I needed to make something happen.
"In MMA, you just can't be comfortable on your back. Competing in jiu-jitsu, you don't have to worry about being punched in the face and you can throw flying armbars and be comfortable on the bottom. In MMA, if you're on the bottom you're losing, no matter what else is going on. It's a different mindset. Even though I have a great guard, I don't want to be there."
All of the twists and turns in Rios's life have teamed up with her hard work, dedication and drive to bring her to the next step: fighting for Resurrection Fighting Alliance. Her next bout will take place in Costa Mesa, Calif., against Jocelyn Jones-Lybarger on Feb. 6.
"This is a big-time step up for me," Rios said. "I couldn't be more excited. When I heard they were looking for a potential opponent for me, I was keeping my fingers crossed. Jocelyn is a tough opponent, but that is how I like it. I would rather it be that way — constantly stepping up in competition. If you are rising through the ranks, you've got to beat tougher and tougher opponents."
Rios is no stranger to long journeys in her life, but now she has another journey in front of her. This one can't be measured in miles, though. It can only be measured in progress.
Maria would like to thank her sponsors: CRM Plumbing, Superior Fitness, The Academy and Systems Training Center. She would also like to thank her Systems Training Center and Gracie Barra teammates, Travis Davis for "the hook-up," family, coaches Ian Harris and James Teele, her team at the Academy and coaches Amanda Buckner and Jay Jack. Follow Maria on Twitter:
@kittymix8
---
Advertisement

---