A competitor is a competitor. Whether playing Monopoly, in a footrace, playing a pick-up game of hoops or fighting for the championship, the competitor comes to play. While there may be sportsmanship, there is no slack.
Resurrection Fighting Alliance strawweight Jocelyn Jones-Lybarger is a competitor in every sense of the word. From playing college basketball (and other sports) to MMA, she plays to win. Strength, conditioning, diet and training all come together in the driven fighter.
And like a true competitor, she loves to watch competition when she isn't in the game. At this time of year, it's the NFL playoffs that have her attention. Combat Press was able to catch up with Jones-Lybarger during the NFL playoffs.
---
Advertisement

---
"I love the Chargers," Jones-Lybarger told Combat Press. "And even though they aren't in it anymore, I love to watch games, especially the playoffs. But I will literally watch anything. Hockey? Love it. NASCAR? I love going to the races. We would go as a family in an RV full of kids — just load it up. I fall asleep to Sportscenter. I even like to watch poker — Poker After Dark, all of them. I like to watch that one more than play, but my sister Jillian is really good at it. For me, if I go to the casino with a hundred bucks, I might double up but it's more likely I walk away empty-handed.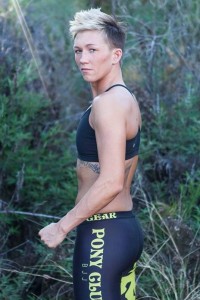 "After the game tonight is UFC. Of course, we will be watching because my teammate, Benson Henderson, is fighting. And we will have some of my team over. The boys really like it, even though they know it will be fight-camp food. But they like that too. They get new recipes. Barbeque chicken, grilled broccoli skewers, lemon pepper strawberry salad — it's all good stuff."
As a fighter, Jones-Lybarger knows what it takes to win in the cage. But her wife, Jana, knows what it takes to fight for her life.
"Whenever we can, we do what we can to help Cancer Treatment Centers of America, for everything they have done for her and all the other folks fighting," Jones-Lybarger explained. "Here in Phoenix they recently held an event that raised over $200,000! The Super Bowl is here in town, and they did a fundraiser called the 'Super Ball.' They had Tim Brown, the Notre Dame Heisman winner who also played for Oakland, and Dan Majerle, who played for the Phoenix Suns. It was amazing."
Between raising two very active daughters, being active in fundraising and training her butt off, Jones-Lybarger is also very cognizant of another fight going on in the courts.
"Being gay and growing up knowing I was different, I never really thought about getting married until I met Jana," she admitted. "In my previous relationships, we never really talked about it. I never felt the need to go to a Gay Pride Parade or anything. Our (Jillian and my) parents always told us to be who we are and love who we loved. I remember watching Good Morning America, and they were talking about gay marriage being legal in California. And I said to Jana, 'I legit want to go get married.'
"Now, with the issue going to the Supreme Court, it would just be heartbreaking if they reversed it. Our kids don't get why we can't get married everywhere. To have to explain it would just be horrible. It would change a lot of lives."
The 4-1 Jones-Lybarger has gone undefeated fighting for the RFA. Her last fight against Rebecca Ruth turned out to be one of her hardest fights.
"Ruth hits hard!" Jones-Lybarger exclaimed. "She was tough and hit me the hardest I have ever been hit in a fight. She is a Golden Glove boxer and it showed. We talked about it after the fight, actually. My coach even said that she hit me hard. It was a good fight, but I don't feel like it should have been a split decision after watching it.
"Ruth told me that I hit hard, but I told her that she hit harder. I found out that she broke her hand and she had to get 12 stitches after the fight. I had some bruising on my lip, but she was bleeding. I think it's from years of boxing, scar tissue.
"I started off slow. Looking back, I don't think I was warmed up properly and I put a lot of weight back on after weigh-ins. I weighed in at 116.0 [pounds], but when I walked into the cage I was 137. I think I put on too much weight. I felt slow.
"I am going to do this next fight different. I don't want to weigh over 132 for the fight. I want to be quick and fast, so we are looking at my post weigh-in hydration and coming up with a good plan."
Jones-Lybarger's next test comes on Feb. 6 at RFA 23, where she is set to meet Maria Rios. Rios has gone undefeated with two wins, but Jones-Lybarger wasn't shy when talking about how she expects the fight to go.
"She is more of a jiu-jitsu player and wants to go for the sub. But from what I've seen, she never tries to take girls down. It's jab-cross-forward, pushing girls against the fence and working the over-under. But she doesn't go for the takedown. In her last fight, they fell to the ground.
"And it's not easy to take me down. My wrestling is strong. I see her going with inside leg kicks. She is good against the cage, but I don't see her putting me in any crazy danger. I have been preparing for that — sparring and training to get off the cage, reversals. I train with some of the best jiu-jitsu prospects in the world in gi three times a week. And I know she trains it too, so I am excited about the fight.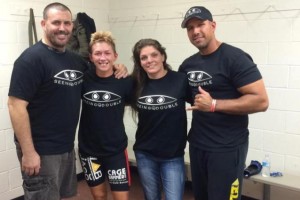 "I went three rounds the other day, full MMA sparring. The first round was with a 125[-pound] guy, the second round with a 135er and the third round with Lauren Murphy. I feel like Ruth hit almost as hard as the guys and harder than any girl I have ever faced, so I am not worried about Rios. I have watched three of her fights and listened to an interview she did. I know what she can do and want to know what's on her mind.
"But I know what I have. I have knockout power. I would love to get a KO or a TKO in this fight. I want to just let go in this one, not save everything for three rounds. You can expect me to put pressure on her from the bell. When the ref says go, I want to break her down.
"Even though she is living in California, this fight is more like me coming home to Orange County. I lived in OC for five years, and my mom and dad will be coming down from Bakersfield. I have friends and family coming from San Diego.
"I've talked to a few of my friends who train in the area — Ashlee Evans-Smith and Carla Esparza — because I saw them in a photo with her. But they don't really know her. I asked my sister to find out about her from Jessica Penne — she is still trying to make a name for herself."
When a competitor has an eye on a prize, no one can stand in the way. The true competitor will find a way to win, even if the cards are stacked against her. On Feb. 6, Jones-Lybarger plans on bringing the fight to Rios. Jones-Lybarger plans on keeping her winning streak alive and protecting her undefeated run in the RFA. She doesn't plan on letting anyone stand in her way. She wants that prize.
Jocelyn would like to thank her sponsors: Cancer Treatment Centers of America, Intensity Nutrition and Klench Guards. She would also like to thank her coaches and teammates at MMA Lab, especially John Crouch and Randy Steinke. And, as always, she would like to thank her family and friends, her fans and especially her wife, Jana. Follow Jocelyn on Twitter:
@mmajocelyn
---
Advertisement

---