Fine-tuning is both an art and a science, whereas a major tune-up is more of just a science. In professional fighting, one or both can be necessary on a pretty frequent basis. But once an athlete and his coaches find that sweet spot, a few oil changes here and there is about all they need.
At the macro level, Resurrection Fighting Alliance welterweight champion Gilbert "Jamal" Smith has all of his bases covered in the Front Range region of Colorado. He's got his his home camp at Victory MMA, his primary MMA camp and coaching at Factory X Muay Thai, Hustle Hard for his boxing, and Castle Rock BJJ for his submission grappling. Check, check, check and check. Outside of the gym, he is a husband, a father, a business owner and a military vet. Four more checks, and everything looks great. However, is the whole greater than the sum of the parts?
Smith has been around the block and back a few times. He wrestled in his earlier years, served in the U.S. Army, found a calling in MMA, and is a veteran of The Ultimate Fighter reality show. Combat has been a large part of his life, and his last fight proved that all his hard work has paid off.
---
Advertisement

---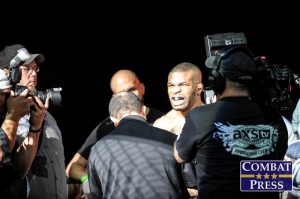 In June, at RFA 26, Smith fought Benjamin Smith for the vacant RFA welterweight strap. He had made an unsuccessful run at the same belt in January, so he was ready for redemption. It was a total war between the Smiths for almost three full rounds, but late in the third, Gilbert Smith caught Benjamin Smith in an armbar submission and emerged the victor.
"I thought it was a very interesting fight," Smith told Combat Press. "It was the first time in a while that I fought a guy that had really good wrestling. His wrestling and his grappling were just as strong as mine, so we went back and forth leading up to the fight with who was going to be the dominant guy. Fortunately for me, I was able to come out and dominate in the third round and get the finish. It was a little break from all the strikers who have tried to keep me at bay or run away from me."
Well, belt or not, the bus does not stop here for the newly minted champ. Immediately, challengers started lining up for a shot at the belt, and the first one to speak up was a fellow TUF vet.
"Bristol Marunde called me out on Facebook a little bit after I won the belt," Smith said. "So I sent a message to [RFA President] Ed Soares that this was a good match-up — to make the match. Next thing I know, I get a phone call saying I'm fighting Bristol. It makes sense and I was all about it."
Marunde is not only a TUF vet, but he is also a longtime veteran of the sport. He and Smith both made their Octagon debuts at the TUF 17 Finale. On Friday night, at RFA 31 at the Downtown Las Vegas Events Center, these two will be on a collision course for the title.
Marunde made his pro debut in 2005 and even competed in the old IFL, which is where a lot of stars first made their marks. Since getting released from the UFC in 2013, he has been on a tear, running up a four-fight winning streak, including wins over veteran Micah Miller and former TUF castmate Michael Hill. His sights are set on Smith's belt.
"I honestly don't feel like he brings any challenges that I can't handle," Smith said. "I know for a fact that he's not a better wrestler. He's not going to out-grapple me, and he's not going to have better conditioning. I'm better at jiu-jitsu, I'm on a winning streak, and he's not going to beat me there either. If you look at the striking aspect, he's a decent striker, but he's not marvelous. I don't see anywhere he can beat me. I can out-box him, I can out-strike him, I can out-kickbox him, I'll outwrestle him [and] my conditioning is there, so I don't see how he can win."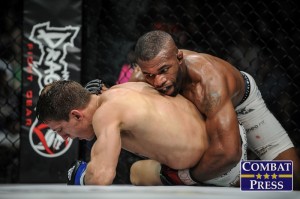 It's been eight fights and over two years since the last time someone finished Smith, and the two decision losses he has suffered went a total of eight rounds in 40 minutes of cage time. His wrestling and his conditioning are definitely there, and he hasn't changed up anything with his training. Everything at the macro level, and even with the fine-tuning, is on point. His coaches and training partners are just changing the oil, filling the washer fluid and checking the tire pressure to make sure that Smith is firing on all cylinders.
"If it's not broken, why fix it?" the champ said rhetorically. "We're all just getting better."
Smith is very happy with his training and understands that Marunde is a game challenger. He is certainly not looking past this fight, but his sights are still set on getting back to where he feels he belongs.
"Obviously, fighting for RFA is a great opportunity, but that's not my ultimate goal," Smith admitted. "My ultimate goal is to be back in the UFC, and to possibly get a title shot before ending my career. That's where I'm heading to and that's what I'm training for."
Smith would like to thank all of his coaches and training partners at Victory MMA, Factory X Muay Thai, Hustle Hard Boxing, Castle Rock BJJ and FitQuest. He would also like thank his family, friends, fans and sponsors: Adidas Combat, 8th Street Panino's, ChiroCare Recovery Center, Rocky Mountain Rehabilitation, Heuberger Subaru, Bulge Clothing, Pink Tank and Cavemen Chefs. Follow Gilbert on Twitter:
@JamalSmithMMA
---
Advertisement

---