Imagine that for the first 16 fights of Desmond Green's career he had a full-time coach with a full-time camp — let's say in the area of Montreal. What would his career look like now?
Well, for Green's fight with Steven Siler at Titan Fighting Championship 32 for the promotion's featherweight title, he did. In Green's last fight with Miguel Torres, Green spent his time training at the world-renowned Tristar Gym in Montreal. The only problem was head trainer and owner Firas Zahabi had to remove himself from the fight because Torres has spent many years at the gym. Now, Zahabi and Green have the green light to showcase the newly acquired skills Green has been able to learn under the tutelage of the famous coach.
"I'm excited," proclaimed Green to Combat Press. "To have Firas in my corner and to have the training partners here at Tristar is awesome. Don't get me wrong, I have had some great coaches and training partners in the past. But, Firas is the best game-planning coach in MMA. We sat down and looked at a lot of tape of Steven, and we see a lot of areas where we can push him."
---
Advertisement

---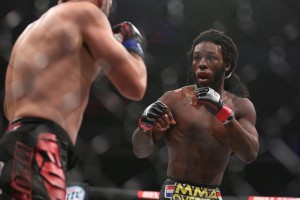 Come Friday, Green hopes to make that first step toward being the best featherweight in the world. His journey began in high school. See, the thing about Green is that he is one of the new breed in MMA. He has been dreaming of getting into the UFC since he graduated high school.
"I wrestled in high school and got pretty good, to the point where the University of Buffalo offered me a full ride," reminisced Green. "I was able to finish my wrestling career with a MAC championship, and I also went to the NCAA tourney three times."
After college, Green had a few choices for his future. His dream, however, was to become the best in the world at mixed martial arts.
"In college, I placed second in my region and I was invited to Nationals trials, but I already made my mind up," he admitted. "I wanted to become a mixed martial arts fighter. So, after graduating college, I started training."
For Titan Fighting Championship to pick up a guy the caliber of Green is a little surprising. He had been fighting for Bellator MMA, where he went 3-2 and lost his last fight in the tournament final for the featherweight division. Green felt that all was good. However, it turned out Bellator was headed in a different direction. The promotion moved away from the tournament format, hired Scott Coker as its new head and made some serious roster moves.
"Yeah, I was surprised." stated Green, speaking about his release from Bellator in the aftermath of the regime change. "After my last fight, I talked with Bjorn [Rebney] and he was happy with what I was doing in the cage. Then Coker got hired and I was waiting for my next fight [and] then I got the word that they had released me."
In Green's last fight, he made a big statement by stopping former WEC bantamweight champion Torres in 46 seconds of the first round.
"That's the thing. Everyone just thinks I'm a wrestler because of my background," explained Green. "But I feel I can stand with anyone in the featherweight division. I'm here to prove that I am the best in the world. My first step is to win that belt."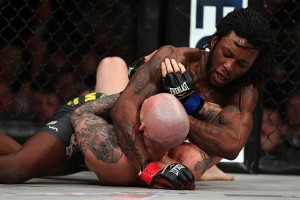 As for his opponent on Friday, Green feels he is the better fighter.
"Siler has been doing some trash talking," said Green. "Come weigh-ins on Thursday, he will have to answer a few questions, like, 'Why you talking all this shit?' He has been saying I don't deserve to have a title shot. That's funny coming from a guy that has lost his last three fights. He just got released from the UFC, and I am making my charge to get there. Don't get me wrong, I respect the guy, but I feel that I'm on my way up and he is on his way down. The dude has had a lot of fights — he is experienced — but my time is now."
As for Green being able to spend a whole camp with a full-time coach, he has just one thing to say.
"Watch out for Desmond Green 2.0. This is my time and I have one goal, and that is to become the best in the world."
Desmond would like to thank his team at Tristar Gym, Firas Zahabi and his family.
---
Advertisement

---