"You've got to fail your way to the top" is a common catchphrase among entrepreneurs and investors. There are numerous books written with that type of phrasing, and every businessperson will tell you of their hero's many foils, foibles, tribulations and even failures. The road to success is rarely paved, smooth, or even marked clearly. Twists and turns abound and success goes to the hard-headed and persistent more often than the smartest or most talented.
"Our greatest glory is not in never failing, but in rising up every time we fail." — Ralph Waldo Emerson
Resurrection Fighting Alliance atomweight fighter Stephanie Skinner is someone who embodies that spirit. Skinner was an athlete all through her childhood and even took karate for four years until the dojo closed when the sensei left her small hometown of Riverton, Wyo. She played sports all her life, including college basketball for the South Dakota School of Mines. She'd been jumped a few times and so had proven herself in a few street fights. But apart from those years in karate, she had never studied a combat sport.
---
Advertisement

---
Then a promotion came into town and Skinner saw two girls fighting. She walked up to the promoter and told him that she wanted to do it.
"So, I wrestled with some guys at the weightlifting gym on the mats there," recounted Skinner in an interview with Combat Press. "They showed me some moves and they assumed that I knew how to throw punches, and then it was time for my first fight."
Skinner went 3-0 as an amateur and decided to go pro when given the chance. That's when things went a bit pear-shaped. Her 2010 debut against Angela Hayes ended in a submission loss. Then came a TKO defeat at the hands of Jennifer Moran. Then, a TKO loss to Diana Rael.
"I was fighting at 125 [pounds] as an amateur, but then when I went pro I was fighting 125 and even 135 against girls who actually knew what they were doing. I had a manager ask me if I wanted to go pro, and I asked him what that meant. He said, 'You'll be doing the same thing you're doing now except you'll get paid for it.'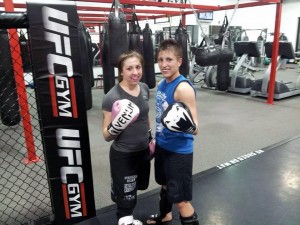 "It's weird. I never thought that WMMA would become anything major, so I guess I just thought, 'Let's go.' So I fought Jen Berg [Moran] and Diana Rael, and I didn't know that these girls knew what they were doing."
Starting a pro career with three losses is not easy. It might cause weaker minds to doubt themselves or even decide that the pain, the training, the sweat and the tears are just not worth it.
"After our fight, Diana's coach pulled me aside and said that I had natural ability and I should come train with them," Skinner said. "So I took two and half years off of fighting and dedicated myself to training. I moved from home to Colorado and I trained all that time, taking maybe a week off."
Her next fight was a decisive win by TKO in the second round against Britany Nipper, a bigger opponent. However, it still wasn't smooth sailing. Fighting at 115 and 125 pounds was tough, and Skinner lost her next bout to Darla Harris via unanimous decision, pulled off another win by TKO in the second against Margaret Bloom and then lost by a vicious knee to Angela Hill, the striker who is currently starring on The Ultimate Fighter. Then, Skinner was able to find a first-round armbar for the win against Angelica Chavez, leaving Skinner's pro record at 3-5.
"My last fight against Angelica was interesting," said Skinner. "She had a lot of buzz coming into the fight. The rumor was that she was on [UFC President] Dana White's wait list for TUF 20. We were supposed to fight before in 2013 but 18 hours before the fight she pulled out. So I had a lot of pent-up tension. I expected her to want to stand, but she took me down pretty quickly. I must have landed 50 to 70 elbows while on the bottom, and I was able to get the triangle and then transition to the armbar. I am not scared to go to the ground, and I am glad I got to show it in that last fight."
Many times, in the darkest hours, a different person might have quit. Skinner was able to dig deep and find the strength of will to keep going.
"Mainly? I think it was pride, actually," she admitted. "I'd always been an athlete, and every sport I played I was always small or young. But something inside me just won't let me quit. Maybe it's my love for the sport. A part of it is definitely my dad, though. After my first loss, he asked me if I was going to quit and I said no. After the second, the same thing. And after the third, I said nope, no way. I understand he doesn't want to see me get hurt, but I want to prove to him that I belong, that I am a pro. I know I just need to be patient and make my way."
While her pro career has been a series of ups and downs, Skinner's personal life has been great.
"Cassie [Robb] and I were on the same fight card, and after my fight she came up to me and said something along the lines of 'You're a good little fighter,'" Skinner recalled. "Here was this pretty blonde, blue-eyed girl giving me a compliment. I was twitterpated, just shocked that she was even talking to me. She still gets me tongue-tied and we have been together ever since."
Skinner's next professional MMA test will be a tough one. Kyra Batara is RFA's first atomweight to sign a multi-fight deal and has been training Brazilian Jiu-Jitsu and wrestling since she was 10. Her coaches read like a who's who in the sport: Eddie Bravo, Ricardo Cavalcanti, Gil Martinez and others. Skinner has a great opportunity to rise through the ranks of the 105ers with a win over Batara this Friday in Denver at RFA 20.
"Cassie originally called her out and Kyra said she'd like to fight her," Skinner said. "There are lots of 105ers competing at strawweight, so it's kind of a small division. Cassie was calling her out in a list of fighters after her fight for Invicta FC. All respect to Kyra; she fights for a great promotion. No one has wanted to fight me at 105. I know she wants to take this fight to the ground and that's fine with me. I don't know what will happen, but I do know that you shouldn't look away for one second—you might miss something. This one is going to be exciting, that's for sure.
"Getting to fight at home for a promotion like RFA is amazing. I won't have a weight cut on the plane. For the first time in my career, I might not be the underdog. I will have my friends and family there to support me. I know most people look at this fight and think I probably am the underdog, but in my mind I am actually 3-2 since I actually started training. And in my fight with Darla Harris, I actually tapped her out. I had her in a triangle and as soon as she tapped I let go, but the ref didn't see it and she was able to take control from there. So, actually, in my eyes I feel like I am 4-1."
A lot of that success can be attributed to the quality of coaching at 303 BJJ and Grudge MMA. And a lot has to do with the quality of training partners.
"In a short time at 303, I had a bond with the girls there," Skinner explained. "It's high-quality work all the time. 'Thug' Rose [Namajunas] grapples with us; it's top notch stuff. And training stand-up at Grudge is amazing. The fighters at that level improve me and give me confidence. JJ [Aldrich] instills confidence in me all the time. She tells me that she looks up to me and wants to help me get to where I belong."
A lot of that success has to be ascribed and credited to Skinner's ability to learn.
"Word of warning to Batara: Angelica actually verbally tapped three times before the ref stepped in. And that is how I am now. I learned my lesson and am not going to stop until the ref sees it or hears it. I guess this is the reality of our sport—you can get hurt. But I tell the ref before the fight, 'I won't stop until you intervene, so get in there.'"
Can't stop, won't stop. That is the secret to Skinner's success. She has a dogged determination that drives her to continually improve and keep going when weaker bodies and minds would throw in the towel. Don't miss this fight… and don't blink.
Stephanie would like to thank her sponsors: Sic Chic, Duomachy, No Mercy, Professional Event Sponsors, Michelle's Magic Morsels, Iron Warrior Gym (Strength and Conditioning) and Nutritional Grade Nutrition. She would like to thank her coaches: Mike Gonzalez, Tony Basile and Justin Colburn. She would also like to thank her training partners: Cassie Robb, JJ Aldrich, Audrey Perkins, Brittney Elkin and so many others. Follow Skinner on Twitter:
@SStheScrapper
---
Advertisement

---