If Josh Cavan had his way, he would be playing professional hockey right now instead of preparing for an MMA fight. Come Friday night, though, Cavan will step into a cage as a professional fighter for the 14th time. If not for a chance meeting with the guys of Team Wildman at a local gym, he probably would still be chasing that other dream.
"I was trying to pursue a professional career in hockey and things didn't work out." Cavan told Combat Press. "I had an opportunity to coach my brother for his senior year in high school, in hockey, and I was the head strength and conditioning coach as well.
"There was a MMA gym right down the road from the ice hockey rink, so after practice we would go to this MMA gym to do some strength and conditioning. So I started taking some classes here and there. A couple months down the road, I was getting ready to work out by myself. These guys walked in the gym, and lo and behold it was Team Wildman."
---
Advertisement

---
From that day forward, Josh has been an MMA fighter.
Flash forward a few years to July 25, 2014. On that night, Cavan fought Chris Heatherly on the televised portion of the Resurrection Fighting Alliance 16 card. That night, in the same arena where Cavan will fight on Friday, Heatherly was able to pull off the win.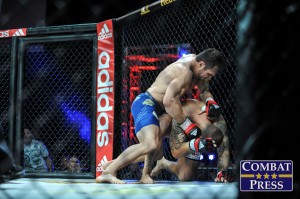 "Anything I would have done differently that night?" Cavan said. "I would have finished the fight.
"I had him pushed against the cage and he was able to slip to my right. Instead of putting pressure, instead of me squaring off, he hit me with a knee and everything went downhill from there.
"I was still rocked from the knee [when round two started]. My shot was sloppy—I put my head on the wrong side and initially I felt I could [get out of the choke]. But the choke got tighter and tighter and got to the point where I couldn't get out of it."
The guillotine choke ultimately ended that fight back at RFA 16. It was the fourth loss in the 30-year-old's 13-fight career but his first in five fights spanning more than two years.
That brings us to the present.
On Friday night, Cavan will take on Benjamin Smith, a highly touted prospect with a 10-2 record, in the co-main event of RFA 20 in Broomfield, Colo. Cavan is from Denver, and a lot of people feel he will have the home-field advantage.
"It's not necessarily the hometown. It's the crowd, the energy," Cavan explains. "I think the big thing for me is the energy, positive or negative. It is both fuel for my fights. Fuel for the fire."
When Cavan steps into the cage on Friday, he hopes that his short-term goal of beating Smith leads to his long-term goal of getting into the UFC.
"My main goal is to get to the UFC. I would like to get there and beat a big name and eventually fight for a world title."
Josh would like to thank God, Your Eye Investigations, Burke Construction, Ready Fit Go, Team Wildman, BJJ Stepleton, Method CrossFit, Rocky Mountain Tire and Radiator, Camera Speeds, The Final Word, Denver Chiropractic, Revitalize Massage, Accent Therapy, Deep Roots Wellness and, most importantly, his wife, family, friends and fans. Follow Cavan on Twitter:
@JoshCavan
---
Advertisement

---