The fight game is a business.
Tough decisions have to be made every day by promoters, sponsors and fighters.
Welterweight Jake Shields knows this firsthand. The former UFC title challenger and Strikeforce titleholder was released by Zuffa in April following his loss to Hector Lombard at UFC 171. It was the first loss on his record since 2011 and only his third since 2005, yet Shields found himself looking for a job.
---
Advertisement

---
UFC President Dana White gave harsh criticism of Shields. White cited the fighter's age, pay and even fighting skill as part of a myriad of reasons for his release.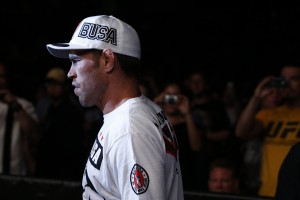 "You know, I always love proving people wrong," Shields said with a laugh while speaking to Combat Press.
Shields wasn't unemployed for long, though. He quickly signed with World Series of Fighting and was expected to debut in July against another former UFC title challenger, Jon Fitch. The chance to challenge himself against someone like Fitch made the WSOF any easy choice for the 35-year-old.
"The biggest reason for signing with WSOF was that I felt like it was where the most competition was at 170 [pounds]," he explained. "I want to fight top competition. With all the good 170 pounders they have, it made the most sense."
Unfortunately for the Californian fighter, a nagging shoulder injury forced him to withdraw from the scheduled bout with Fitch.
"I was definitely disappointed, but it's part of the game," said Shields. "I've been very fortunate that I haven't had to pull out of very many fights in my career. It's only the second fight I've ever pulled out of in 14 or 15 years of fighting. I was a little bummed, but luckily it was a minor thing and I'm able to get back in there pretty fast."
The injury, coupled with the fresh start under the WSOF banner, actually turned into a positive for the Cesar Gracie product.
"I needed a little break; I was feeling a little burned out," admitted the veteran. "I stayed away from the gym for a little bit. Now I'm excited and happy to get back in there."
On Saturday, Oct. 11, Shields will make his promotional debut against the company's Canadian champion, Ryan Ford, in the main event of World Series of Fighting 14. Although Shields has fought a who's who of competition in his lengthy career, he's excited for a fresh face.
"I had never heard of him when they offered me the fight," Shields admitted. "I will accept whoever, so I started looking him up. He's a tough, explosive fighter. Unfortunately, I haven't been able to find very many fights online, but from the two or three that I've seen, he looks pretty tough."
After 38 fights and years spent on the wrestling mats, Shields has been through nearly every situation a fighter could imagine. From battling Georges St-Pierre in the Octagon, to topping Dan Henderson in the Strikeforce cage, he's consistently faced tougher competition than Ford. He plans to put that experience to use on Saturday night.
"I definitely want to press him," said Shields. "He hasn't been in very many long fights and his biggest weakness has been submissions. I want to go out there and put him away.
"I'm going to go out there and make a statement. I'm in good shape, and I want to break Ryan Ford's will."
Shields has his attention on Ford, but his previously scheduled foe, Fitch, has been tabbed to compete for the promotion's welterweight title later this year against champion Rousimar Palhares. Shields is hoping a win over Ford will put him next in line for the winner.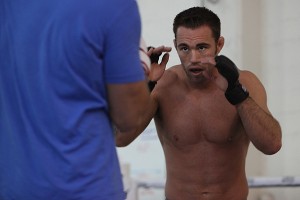 "Fitch has been a top guy in my weight class for the past six or seven years," Shields acknowledged. "I've been looking to fight him for a long time. I'd love to fight him. Hopefully he'll go out there and get through Palhares and we'll make it happen."
And should Fitch fall to the Brazilian submission ace, Shields would have no reservations challenging Palhares, despite his less-than-favorable reputation.
"He definitely appears to be a dirty fighter," Shields claimed of the titleholder. "He likes to crank on things a little too hard. It's a tough situation; he's worried about guys saying they didn't tap. He definitely cranks too hard, and he's done it at submission tournaments as well.
"Obviously, it's something you worry about a little bit—you don't want to get your knee blown out—but I'd fight him."
Whether it's the knockout artist Ford, the grinder Fitch or the leg lock guru Palhares, Shields has plenty of tests in his near future. After six months away from the cage and a chance to recharge, he's anxious to prove he's still part of the welterweight elite. But no matter the outcome or opposition, it's still just business.
Jake would like to thank his team, fans and sponsors for their support. Follow Shields on Twitter:
@jakeshieldsajj
---
Advertisement

---