Business and sports fit together because of one very unique variable: people. The business world and the sports world both have sets of rules, governing bodies, officials and, most importantly, players of the games. Nine times out of 10, it's the players that make or break a game.
Kobe Bryant is not the best performer at every aspect of basketball, just like Warren Buffett may not be the most educated investor. Bryant does not hold every record in the book, and not all of Buffett's investments were great ideas. Buffett does not hold a PhD, like many high-level academics in investing, and Bryant did not go to college. However, they are both at the top of what they do, because of that one X factor — they are functionally intelligent in their respective industries.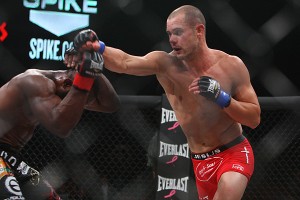 Contrary to what the good folks at MENSA seem to think, intelligence is not something that can be measured by taking a test, and that's especially true of functional intelligence. It is, by definition, an intangible quality. Functional intelligence is as useful in sports as it is in business. In mixed martial arts, it is extremely important.
---
Advertisement

---
In MMA, there are countless examples of fighters who have black belts and pedigrees in dozens of fighting modalities, but they get their butts handed to them as soon as the cage door closes. Skills alone are not enough to make it through a fight. It takes intelligence — knowing how to use those skills in the right setting — to really be successful in this dynamic sport.
Chad Laprise, winner of The Ultimate Fighter: Nations, may not have high-level belts in Brazilian Jiu-Jitsu, Muay Thai or any other fighting art, but he is undefeated as a pro. On his season of TUF, he largely flew under the radar and didn't hold the highest accolades as the show progressed. However, when it came down to it, he was the one that made it through unscathed. It wasn't the black belts in BJJ or the high-level wrestlers that won the show. It was arguably the smartest fighter in the house that took the prize.
Laprise fights intelligently. He knows when to engage. He knows when to keep distance, and he knows what skills to use and when. This is much more effective than just having the best guillotine choke or the best overhand right. Skills are just tools. How those tools get used is what has led to his 9-0 record.
Last October, Laprise fought for the first time since the TUF finale. He stepped into the cage with Yosdenis Cedeno, a black belt in Shito-ryu karate. After three rounds, Laprise walked out the victor, having captured all three rounds on all three scorecards. Even with a dominant win over the tough Cuban, he wisely looked for something to improve.
"I got the win, but I didn't finish the fight," Laprise told Combat Press. "Sometimes those things happen. A win is a win in the UFC, and I'm definitely happy. I needed to pull the trigger a little bit more. There were times in the fight when I had Yosdenis hurt and I could've finished, so I definitely need to pull the trigger a little bit more."
The TUF winner left the cage and got right back to work at the famed Tristar Gym in Montreal. Under the tutelage of Firas Zahabi, Angelo di Bella, Jonathan Chaimberg, Kru Ash and the Grant Brothers Boxing Gym, he has been able to expand on his fight intelligence with some of the best coaches in the world. Laprise is 100 percent focused on being the best fighter in the world.
"I've been in Montreal since before my last fight," Laprise said. "I moved up here in July and I fought in October, so I've been at Tristar Gym full-time since July. I've been in training camp ever since July. I took a couple weeks off after my last fight, and it's been non-stop grinding. I'm looking to showcase all of those skills on fight night."
Fight night is this Saturday, when Laprise will step into the Octagon for the third time at UFC 186, live from the Bell Centre in none other than Montreal. This next outing is against a very tough, relatively low-key fighter named Bryan Barberena.
If people thought Laprise was under the radar, they didn't even notice Barberena flying at an even lower altitude. The MMA Lab prospect has been quietly creeping up the ladder. He's 10-2 as a pro, holds the King of the Cage lightweight and Dakota FC middleweight titles, and is on a seven-fight winning streak, which includes a third-round TKO of Joe Ellenberger in his UFC debut. The 25-year-old is no joke.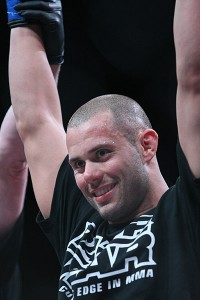 "I feel like he's a lot tougher than people give him credit for," admitted Laprise. "He's not very well known, but he's a very tough guy. He's a southpaw, he's got great conditioning, and he's mentally strong too. He's a guy that's going to come in to fight, and I think it's a great style fight for me too. He's not going to run away the whole time. He's going to come in looking for a fight."
It's interesting that Laprise brought up the mental toughness, considering that it is his own best attribute. However, Barberena is everything the TUF winner said he is. This is not going to be an easy battle. Fortunately, Laprise also knows why he's been so successful.
"The advantage I have in all of my fights is my fight IQ," Laprise explained. "I'm a very intelligent fighter, and that's how I win. You can see my record, and I'm 11-0. I've pretty much won every round of every fight I've been in. I'm a very smart fighter and very skilled, so that's what I plan on doing on Saturday night."
Including his wins on TUF, Laprise has made it through 11 opponents unscathed. At no point in time will he ever say that he is the best grappler or the best striker in the world, because that's probably not the case. However, when he says that he is one of the smartest, it's going to be hard to argue with him.
It's not all smarts for Laprise, though. He is a workaholic, just like Buffett and Bryant. He is constantly perfecting his craft, but he still makes time for fun.
"I train two to three times a day, trying to be the best in the world," Laprise said. "When I'm not training, I like to do anything outdoors — hunting, fishing, whatever. I also like to spend time with my wife, you know? That's my main focus."
Laprise and his wife, Emily, moved to Montreal together last summer. She left behind her job to join him as he chases his dreams. She is always by his side, so it's no surprise that his down time is spent with the love of his life. Someday, they will probably start a family, but, for now, he's all business.
Laprise is slowly climbing the ranks in the upper echelon in MMA. He may not be the best at any one fighting modality, but he is certainly one of the most intelligent fighters in the sport today. His next contest is not going to be a walk in the park, so it's a good thing he has a level head on his shoulders.
Laprise would like to thank all of his coaches and training partners at Tristar Gym, Grant Brothers Boxing and Di Bella Kickboxing School. He would also like to thank his wife, family, friends and all of his sponsors. Follow Chad on Twitter:
@ChadLaprise
---
Advertisement

---