Synergy is the creation of a whole that is greater than the sum of its parts. For example, when you combine water, yeast, hops and other flavors in the right combination, you get beer. Becoming a successful MMA fighter requires a far more intricate combination of elements.
Kaitlin Young has been a professional MMA fighter since 2007, years before anyone even thought women could make a living like the guys. She hit the ground hard, going 4-0 with a knockout win over Miesha Tate. But then she ran into a tough spot and suffered four consecutive losses, including one to Gina Carano. Standing at 4-4, Young found herself in a pair of bouts with Julie Kedzie. She won the first fight, a three-rounder, by split decision and lost their rematch via unanimous decision in a hard-fought five-rounder. She rebounded from the loss to Kedzie to pick up a couple of brutal wins via knockout and doctor's stoppage.
Young's seven wins and five losses looked to be a good match-up for the three wins and two losses of Leslie Smith when it was time to set the bouts for Invicta FC's first card. But no one knew how good of a match-up it would be. The ladies went three full rounds in a primarily stand-up battle with neither fighter willing to succumb to the other's will. Some folks compared that bout to the epic The Ultimate Fighter battle between Stephan Bonnar and Forrest Griffin and others compared it to Frankie Edgar vs. Gray Maynard 2. However you view it, there were no losers that night, and Invicta and the fans were certainly the clear winners.
---
Advertisement

---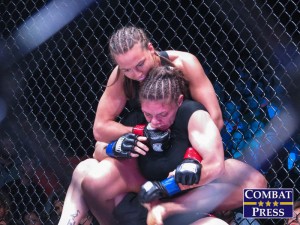 "It was definitely a barnburner," recollected Young in an interview with Combat Press. "It was a good night, a good fight, and we both thought we won. When you watch the announcement, our faces, we both looked at each [other] like, 'Whaaaaa….?' And you can tell that neither of us is overjoyed. I wanted the W, but not depressed like a loss. It was just, I don't know. I know people loved it. At least from what I remember, it wasn't a boring fight [laughs]. The fact that fight might have changed some people's minds about women fighting, that's an honor."
Fans were clamoring for more. Even the announcers wanted to see two more rounds. However, the rematch was not planned for the next card. Instead, Young faced the formidable Liz Carmouche at Invicta FC 2 and fell prey to the grappling skills of the former Marine.
For Invicta FC 3, Young was supposed to face Sarah Kaufman, but Kaufman suffered an injury about a month out and fans got their wish when Smith stepped in as her replacement. Young and Smith put on another exciting fight, but this time there was a clear winner. Much to her disappointment, it wasn't Young.
Having taken part in the first three cards for Invicta FC, Young skipped the fourth and came right back to the fifth, falling to rising star Lauren Murphy in April 2013.
"I had to make some changes," Young admitted. "I had a streak of losses. My camps weren't going the way I wanted them to. I am the type of person who can easily get bogged down, responsibilities can get in the way. I had to detach myself."
And detach herself she did. She moved from her hometown in Minnesota and left her teammates at Minnesota Martial Arts to move to Los Angeles to train at Glendale Fighting Club.
"I knew I needed more focus and more focused training," the 29-year-old confessed. "I have been friends with Shayna [Baszler] and Jessamyn [Duke] and knew that they were training with other high-level women from 125 to 145 [pounds]. And it's really made a difference already. I can feel less tweaks and injuries. Training with others who are in the same weight class is amazing. There just weren't as many fighters back home for me to specifically train with at 135. And, for me, the specificity of it is changing my game. Grappling, wrestling, striking—it's a dream team for me.
"Let me explain. I don't mean specificity as in, 'Today we are working grappling and tomorrow we will work Muay Thai.' I mean being able to focus only on training without the demands of running a business or being needed by friends or family. I was running a gym and tried to step back, but even though I did, it was hard to let go.
"But it's also a specificity in training. MMA is my martial art. It's not grappling; it's grappling for MMA. It's not striking or jiu jitsu; it's striking for MMA. My head got split open, so I have been grappling more and training in the gi to not aggravate the cut, but the focus has been more on putting it all together with a specific fight focus."
Young is scheduled to face her next opponent this Saturday, again while fighting for Invicta FC, and she couldn't say enough about the promotion and its figurehead.
"I have been friends with Julie [Kedzie] for years," Young said. "We fought each other twice, and I have the utmost respect for her skills. And I think [Invicta President] Shannon [Knapp] is one of the few promoters in the world who does well by the fighters. It's great to have these great leaders. Even behind the scenes, what they do for us, you might never know how awesome they are. I feel like her intentions are good. I mean, I know it's a business, but I feel lucky to be able to work with one of the good ones."
The nature of the fight game lends itself to unpredictability. Injuries are usually the main culprits, but occasionally governments can get in the way. Cindy Dandois was slated to be Young's opponent, but visa issues required some quick thinking on Invicta's part. So instead of Dandois, Young will be fighting Hawaiian fighter Raquel Pa'aluhi. Pa'aluhi, at 3-4 in her career, has one of those deceiving records. Her losses have come from facing some of the toughest names, like UFC fighters Sara McMann, Amanda Nunes and Raquel Pennington.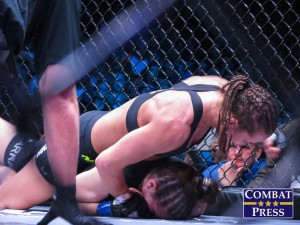 On paper, this match-up could be another "Fight of the Night" performance.
"I would love to stay on the feet if she wants to stand and strike," Young admitted. "I'm as comfortable on my feet as I am on the ground and feel I can put it all together better.
"Who the fighter is and what they are going to do isn't my focus. I don't see what they want to do to me as a threat because I am more concerned with what I can do to them. It's not about who is in there with me, it's more what can I do and what have I learned? The sport really is more about conquering yourself—self-control, emotions and adrenaline. It's about self-mastery and that's why I love it and why I do it."
People think of fighting as a physical sport. And of course, that is a major part of it. The body has to be trained, fit and ready. Good fighters will focus on the body. But once you get to the higher ranks, the bodies and the training are similar. It's what goes on in the mind that separates the good from the great. Young is combining the right coaching and training, a laser-like focus, and a fighter's mind. Watch it all come together Saturday night on UFC's Fight Pass starting at 8 p.m. ET. Young vs. Pa'aluhi will be better than beer. Guaranteed.
Kaitlyn would like to thank her coaches and training partners, past and present, and especially her boyfriend, Ryan, for taking a huge jump with her. She would also like to thank her sponsors: Joe Taverni, Sports Med NY, Bodies by Burgoon and Amber Sports Gear, adding to look for her new walkout shirt. Follow Young on Twitter:
@kaitlyn_young
---
Advertisement

---