GLORY Kickboxing just announced that will make its long-awaited debut in Bulgaria on Oct. 7 for the event of GLORY 89.
The Dutch-based kickboxing organization has had a busy year touring much of Europe. The combat sports company has visited nations such as The Netherlands, France, Belgium, and Germany in the past few years, and will soon add Bulgaria to its repertoire.
GLORY 89 in Bulgaria
On Oct. 7, GLORY Kickboxing will host its first event in the nation from the Burgas Arena in the city of Burgas. In the main event, GLORY 89 will see the experienced Bulgarian kickboxer Stoyan Koprivlenski face off against Sorin Caliniuc of Romania.
---
Advertisement

---
The main event bout takes place in the competitive lightweight division. Romania's Caliniuc is the reigning title holder in Colosseum Tournament and has defended his throne in many bouts. Koprivlenski is one of the most talented fighters in the division and is a perpetual contender.
Caliniuc vs Koprivlenski is a rematch from 2021 in which the Romanian athlete defended his Colosseum Kickboxing title against his Bulgarian challenger. The 29-year-old Koprivlenski will look to avenge this loss upcoming on Oct. 7.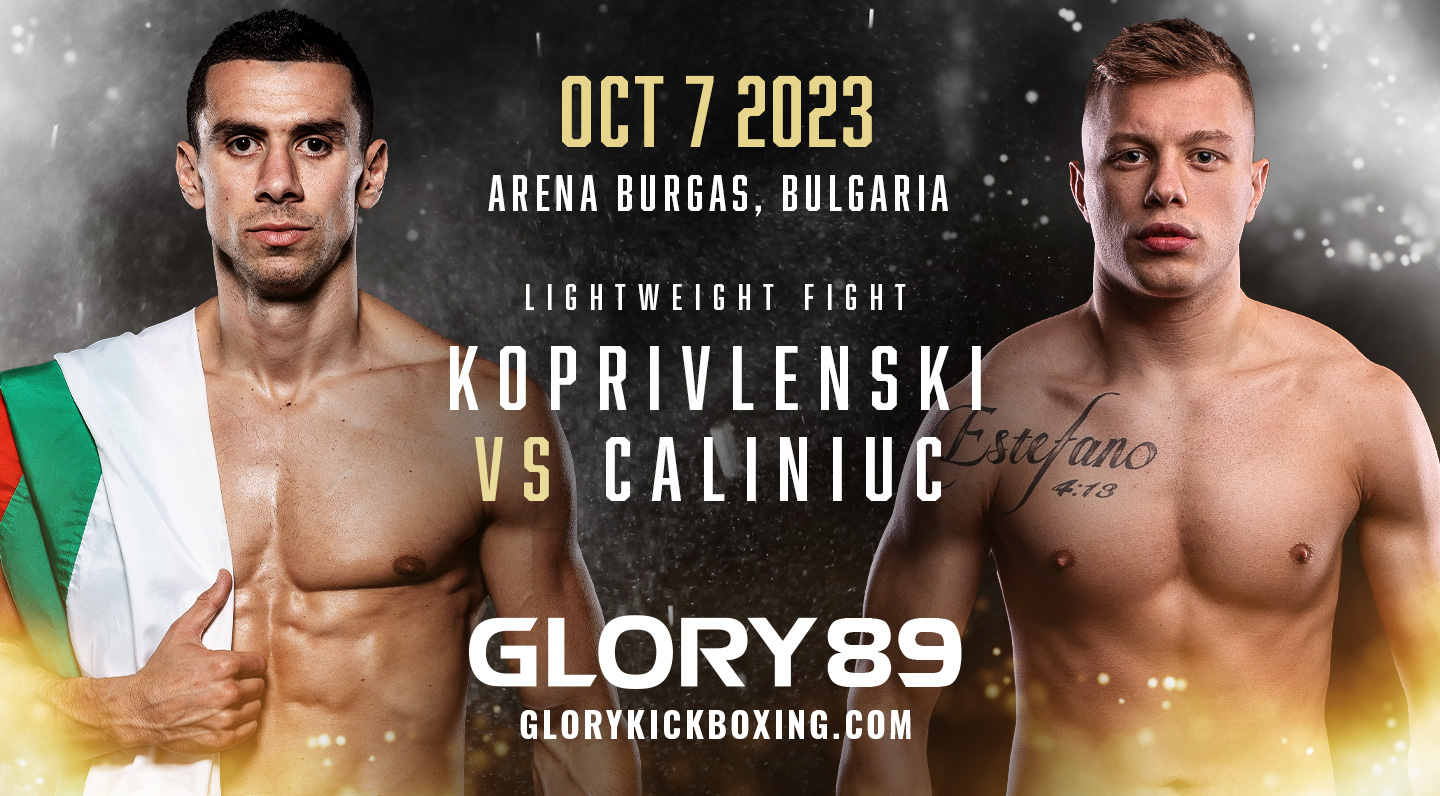 Additionally, GLORY 89 will feature a heavyweight bout in which the winner will get a placement in the year-end heavyweight GLORY Kickboxing Grand Prix. The year-end heavyweight tournament will feature eight fighters, with a whopping 500 thousand dollars on the line. The heavyweight athletes competing in this placement matchup have not yet been announced.
In a press release, GLORY Kickboxing said:
GLORY kickboxing will make its debut in Bulgaria with GLORY 89 taking place on October 7 from the Burgas Arena in the beautiful coastal town of Burgas.

In conjunction with the Bulgarian Fight Agency (BFA), GLORY brings it electrifying showcase of world-class kickboxing with a fight card filled with a host of the best fighters on the planet.

Bulgaria's very own Stoyan Koprivlenski (18-6, 6 KO) leads the way and will face Romania's Sorin Caliniuc (11-1) in the first fight announced for this historic card. GLORY 89 will also feature a special qualifier fight for the GLORY Heavyweight Grand Prix, where the winner will book his spot in the historic 8-man 1-night tournament set for this December and a chance at winning a life-changing $500,000.

"I am really excited to help bring GLORY to Bulgaria for the very first time," said Elena Taneva, BFA co-owner. "Together with the Bulgarian Fight Alliance, we will stage the most exciting kickboxing event ever seen in this part of the world. We cannot wait to welcome fans of GLORY and of kickboxing to the Burgas Arena on October 7."

"We have been all over the world with GLORY and I am happy to break new ground with GLORY 89 in Bulgaria and in partnership with the city of Burgas and the BFA." said Scott Rudmann, GLORY Executive Vice-Chairman. "2023 has been a year of tremendous growth for GLORY with the return of Badr Hari leading to a sold-out event in Paris in September, the huge success of COLLISION 5, and the return of the 8-man GLORY Heavyweight Grand Prix this December. It may surprise some fans but Bulgaria has a strong community of talented combat sports athletes – half of the GLORY 89 fight card will be a showcase of such talent. Its going to be a whale of an event and it's TIME for GLORY!"
---
Advertisement

---