The highs and lows often associated with mixed martial arts could be best compared to a roller coaster. One minute, you feel as if you're on top of the world. The next, you plummet back towards earth in such a way that the cold slap of reality hits you in the face, and it hits you hard.
That cold reality hit Shogun Fights welterweight champion Micah Terrill during his title defense against Maik Ferrante at Shogun Fights 17 in October of 2017. It should have been a joyous occasion, as Terrill knocked out Ferrante in just over a minute to retain his belt. However, Terrill also suffered a potentially career-threatening knee injury.
"I felt it about 30 seconds into the fight," Terrill told Combat Press. "I couldn't put any weight on it because I tore my ACL, MCL, PCL and LCL. But at my age, you want to keep fighting. The doctors told me it was worse than they thought, and I couldn't walk for a month, so I couldn't work and pay the bills. It gave me an opportunity to rest, but I ended up resting on a barstool."
---
Advertisement

---
Terrill's knee surgery took place in December of 2017 and although he wanted to return to fighting in June of last year, he could not receive clearance, which contributed to Terrill's struggles with alcohol.
"I was in my darkest place and just felt angry and mean and resentful, and blaming others," Terrill said, adding that he was diagnosed with clinical depression. "But on Jan. 1, 2018, something clicked and changed. It was then that I decided to be a better person, a better man and a better father."
Terrill made multiple positive changes, including drastically reducing his alcohol consumption and reading one book every month. But as if recovering from a devastating knee injury wasn't tough enough, Terrill broke both hands in his comeback fight in July of last year when he defeated Ryan Jett under the Legacy Fighting Alliance banner. But that wasn't the only painful injury Terrill suffered that night.
"It was the hottest day of the year and the event was in a hangar, and it must have been 110 degrees," Terrill said. "It felt like 120 degrees on the mat. I felt great but before the second round started, I had skin hanging off my toe and burns on my toe, and I felt like I was suffering from heatstroke. The guys in my corner thought I was dead."
'Physical activity heals your soul'
Following his victory over Jett, Terrill had surgery on both hands and returned to the Baltimore-based Shogun Fights in October of last year to successfully defend his welterweight title again – a mere six weeks after his surgery to insert plates and screws in both hands.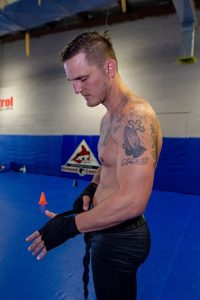 "I needed the money, and then I started putting wins together," Terrill said.
The victory for Shogun Fights was his seventh in his last eight fights, and having competed on 12 Shogun Fights cards overall in his career means that the promotion's founder, John Rallo, has a better insight into Terrill's toughness than most.
"I've known Micah since before Shogun," Rallo said. "He's a tough kid and a good fighter who's exciting and comes to throw down. It's rare that his fights go the distance and he brings fans to the fights. He's a hustler and brings a lot to the local fanbase."
Terrill's passion for mixed martial arts and renewed focus on his faith and family is to what he attributes both his recovery from his various injuries and his recent success in the cage.
"I put my heart and soul into it," Terrill said. "I'm the only one who controls my fate and I'm devoting my life to being a Christian and to God and putting family first, then training. I also focus on being a better person for everybody – I thought I knew everything, but I'm not going to be fighting for much longer. So I'm now giving insight to others.
"People don't know how much physical activity heals your soul," Terrill said.
The healing of Terrill's soul through the physical activity of MMA was on full display during a recent Saturday training session at Ground Control Baltimore – a team Terrill recently joined and which will soon move into a new 10,000-square-foot facility. For now, Ground Control's current home is a roughly 3,500-square-foot location on Pulaski Highway, located just off Interstate 95.
In an environment very much suited for the gritty, blue-collar work ethic that so many fighters fancy for themselves – surrounded by businesses selling large-scale construction equipment and motels that appear to precede Ground Control calling the area home – Terrill arrived to train some sparring and rolls with two of his coaches, Mark Finlay and Henry Smith.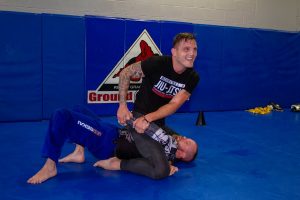 "It's gonna be a war today," Terrill announced soon after his arrival and began stretching while other members participated in pad work and worked on their jiu-jitsu technique. Terrill is close to receiving his black belt in jiu-jitsu and took instruction from Finlay while trying to lock in a rear-naked choke on his training partner, among other submissions.
"The most important thing is hands," Finlay told Terrill. "Let's see how many submissions we can do in the last minute of the fight. It's about keeping the pressure going."
Terrill, who boasts an overall pro record of 13-7, will defend his welterweight title at Shogun Fights 21 in Baltimore on Saturday, April 6, against Jonathan Hughes, who has a record of 4-5 and won his last two bouts with Shogun Fights.
"I got my dog back," Terrill said. "I'm hungrier than a fucking pitbull. I fought 4-5 times a year before my injuries, and I want to hit him with rights and elbows. When I'm going out there, I'm violent but I'm not letting people get in my head."
Smith has trained with Terrill for his last four fights and said among the most important qualities for coaching fighters is chemistry and having fighters be coachable.
"We've been working on his striking, and he listens to me," Smith said. "I think he has the all-over advantage – he's heavy-handed but we've been working on not getting into a brawl, because he had the tendency to do that before. But now he's picking his shots and I think he's got the potential and the ability to go on to the big show if he puts a string of wins together."
Smith has been coaching and training fighters for more than 20 years and spent time in New Mexico training with current and former UFC fighters like Donald "Cowboy" Cerrone, Carlos Condit, Paul Felder and Kyle Noke. Terrill also spent time in New Mexico training with Smith at the Jackson Wink MMA Academy.
According to Smith, fighters have a very short window for
success.
"You have to fight and be willing to take short-notice fights," he said. "You very seldom get to have the perfect camp. I've seen [Paul] Felder take a fight on two weeks' notice. It's about being in the right place at the right time and taking the right fight. Micah has the talent and the window. Many fighters don't get the perfect window and very few people make a lot of money doing this. But I think Micah is going to do great."
Although Terrill still has lofty goals for his fighting career, including a desire to join former UFC fighters Demetrious Johnson, Eddie Alvarez and Sage Northcutt in competing in ONE Championship in Asia, he has also taken steps toward having a career outside of MMA. He opened his own gym, The Hot Box Boxing and Fitness, on Feb. 1 in Millersville, Md.
The 7,400-square-foot facility already boasts close to 100 members and offers full-body workout services, including weight training, group fitness classes, kickboxing and other programs. Terrill plans to open additional locations and previously taught classes at another gym, which is where he met his girlfriend, Jaime Galinsky.
"I've always been a dancer, and a girlfriend suggested I take his class and it was a brand-new experience for me," she said. "I thought it was great; it was such a unique workout that he designed and it was very effective. It wasn't a super-crazy thing to me."
Galinsky is a Reebok-sponsored athlete and works with Les Mills, a fitness company based in New Zealand. Galinsky had a front-row seat to both the success Terrill has enjoyed in MMA and also the hardships that he went through.
"I always watch him train, and he's very calculated," she said. "He's very confident in his skills and I've watched multiple fights, and every fight of his is different. I almost looked at him like he was invincible. It was very humbling to watch him go through everything, but I watched him come back and I always him as Superman. He puts on a great show, and people come to see him."
Terrill grew up with a Dad and brother who both played baseball, so he is getting his soon-to-be five-year-old son into athletics as well, including dirt bike racing and wrestling. When asked how he would react if his son wanted to be a fighter, Terrill gave the perfect response.
"I would give him a high-five and I would be in his corner every step of the way," Terrill said. "I would not be a helicopter parent – whatever he wants to do, he can do. I think every kid can learn life lessons from sports and I will give him every opportunity to succeed."
Terrill, 35, would also like to work with younger fighters who are coming up through MMA, and shared some of the advice he would offer.
"I would let them know that there is life outside fighting, but if you're in fighting, then that's your life," Terrill said. "I would also let them know that not every gym is your friend, and if you don't feel it's right, then you need to do what's best for you."
Terrill would like to thank God, his coaches, sponsors, his girlfriend and his family. Follow Terrill on Instagram:
@seeme2024
---
Advertisement

---