The warrior spirit of the Hawaiian people dates back hundreds of years. When European explorers took the island's king as ransom, the Hawaiians didn't give into demands. Instead, they fought back and killed the king's captors.
Although the amount of bloodshed isn't as extreme in modern combat sports, the Hawaiian spirit lives on in the fighters that hail from the island state. However, not every fighter takes the same path to competition.
Undefeated flyweight Ilima-Lei MacFarlane has lived this firsthand.
---
Advertisement

---
"I didn't have the typical upbringing in Hawaii, where fighting [and] scrapping plays a role," the 26-year-old told Combat Press. "I never got into a fight before; I never even threw a punch. I went to private school that had a zero-tolerance policy for violence. Even if you got into a fight off campus on the weekend and the school found out about it, you'd get kicked out."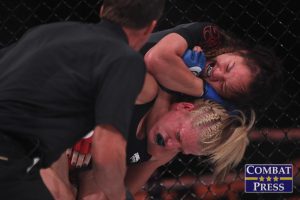 Even though MacFarlane's warrior spirit was kept in check during her time at Punahou School in Honolulu, she was able to lay the foundation for a fighting career in the wrestling room. However, a move to the mainland to attend San Diego State University put her further, not closer, to a career inside the cage.
After obtaining a bachelor's degree in cultural anthropology and a master's degree in liberal arts and sciences, MacFarlane found herself heavier than she had ever been. Some reports have insinuated that she gained 50 pounds during her studies.
"It was actually 30 pounds," she explained. "The heaviest I got to was 175. It was extremely difficult when I was fat. I remember being depressed and thinking that I was going to be fat for the rest of my life."
The weight struggles prompted MacFarlane to seek out a gym membership, which led her to the San Diego Combat Academy and Team Hurricane Awesome. That's when her future quickly began to change.
"Once I started training, the weight just came off. It was incredible," recalled MacFarlane. "I've been a fat girl before. I understand the struggle."
As soon as MacFarlane got back to a training environment, her competitive fire started burning yet again. It wasn't long before she was locked in a cage for her first amateur fight.
"My team at Team Hurricane Awesome, and especially [former UFC title challenger] Liz Carmouche, had that same accelerated career. The same kind of thing happened to her. She was fighting within three months of starting at the gym and then fighting for a belt not long after. That's sort of a thing at our gym — people with fast-tracked careers," explained the flyweight.
MacFarlane's time on the wrestling mats at Punahou suddenly paid dividends for her. However, as she contemplated focusing on MMA full-time, she still had to break the news to her family.
"If I didn't have that wrestling background, I probably wouldn't have gotten into fighting," said MacFarlane. "I think the most surprised was my mom, but I think that's because she was like, 'We helped put you through college and you're not even going to use your degrees?'
"But I think my siblings and my dad — he was a big-time athlete — have always known I was the little fighter of the family. I am the baby and was always the bully to my older sisters. I'd always pick fights with them.
"So, in a sense, they weren't super surprised. But at the same time, it was unexpected, since I stopped playing sports when I finished high school."
MacFarlane reeled off five straight wins as an amateur. After a 10-second knockout in her pro debut, the Hawaii native caught the attention of Bellator MMA. While the quick ascension through the sport might have been overwhelming, MacFarlane credits Carmouche and fellow Hawaiian and Invicta FC veteran Raquel Pa'aluhi for helping her along her way.
"I think my career has been accelerated more than others, but that's kind of how women's MMA is at the moment. You have to strike while the iron's hot," said the "Ilimanator."
"They have helped immensely. They're both my mentors in this journey. I recently pulled up messenger on Facebook, and I actually talked to Raquel back in 2010 about MMA and joining a gym when I first came to the mainland. She was there from the very beginning, giving me her advice.
"Having Liz as my main training partner is awesome. She's been there to help guide me not only with the physical aspects of training, but the side stuff like business, managers, sponsors, everything."
The guidance of two of the sport's veterans has helped MacFarlane find success in the cage, but it has also aided in allowing her to adapt to the marketing landscape of her promotion. As Bellator has built its flyweight division from the ground up, the promotion has frequently focused on physical appearance, not merit, in its marketing tactics. Yet, MacFarlane can empathize with the organization's approach.
"You have to sit down and think that it's a business," explained the fighter. "When I first started fighting professionally, my trainers and Liz, they explained to me that it might seem unfortunate, but fighting is really a business. Training is just the half of it. There's the marketing and finding followers, so that promotions want to book you. It means keeping up on your social media.
"I think Bellator has been really wise in how they've marketed the division. In the end, it only benefits us the more eyes that are on us. So what, they might find a couple of girls with good looks, but at the end of the day, they're still fair to all of the fighters. I think it's the right move. I'm happy with the progress. They're building us up."
Marketing aside, MacFarlane has let her fighting do all of the talking in her promising career. While the promotion has yet to crown a 125-pound champion, she knows she is in the conversation. Now, as she prepares to face Emily Ducote at Bellator 167 on Saturday, Dec. 3, MacFarlane is aiming to make her case for a title shot.
"I thought that I was the frontrunner," she said. "That's going strictly off paper, since I'm 3-0 in Bellator. But with new additions, I'm not sure what they're doing. I've heard rumors that maybe they're going to do a tournament. [Bellator President] Scott Coker had said he wanted to crown a champion by the end of the year, but it doesn't look like that's going to happen. But if they were going to do that, the title fight should've been between me and Ducote. I think she's the toughest girl in the division next to me right now."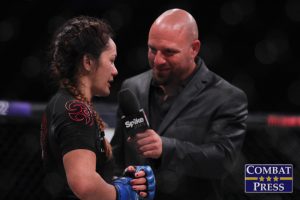 The prestige of holding a title is certainly something MacFarlane would love to gain. In fact, that level of attention is something that could not only benefit her as a fighter, but in her long-term plans as well.
"I absolutely would like to use my degrees one day," said MacFarlane. "Whether that is in the education field or working for a non-profit, I would like to use them. I'm hoping to use my platform as a semi-public figure to gain notoriety and use that to influence the youth and teach.
"For now, though, I'm putting that on hold. It's just fighting."
Fighting may not have been MacFarlane's original path in life, but the warrior spirit in her veins has come to the forefront. While most fans easily recognize B.J. Penn and Max Holloway, she wants to help carry the torch for fighters like herself and Pa'aluhi.
"I'm always repping Hawaii," said MacFarlane. "It's a hotbed for fighters, and being able to be grouped in with that crew of legit fighters motivates me."
MacFarlane uses that fire to help keep her at the gym every day and overcome the mental hurdles leading up to a fight. After all, she has to feed her newfound addiction.
"Even though I fucking hate training and the build-up, getting your hand raised after the fight is the most addictive feeling in the world," MacFarlane said. "The glory of it, it's thrilling."
With her home state, her family and her gym behind her, MacFarlane is out to embody her inner warrior every time the cage door shuts. She continues to feed her fire. There is no room for negotiation in this confrontation. MacFarlane is out to defeat anyone who stands in her way. Those islanders who overcame their European tormentors would be proud.
Ilima would like to show her support for the
#NoDAPL
protesters. Follow MacFarlane on Twitter:
@ilimanator
---
Advertisement

---