At UFC 182, Marion Reneau debuted in the UFC's women's bantamweight division. Fans didn't know much about her fighting ability. After her first fight, the buzz around her had certainly been generated.
At the event, Reneau defeated Alexis Dufresne while putting on a striking clinic. The following month, she stepped up to fight Jessica Andrade. This time, she put on a jiu-jitsu clinic and finished Andrade with a triangle choke in the first round.
Here was a fighter competing at the highest level and doing a damn good job of it, proving age — Reneau was 37 at the time of her Octagon debut — is nothing but a number. However, a few months after her victory over Andrade, Reneau suffered her first loss in the UFC. The loss came via decision against Holly Holm, who would go on to defeat Ronda Rousey and become the UFC women's bantamweight champion.
---
Advertisement

---
"I was upset," Reneau told Combat Press. "It's not something you want to happen, but it is a part of life. I didn't think it was the end of the world; it was just something I needed to learn from. So, that's how I took it. I had my pitty patty moment, maybe a day after, and then after that I took my head out of my butt and basically moved forward."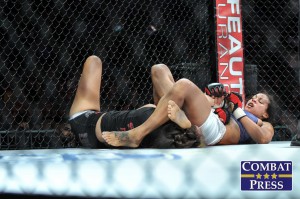 Reneau's next fight takes place on Feb. 20 in Pittsburgh as part of UFC Fight Night 83. Her bout against Ashlee Evans-Smith will be the Fight Pass featured prelim contest. Feature fights for the UFC subscription service have been made a prerogative by newly acquired employee Eric Winter, who has helped build credibility for the platform. However, Reneau's last fight was on a main televised card.
"It doesn't matter one way or another to me, to be honest," said Reneau. "I'm getting paid. I'm still getting paid the same amount of money whether I'm on Fight Pass, whether I'm on live TV or pay-per-view. To me, we're all fighting in the same cage and I'm still getting paid."
The "Belizean Bruiser" takes much pride in her job outside the Octagon. She's a gym teacher in California. She's excited to head into work every day, and her students, as well as her administration, have supported her endeavors into fighting 100 percent. Her students, especially, love having "the cool teacher."
"I know they're excited for me," said Reneau. "I know they wish me well and they love having a teacher that fights in the UFC. They're like, 'That's my teacher!' I have a good administration that actually let me take some time off to train and to leave for the week to go fight, so they're super supportive."
Follow Reneau on Snapchat and you'll get a glimpse of her world as a teacher. It doesn't disappoint. One of the things she will snap is the morning ritual where she introduces herself to the students, followed by the students coming up with their own routine to introduce themselves as well. They're funny, and can range from the simple hello to even the entire class "dabbing," the cultural phenomenon sparked by NFL quarterback Cam Newton.
"It's so funny," said Reneau. "Every morning, different days of the week is different things. And sometimes I let them come up with their own things. Before I get out there, they're all seated in their roll-call lines and I walk out in the gym, and the first thing I tell them is, 'Good morning,' and after I say good morning, they have to say something back.
"Usually, on Wednesdays I say, 'Good morning, what day is it?' And they'll be like, 'Huuump Dayyyy,' all together. And so one morning, they happened to come up with something on their own and they incorporated this little dab and I'm like, 'Oh, this has to go on Snapchat.' They're hilarious.
"They're the ones that talked me into getting a Snapchat, to be honest, because I had no clue what it was. So they showed me how to work it. They set me up. They showed me how to do my stories because they wanted to follow along during the UFC week when I'm gone. And so I said, 'OK, I'll show you everything I have to end up doing, as much as I could.' So I've been trying to Snapchat a little bit more because I know all of them are following me. I try to feature them on it as well, because they love to see themselves."
On Sunday, Reneau's students will have the opportunity to see her take to the Octagon once again. More Snapchat posts are sure to follow, and perhaps some of those images will be of Reneau celebrating another buzzworthy performance.
---
Advertisement

---