It seems like the whole country is anti-bullying. They don't want the bullies to be active on the playground, the schools or even the internet. But there is one bully that every American should consider rooting for, and even cheering on. No, I am not talking about Donald Trump.
I'm talking about Amber "The Bully" Brown. Brown got her nickname way before the anti-bullying crusades began. And you'll be glad to know it's not because she is mean. Well, outside the cage.
Brown started boxing in 2009. Back then, there just weren't many opponents, so she faced a lot of younger and bigger girls. But Brown didn't care. Her style is to press forward and push the pace. She went undefeated and picked up four amateur wins. Her teammates started calling her a bully for beating up on the young'uns.
---
Advertisement

---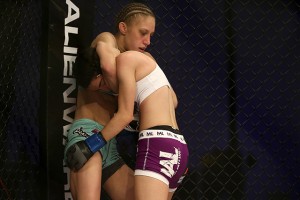 Brown just wanted to get in shape after her daughter was born. That's why she started boxing. However, the competition and adrenaline were just too much to resist, so she started to compete. After such success as an amateur boxer, Brown decided to go pro. She lost her debut bout. It turned out that her loss was MMA's gain.
Just a few months after her pro boxing debut in 2012, Brown decided to go pro in MMA. In November 2012, "The Bully" made her pro MMA debut. She won her first two fights and then went to Japan to face Emi Fujino in May 2013. Fujino was among the top strawweights. She already had 11 wins and six losses. Brown wasn't fazed. She gave it her all, but she fell victim to a vicious neck crank in the second round. (Fujino's previous fight was a loss to Ayaka Hamasaki — remember that.)
Since Brown's loss to Fujino, she has been on a tear. She went right back to Japan and Pancrase, where she scored an armbar against Kikuyo Ishikawa. Then, Invicta FC came calling and gave Brown the chance to compete in the atomweight division. She beat Liz McCarthy by split decision in a very entertaining fight.
Then Brown destroyed Catherine Costigan. "The Bully" sunk in a rear-naked choke in the first round. In January, she was slated to face Lisa Ellis, another well-known veteran with excellent skills. Unfortunately, Ellis got really sick and was unable to train. She had to pull out of the fight. Shino VanHoose was tapped to step in, and she fell victim a first-round guillotine at the hands of Brown.
Brown was vocal about wanting a title shot after her bout with Costigan. After she ran through VanHoose, the case had been made. In March, Brown will face the current atomweight Invicta FC champion, the aforementioned Hamasaki. Talk about interesting twists of fate.
"One word: excited," Brown told Combat Press. "Well, I am training hard, looking forward to facing Ayaka. After I beat Catherine, they wanted me to have one more fight before I earned the title shot. I did it and was really happy when they called.
"It's truly amazing to see the hard work pay off and to get here in a fairly short amount of time. I feel great. I've got a ton of respect for Ayaka. She's another legend and has been fighting a long time. She has fought a lot of top-level opponents, but I feel really good about the match-up. I know it's not going to be easy. She is tough. But I know, when I am at my 100 percent, that I can beat anybody out there. So, yeah, I am excited to go out there and showcase my skills."
If you had some parents who needed in-home health care, you'd probably not want a bully. Unless that "bully" was Brown.
"I wasn't fighting enough last year, so I needed to supplement my income," said Brown. "I took a position as a caregiver for a small, private company. The family is awesome. They support my fighting, watch all my fights, and work with my schedule to accommodate training and time off for fights. They are amazing."
Brown likes the gig so much that she might even consider becoming a nurse after her fighting career is done.
And what if your mom was known as a bully? Can you imagine the looks the other PTA moms might give? Luckily, Brown is only a bully inside the cage.
"I really am one of the nicest people you'll meet in everyday life," said Brown. "But I am really proud of my nickname because that is my fight style. It's aggressive. It's in-your-face. I love to move forward and keep the pressure on. I want to be known for dominating everyone I face.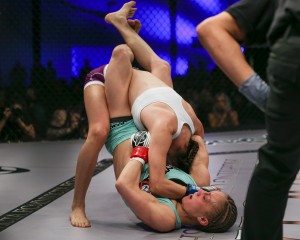 "I want to get this belt and then I want to run the division. Since they started the division, the belt has been passed around for one reason or another — more than the other belts. I want to take the division down and dominate it. Then, because I know I can compete at that level, maybe I will move up to 115 [pounds] and get that belt and run that division.
"I want to be an inspiration for other fighters and other girls. And that is what really motivates me. I want other women to be able to look up to me and see that hard work really does pay off and that you can make your mark. You don't realize how much of a role model you can be. It really inspires me.
"We go to stores around here, and there are some regulars who will ask us how the training is going. I had some folks come up when the title fight was announced, and they were so happy for me. I look like a fighter, so it might not even be that they recognize me at first, but we get to talking and then it comes up. So far, nobody has screamed, 'Oh my god, there's the 'Bully!' [laughs]. Not yet, anyway."
Brown is lucky. She and her husband have been together for 11 years. Joe Blake is her partner, her best friend and her boxing coach. Brown, her daughter and her husband spend a lot of time together in the gym. This is her family and these are her loves. She doesn't sound so bad now, does she? Just don't step in the cage with her. That's when the bully comes out.
Amber would like to thank her sponsors: Damage Control, Dragon Do, A Reel Movies, Sadie's of New Mexico, Trent Cotney, and Intestinal Fortitude Design. She also wants to thank everyone at Fit NHB — Tom Vaughn, Arlene Sanchez, Jon Judy, all the New Mexico Wild Bunch and team. And, of course, she would also like to thank her husband and daughter. Follow Brown on Twitter:
@TheBully505
---
Advertisement

---