Mixed martial arts is a lot different than many other sports. Unlike football, baseball, basketball, hockey, golf and pretty much any other mainstream sport, the barriers to entry are very low. MMA is the one sport that anyone can start training for at almost any age, and some fighters have made it to the highest pro levels within just a few years of their very first training session. With that comes one major trap — a lot of fighters quickly set their sights specifically on the UFC, and it starts to consume their focus.
It's rarely a bad thing for anyone, in any endeavor, to set goals, and long-term goals can certainly get lofty, but sometimes people need to take a step back and tackle the near-term goals to truly achieve greatness.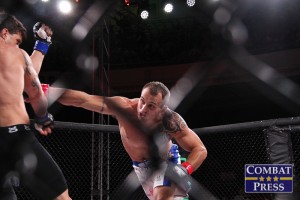 Dakota Cochrane has always had a career goal to make it to the big show. He even tried out for the fifteenth season of The Ultimate Fighter reality show in 2012, but he didn't make it into the house after losing a one-round decision to eventual semifinalist James Vick. That was the one live season of TUF, and the one-round fights turned out to be a total debacle. Many guys got an unfair shake in attempting to advance into the show. Cochrane knew he deserved to keep fighting, so that's what he did. He never lost that focus on getting into the UFC. However, the results were mixed.
---
Advertisement

---
Over the course of the next three years, Cochrane traveled all over the United States, willing to take on any opponent on any amount of notice, and even threw in a short-notice fight in Finland against UFC vet Anton Kuivanen. He was looking to garner some respect to make the move into the Octagon. He won some exciting fights and he lost some exciting fights, but his record started to look spotty, peppering some submission losses in between most of his wins. Things finally changed in 2015, and it had a lot to do with his focus.
"I haven't given up on getting into the UFC, but I'm not worrying about it," Cochrane told Combat Press. "If it happens, cool, but I'm not trying to focus on that. I'm just going to take it one fight at a time and do the best I can. So far, it's working out pretty good."
Cochrane is currently riding a four-fight winning streak. After back-to-back losses to kick off 2015, he fought in four different promotions in just a four-month span and won three stoppages and one decision. For the first time since 2011, the 29-year-old vet has strung together more than three wins in a row. He has no plans of slowing down. After all, five would be a very fitting number.
On Oct. 1, Cochrane and his wife Lacey welcomed a fifth member to their family, as she brought their third child, a little boy named Axell, into the world. Two of Cochrane's recent wins were within a couple months prior to their baby boy being born, and the other two were within a couple months after. Not only is he a personal trainer, a professional fighter and a husband, but he is also a father to what is now three kids.
Five seems to be a magical number in the Cochrane household this year. So, instead of focusing on getting into the UFC, the Nebraskan is focused on his next fight, which takes place Friday night at Victory Fighting Championship 47 at the Baxter Arena in Omaha, Neb. After all, bringing his winning streak to five just makes sense. However, his opponent is no tomato can.
Jake Lindsey is also 29 years old and a veteran of VFC action, but he spent about nine months in the UFC. After stringing together the only three losses of his career during his three Octagon appearances, the Kansas native is back on the regional scene, trying to get back to his winning ways. Lindsey has only 13 fights on his record, to Cochrane's 31, but he is a finisher, having gone to decision only once. More experience or not, Cochrane is not discounting his opponent's ability.
"I knew it was going to be a tough fight," Cochrane said. "That's for sure. He's a pretty big 155-pounder, so me and him at 170, we'll be pretty similar. He's obviously taller, but I'm pretty used to that. I feel like he's going to come out hard, you know? He wants to get back in the UFC, so he's going to try to make a statement, and it's going to be a tough fight."
Cochrane used to be a welterweight, but in most of his recent fights, he has competed at lightweight, which is a little more fitting for his 5-foot-8 frame. Lindsey has always fought at lightweight, but he is three inches taller than Cochrane. For VFC 47, the two will meet at welterweight. They will not face a very depleting weight cut prior to the meeting. While Lindsey will have a size advantage, Cochrane has confidence in his tenacity.
"My advantage will be my wrestling and the fact that I'm not willing to lose easily," Cochrane explained. "I don't give up. I think he likes to push you against the cage and use his knees. He likes to use the clinch to set up his takedowns."
Most of Cochrane's losses have come by way of submission, but he is a powerlifter with very strong wrestling. Lindsey's three submissions have come by way of rear-naked choke, so if Cochrane can keep Lindsey off his back, he could easily bring that winning streak to five — and three in a row since Axell was born. That's a great way to bring his son into this world. But the other two kids, Ava and Ace, are still vying for mom and dad's affection as well.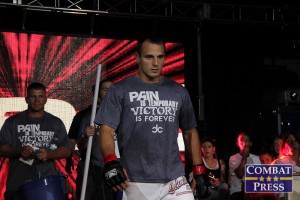 "I've got three kids now, so that's always tough," admitted the busy dad. "It's cool to have a little baby and see how fast they grow. But, man, there is definitely a big difference between two kids and three kids.
"It's tough to give them attention equally, especially when you have an 11-year-old and a five-year-old. Divvying out the attention is the hardest part."
In addition to his family, Cochrane also has responsibilities as a personal trainer at 24 Hour Fitness. As most people can imagine, any gym in January is a zoo.
"Now is the busy season, and we always try to hit budget month after month," Cochrane said. "That never changes. My business never really changes. The gym is busier, so we've got a lot of newcomers, and some of my trainers have become more busy, but my business as a trainer pretty much stays steady throughout the year."
In Cochrane's fighting career, 2015 proved to be a tale of two halves. The first half of the year was not going his way, but as Axell's birth approached, he got into his groove. A lot of that has to do with where he put his focus. It's more about winning and less about getting into the UFC, and the success is stacking up.
"I just go in there and try to win every time," Cochrane said. "The cards are falling my way, I guess. I just try to learn and get better with every fight."
On Friday night, VFC 47 will air on UFC Fight Pass, a first for the promotion, but Cochrane doesn't care about that. He just wants to get in there and bring his winning streak to five, so he can go back home to his family of five. If the UFC wants him, they know how to get a hold of him.
Cochrane would like to thank his coaches and training partners at Premier Combat Center, his family, friends, fans and sponsors: Digital Sky, Schmidt's Inc, Animal Instinct, Prism Signs, Schilke Erectors, Benson Motors, BB Roofing and Green Belly. Follow Dakota on Twitter:
@DakotaCochrane
---
Advertisement

---