One of the biggest issues facing top-level fighters is dominance. That sounds like a counterintuitive statement to make, but it is a commonplace problem in mixed martial arts. When a fighter is so dominant for so long, the pundits start to question the quality of opponents, as opposed to praising the fighter for being so skilled and so successful. Ronda Rousey is a perfect case in point.
No matter who the UFC puts in front of Rousey, every time she wins, people say, "That opponent wasn't up to her level of grappling," or, "She won because her opponent wasn't a great striker in the first place." For those at the highest level, it gets more and more difficult to gain the respect they deserve.
Former Bellator lightweight champion and NCAA Division I All-American wrestler Michael Chandler has had a tough time gaining the respect he deserves, because people like to discount his opponents. Is being tied for the longest winning streak in Bellator history not enough? Were two successful title defenses not enough? Apparently not.
---
Advertisement

---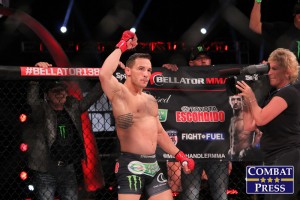 Tomorrow night at Bellator 145, Chandler will face David Rickels in a rematch of their July 2013 affair. Chandler finished their first fight in less than a minute with a knockout, so some people question the point of the rematch. The former champ just brushes it off.
"I try not to think about it too much," Chandler told Combat Press. "Whenever they call and say, 'Hey, let's fight this guy at this time,' I do it. I think Dave Rickels is a tough opponent. Dave Rickels is a tough competitor, you know? It's not like an easy fight.
"You look at some of these guys. Look at Rick Hawn. I finished him in the second round, and he has fought for the welterweight title and came down and fought for the lightweight title. The guy is better than I made him look like. It's great for me, because I go out there and finish guys. But because I finish people so quickly, people say, 'Well, that was just too easy. They just gave Chandler another easy fight,' when, in reality, these guys have great track records. I just find a way to finish them. The way I finished Derek Campos is not an indicator of how skilled he is. The same goes for Dave Rickels. I finished [Rickels] in 45 seconds, but that's no indication of how good he is."
Chandler's last fight was against the aforementioned Campos in June. Near the midway point of the first round, the former Bellator champion was able to submit his opponent by rear-naked choke, giving him the fourth rear-naked choke submission of his career. All said, he holds 11 finishes in 13 wins, and those were not all cake walks. However, like Rousey, Chandler is finding it hard to garner respect for his craft when people discount his collective opponents' abilities. He knows how good of a competitor Campos is, and he enjoyed his victory accordingly.
"I was very happy with it," Chandler said. "I was pretty ecstatic after the win. Just being there in St. Louis [and] hearing the crowd, it was amazing. My performance, I think, was great. We were fighting a tougher guy than people actually realized. I think Derek Campos is a very tough competitor who has had a lot of tough fights. He's kind of like a Rickels, in the sense that he swings hard and he keeps coming and keeps coming. I had to get out of there quick, so I was in and out of the pocket. My footwork was great. I hit him with some hard shots and finished him with my Neil Melanson ground game. I was very happy with my performance, and I plan on doing even better here."
Chandler only has three losses in his career, and two of them were controversial split decisions to Eddie Alvarez and current champ Will Brooks. He looks to build on his win over Campos with another win over Rickels.
"I'm doing a lot of hard work," Chandler elaborated. "A lot of working on skills. [I am] trying to find that beautiful balance of working as hard as you possibly can, but not working too hard with training. I'm ready to get after it, feeling good, and ready to get out there and do work."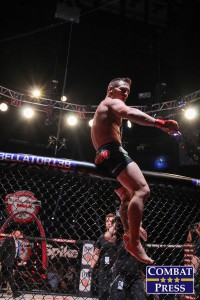 After his last fight with Rickels, Chandler doesn't want to change up much with his overall game plan. He's just looking to keep it simple and get out relatively unscathed.
"I want to go out there and finish the fight as quick as possible," explained Chandler. "Obviously, if I could finish him in 45 seconds again, that would be ideal. But, for me, it's more of a question for him. What is he going to do differently? If he fights the same fight he fought last time, it's going to be a quick paycheck for me. I'm prepared for a three-round fight. I'm prepared for a three-round war, but my skill set has gone up tremendously since the last time we fought. My reflexes, my hand speed and all that stuff have gone up exponentially. I'm excited to go out there and test myself again."
Chandler may have dominated almost everyone placed in front of him, but that does not mean the opponents were not of a high quality. Any knowledgeable fan of MMA understands that guys like Hawn, Rickels, Brooks, Alvarez, Marcin Held and Patricky Freire are all formidable opponents. On Friday night, Chandler returns to his hometown of St. Louis to take on Rickels at the Scottrade Center. He'll seek to add yet another victory to his resume. Will it silence the doubters? Will it finally be enough? For those people, probably not. However, Chandler can't listen to the naysayers. He can only look back on his career and know that he proved himself. And that, well, that is enough.
Chandler would like to thank his coaches and training partners, Monster Energy, Toyota Escondido, his wife and all of his fans and sponsors. Follow Michael on Twitter:
@MikeChandlerMMA
---
Advertisement

---