Lean back, shoulder lean, shuffle the feet and wind it up.
No, we're not talking about whatever the latest dance craze is to hit the clubs. These are merely the movements of Michael "Venom" Page as he does a different kind of dance. This kind of dance involves punches, kicks and knockouts.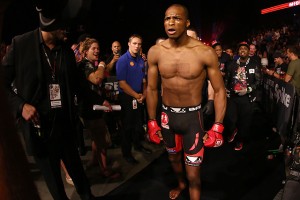 Page's style is full of flashy moves and confidence. It leaves many conflicted. Some love it. Others hate it. They may say it's cocky, not understanding that it's a style of fighting Page has applied for years, even before he burst onto the MMA scene.
---
Advertisement

---
Page has spent most of his combat career competing in hands-down kickboxing. It's a sport that's very much a niche, playing little brother to the more familiar, standard format of kickboxing seen on display in promotions such as K-1 and GLORY.
"The kickboxing industry, especially the kickboxing industry I was in, the hands-down kickboxing, it's not big," Page told Combat Press. "It's not massively promoted around the world. There's not much money or funding and sponsorship behind it. I wanted to be able to make a living from performing and I wasn't able to do that in the kickboxing industry, but what I used to do is, we ran kickboxing clubs and we still do now. But again, that wasn't enough. I wanted to do more with myself, so I made the decision I need to leave the sport. But I didn't know what sport to get into — what martial-arts sport to get into."
For a dynamic athlete such as Page, there were plenty of options to consider. He was approached for a position on the national taekwondo team, where he would have the chance to do what many would dream of and compete in the Olympics.
"The Olympic route — as amazing as it would feel, I'm sure, to win in the Olympics — for me that just seemed like a bigger competition. It wasn't enough for me still," Page admitted. "I wanted to be in a professional circuit and really be worldwide, and so I made the decision I would either go to K-1 boxing or MMA.
"I spoke to a good friend of mine, Simon Lewis, and he already was in boxing and said it was extremely corrupt and it's hard to get anything done. And in the hands-down kickboxing, there's a hell of lot of politics — as small as it is, there's a hell [of] a lot of politics. I didn't want to go to one struggle, I should say, to another, so I kinda written the boxing off. Even Thai boxing, it felt too similar. I know I'd have to learn a few different things, but it still felt too similar to what I [had] already been doing.
"So I was like,'MMA is growing. I'd have to learn a lot. I'd have to become a student again, which actually excited me. I know a lot of people, they don't like to start again, but it actually excited me because I'd have to learn new arts and new things as well. And I decided to go [with] MMA."
Page found success quickly after turning pro and joining the London Shootfighters team. His coaches, Paul Ivens and Alexis Demetriades, were able to take the open-minded young Brit and quickly instill in him the knowledge and skills needed to thrive in his new venture. After just a few fights, Page signed with Bellator MMA, an organization that has allowed him to showcase and express his individuality while giving him a larger platform to entertain crowds.
"What I like about [Bellator President] Scott Coker is his ideas," Page explained. "His ideas are exactly what I would want in a show. All the screens and stuff and the shows he's putting on, they all have some sort of memorable thing to it. It's a lot more glamorized, and I think, for me, to really build individuals you need that in the sport. You need to have individuality and you need to have stars, and just the second he's come in, I've just loved everything he's done so far.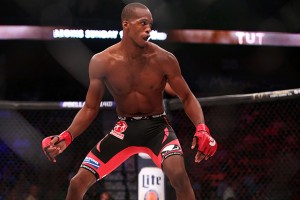 "Every time he puts on a show, I'm like, 'Oh, I wanna be a part of that show.' Just the way he's promoted it and stuff. I'm a creative person, and the fact when I go there and be like, 'Am I allowed to do this? Can I do that?' and they're like 'Yes, just let us know [what] you want and we'll help you with that and help promote that.' I think the show should be about the fighters and you shouldn't take anything away from that. Allow them sponsors and help with that individuality."
Now, only a few days out from his Bellator 144 scrap with Charlie Ontiveros, Page has the opportunity to turn more heads and pull off another head-turning knockout. You can choose to enjoy the uniqueness on display or boo, misunderstanding his movements as disrespect to his opponent. Either way, Page's focus won't waver.
"If I just keep focusing on me and what I'm doing, everyone will slowly be forced to come around and appreciate what I'm doing. I think the worst thing a crowd can do during a fight with me fighting is be silent. That would bug me. I just live off the sound [and] atmosphere, so even I can have a crowd of 50,000 people booing, I'll still be performing just because of the noise factor and the energy, positive or negative regardless. Just the energy alone, I live off that thing. I enjoy making people feel wild and make people leave a show feeling like they really got something from it."
---
Advertisement

---