Emotion is one of the traits that brings true entertainment to MMA. The fighters that sit on one end or the other of the emotional spectrum are those that really draw the attention of fans.
On one hand, there are the emotionless. Guys like Fedor Emelianenko and Gunnar Nelson are interesting characters because they don't get excited, they don't talk a lot of trash, their expressions rarely vary at all, and they are very talented fighters. It's an odd mix, but it's a certain quality that makes people want to watch them.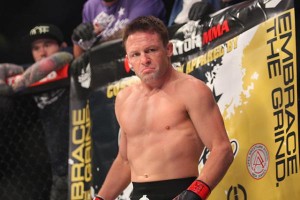 Then, there are the others, the very internally hyped-up fighters that wear their emotions on their sleeve. Ronda Rousey is the perfect example. In the build-up of a fight, she is glaringly intense, fights with ferocity and ultimately cries her eyes out before and after every win. All macho attitudes aside, there are a lot of guys that do this too.
---
Advertisement

---
Joe Warren is very much on the latter end of the spectrum. Warren, a Greco-Roman wrestling world champion and former Bellator titleholder in two different divisions, is a very intense fighter. He is confident. He is outspoken. He's known for his token growl. He snarls at the weigh-ins, belts out a roar at the beginning of fights and goes through a huge emotion dump at the end of his battles. It's never a secret how "The Baddest Man on the Planet" ever feels. That's what makes the conclusion of his last fight so bizarre.
At Bellator 135 in March, Warren was set to defend his newly unified bantamweight title for the first time. He was back in the very venue where he had stripped Eduardo Dantas of his belt only five months earlier.
Early in the second round, in a rare turn of events, contender and longtime MMA veteran Marcos Galvao, a third-degree Brazilian Jiu-Jitsu black belt, caught Warren in position for a kneebar. While attempting to defend, unbeknownst to himself, Warren let out his signature scream, only this time it ended the fight. Under the unified rules, this counts as a verbal submission, and referee John McCarthy waved the fight off. The wrestler and world champion was so in the zone that he didn't even realize what happened. He instantly disputed the result.
"I was in shock, man," Warren told Combat Press. "My body doesn't justify losses. I never had any idea in my head that I could possibly even lose. I didn't even know I screamed anything at the time, so I was in shock. I was not sure what was happening. It was terrible. But when I got home and saw the fight, man, it was a verbal submission. My body screamed out, and I tweeted John McCarthy right away and told him thanks for saving my leg and I was sorry for screaming at him."
While it was a little crazy to see Warren screaming at McCarthy after the fight, it wasn't as shocking for the fans. This is why people watch him. Sure, he is a great fighter with a world-class attitude, but he does not hold back his emotions, so it was to be expected.
"The thing with me is that you watch the good and the bad stuff with me," Warren admitted. "I'm always on television in front of you guys, so that was a bad one. It took me a while to shake that one mentally, but we're physically fine and everything is 100 percent."
There is an interesting caveat about outspoken, externally emotional fighters. They can either take losses really well or very poorly. The ones who take it poorly go into deep depression, express emotional immaturity, get drunk, get in fights and lose overall focus. Warren is not that type of guy.
"I was back to work right away the first week," said the Michigan native. "I'm a professional. I've won a lot of titles. I understand what it means to win and lose. So I cried and bitched about it for the weekend and then I was back — I was back in there hitting pads and drilling. Mentally, a loss is always with me. It takes a piece of my heart every time I lose. So I think about it, but nothing could hold me back. Thoughts get in my mind, and I get mad and beat the hell out of whoever I'm in front of. It puts a little more drive into me."
Warren wanted that one back, though, and that was exactly what Bellator had in the works. By the midpoint of the summer, a rematch was brewing. However, in what has become a rather commonplace occurrence in mixed martial arts, an injury threw a wrench in those plans. Galvao was out of the fight, and the brass gave Warren the opportunity to wait or fight someone else. Warren was chomping at the bit to get back in the cage, so he chose the latter option. Enter longtime competitor L.C. Davis.
Davis is currently riding a three-fight winning streak in Bellator. He is also a veteran of the WEC, Titan FC and the IFL. Friday night will mark his 30th professional outing. Davis faces Warren at the State Farm Arena in Hidalgo, Texas, in a bout that will air live on Spike TV as the headlining contest of Bellator 143.
"He's a durable fighter, a veteran. He's fought all over the place. He's a lefty and he's a little taller," Warren said. "That's all I think about. He's just another body for me to beat the hell out of in the Bellator cage. He's another great fighter. It doesn't matter who they put in that cage, it's going to be a problem any way you look at it."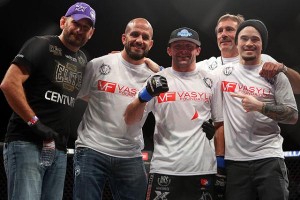 Warren and Davis both have wrestling pedigrees. While Davis might not have competed at the Olympic level, like Warren has, he has wrestled his entire life right up until he entered MMA. Even with the knowledge that he has the higher level of experience in this important aspect of MMA, Warren is not discounting that part of his current camp.
Warren's home base is Factory X Muay Thai in Englewood, Colo. His head coach, Marc Montoya, competed against him from a coaching standpoint on Bellator's reality show, Fight Master, in 2013. While the bulk of Warren's training takes place at Factory X, they always mix it up with some cross-training.
"Me and Marc usually travel for the sparring part of it, but this camp, I didn't really want to," explained Warren. "I've been training at the Olympic Training Center twice a week, just with my old team. I was using the travel that I would take to go to go to a jiu-jitsu camp or a striking camp. I'm fighting a wrestler with similar tools as I do, so I stayed here and cross-trained at the Olympic Training Center."
Warren may be an emotional fighter, but he is a true champion as well. His body may have submitted in his last outing, but his mind didn't. He is ready to get his belt back.
"You're going to see the same old Joe Warren — a violent, pissed-off man that's trying to get this win back. I put everything I have into that Bellator cage every single time. You are going to see some violent aggression. I'm going to try to put a hole through L.C. Davis in that Bellator cage."
Warren would like to thank his coaches and training partners at Factory X Muay Thai and the United States Olympic Training Center in Colorado Springs, Phase 4 Athletics, Forester, his wife, his family, his friends and, most importantly, his fans. Follow Joe on Twitter:
@JoeWarrenMMA
---
Advertisement

---