Some people say that they would fight for free. It's an incredible notion, the idea of undertaking vast amounts of physical torment for no remunerative value. It just doesn't make sense for the majority of people.
The truth is, people would like to think they would fight for free, but they won't. Even though some fighters may feel the financial burdens in their rise through the sport, the fact remains that they are always chasing the almighty dollar.
Leandro Issa would never attest to wanting to fight for free. In fact, the lack of financial benefit in the realm of martial arts nearly caused him to pull the pin on his career long before he had even experienced success.
---
Advertisement

---
What kept Issa going? Support, and a move to Singapore that changed everything.
"Evolve MMA has changed my life in more ways than one," Issa told Combat Press. "It has given me the opportunity to compete inside the UFC cage. It has given me an amazing bunch of teammates to train side-by-side [with] on a daily basis and improve in all areas of my game. I'm truly blessed to be able to be a part of the Evolve Fight Team. I almost quit martial arts before joining the academy here in Singapore, because it was tough to earn enough money to survive."
Long before fighting for a living took over his life, Issa was engrossed with the fundamentals. It wasn't the desire to fight that led him to where he is today. Instead, it was the desire to learn, to teach and to be a better person.
"I took part in several other sports before practicing martial arts," Issa explained. "I was the type of kid that created a lot of trouble when I was growing up, and so my mom enrolled me for a Brazilian Jiu-Jitsu class and she saw the positive changes in me. The beauty about martial arts is that [it] instills confidence, discipline and so much more that helped me change my life. Needless to say, I started falling in love with the sport and the rest is history."
After starting his mixed martial arts career in his native Brazil, Issa went on to fight primarily in the Asian region. On the back of winning three out of his four fights for ONE Championship, Issa was signed to the UFC. At the age of 30, he had the opportunity that he never thought he may get. In his debut for the UFC, he came away unsuccessful. However, that loss didn't dilute his desire to put on a show on the biggest stage in the world.
"Being able to compete in the UFC has always been my dream and it shows that hard work does pay off," he admitted. "I've also gotten lots of publicity since being signed by UFC, especially since the show is everywhere. It feels good to be able to show my Brazilian Jiu-Jitsu abilities to the world, and it's truly an honor to be able to represent the ever-growing Brazilian Jiu-Jitsu community throughout the world."
Issa's next bout inside the Octagon takes place on Aug. 1 in his native Brazil. Issa's fight will be featured on the Fox Sports preliminary-card portion of the UFC 190 pay-per-view. The bout marks the second time that Issa has fought in Brazil under the UFC banner. Prior to his last fight, it had been over six years since Issa had fought on home soil.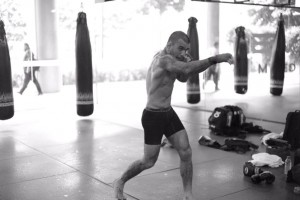 "I feel very excited to be fighting in Brazil, once again, at UFC 190," Issa said. "Nothing beats the feeling of being able to represent your country right in your own backyard and having the amazing Brazilian fans cheer for you.
"I'm looking forward to yet another big fight in my career. I've been training really hard [for] this fight and, come Aug. 1 in Rio de Janeiro, I'll be ready to put on a good show for the Brazilian fans. Of course, I would prefer not to fight against a fellow countryman, but I will do so because it is my job."
Issa's last two bouts in the UFC have resulted in back-to-back submission victories. Over the course of his career, Issa has picked up nine of his 13 victories by way of submission. His ability to showcase his skills as a grappler has been just as important to the BJJ black belt as winning the fight.
"It is great to be able to finish my last two opponents via submission, because every single person here in the UFC is an amazing fight," Issa admitted. "Those victories also shows my skills as a Brazilian Jiu-Jitsu fighter."
You won't see Issa fight for free. He may love the sport, but the fight game is as much about the paycheck as it is about the passion. Issa is out there to earn every cent he can, and the only thing that stands in his way is the rest of the UFC's bantamweight division.
Leandro would like to thank his family for their constant support since the very first day. He would also like to thank everyone on the Evolve Fight Team and the Evolve Instructor Team for pushing him hard every single day during their training sessions. He also adds, "To my friends, fans and everyone else who have helped me in one way or another, thank you for your love and support." Follow Issa on Twitter:
@brodinhoissa
---
Advertisement

---