Last weekend, the band The Grateful Dead got back together for three days of concerts celebrating their 50th anniversary at Soldier Field in Chicago. This is the same venue where their final shows with Jerry Garcia took place exactly 20 years prior. On the opening night, July 3, the fifth song of the first set was "The Wheel." This is a very symbolic tune.
While most mainstream mixed martial arts fans probably don't know much about the band or that particular song, they all know what's going down this weekend. To cap off International Fight Week in Las Vegas, UFC 189 brings a whole slew of exciting match-ups. While most of the focus of the event has been on the outspoken Conor McGregor, the headliner of the preliminary card has "Fight of the Night" written all over it.
Most MMA fans are very familiar with Matt Brown. He is a former contestant of The Ultimate Fighter, a 19-fight veteran of the UFC, a five-time "of the Night" winner and a perennial fan-favorite who was a sniff away from a UFC welterweight title shot last summer. This Saturday night, Brown will face off against Tim Means. Means may not be as well known to the mainstream fan, but he is quickly climbing the welterweight ladder.
---
Advertisement

---
Means, like Brown, is a fighter's fighter. The New Mexico-based fighter is tough as nails, super scrappy and doesn't know the word "quit." He had a brief stint as a pro boxer, has fought in three different MMA weight divisions, held two different King of the Cage titles, holds a 24-6-1 record, and is on a four-fight winning streak, with all four wins coming in the UFC welterweight division.
While his first stint in the UFC ended after two wins and two losses, this was not a great reflection of Means as a fighter. He is a natural welterweight, but he was fighting at lightweight. As a result, his body and performance were both suffering. This was not an ideal situation, but he was at least fighting in the big show.
After getting released after back-to-back losses and a missed weight cut, Means went over to Legacy Fighting Championship, moved back to welterweight, and scored back-to-back first-round knockouts. Not only did he get back in the win column, but he got his second chance in the Octagon when he was called upon as a short-notice replacement against rising star Neil Magny. The fight didn't go his way. Means lost by unanimous decision, but he was back, nonetheless. The rest is history.
"It was tough taking short-notice, 155-pound fights all the time," Means told Combat Press. "I've been asking to move up ever since I was in Legacy, you know? [UFC matchmaker] Joe [Silva] and [UFC President] Dana [White] have been happy to let me do it at welterweight. I learned how to be mentally tough at 155, and I learned how to diet, and I learned how to rehydrate. Without the challenges at 155, it wouldn't have opened my eyes to these areas. I got all the wins out of my years there and moved forward."
Like a wheel, Means has just kept on rolling forward. With four wins in a row, he is starting to look damn near unstoppable, which brings us back to the Grateful Dead.
The chorus of "The Wheel" goes like this:
"The wheel is turning and you can't slow down,
You can't let go and you can't hold on,
You can't go back and you can't stand still,
If the thunder don't get you then the lightning will"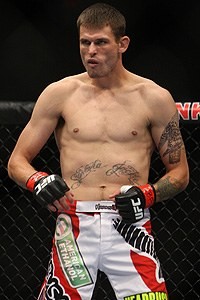 The song is symbolic on many levels, and it is a very good metaphor for describing Means. When the 31-year-old fighter's body is right, he is dangerous in all aspects of his game. While thunder is a great metaphor for the 16 knockouts he has in his 11-year career, lightning describes those four times he has pulled off a submission out of nowhere. Either way, the wheel keeps turning, and his opponents need to be prepared. His last fight is the perfect example.
In April, Means stepped into the Octagon against fellow knockout artist George Sullivan on four weeks' notice as a short-notice injury replacement. After a back-and-forth battle, Means sunk in an arm-triangle choke late in the third round to bring his streak to four. After 12 fights in a row ending by knockout or decision, lightning struck at an unlikely time.
"It was good to get down, roll around on the ground, get some ground-and-pound and, ultimately, I was happy to get the submission win," Means said. "I'm usually not that much of a grappler, but I'm getting more comfortable with it and enjoying it more and more. I like to use my submission skills."
Means is on a roll. In just 23 months since he was cut from the UFC, he has gone 6-1, finished four opponents and fought in a few short-notice bouts. The UFC brass wasted no time bringing the Brown fight to the table.
"After my fight in New Jersey, they told me before I even left the venue," explained Means. "I wanted to jump up and say yes right away, and I looked at coach Tom [Vaughn], and he was kind of silent and then he looked up at me. He wanted me to enjoy the win, because it was a short-notice fight right after the [Dhiego] Lima fight, and he just wanted me to enjoy the moment.
"So I went back and had some ice cream and tried to enjoy the moment, but I couldn't get the fight off my mind. I wanted to take it right away. I was at home watching film, and he called me and said, 'Let's do it,' and I said, 'Hell yeah.' When Tom's on board, I'm always in, but, like I said, I let Tom lead the way and push me in the right direction. The UFC was calling on Monday, and we gave them the answer."
Means, like Magny, is making big waves quickly in the welterweight division. His performances have been a far cry from his lightweight days in the Octagon. A more efficient body means a more efficient wheel, and he went from a tricycle wheel to a steamroller in the blink of an eye. However, Brown is a big step up in competition.
Brown was on a seven-fight winning streak, which included six knockouts, before dropping decisions to Robbie Lawler and Johny Hendricks. Although he is a brown belt in Brazilian Jiu-Jitsu, nine of his 13 losses have been by submission, and Means hasn't been submitted in over five years. Because of this, Brown is very explosive out of the gate, but his opponents are starting to learn his technique and adjust accordingly.
"He's a quick starter, but I think he's reckless at times," Means elaborated. "His pace is really fast in the first round — you know, he wants to come out and get the fight going — but it's just a matter of settling into the trenches and expecting a dogfight. Brown seems to have good cardio and seems to be real tough in the first round, but he seems to fade as the fight goes on. He doesn't quit and he doesn't go away at all. This isn't going to be a fight where I have to think a bunch. I'm just going to have to react. Those fights are the fun fights, because they go quick. I'm not going to need to be hunting him or chasing him down and trying to set up strikes. He's going to be in my face, and I'm just going to have to react."
Means is going into UFC 189 with a two-inch height advantage, but both men have a 75-inch reach, so it is definitely an interesting size match-up. Both men like to strike and they have great cardio, but Means is a guy who is finally at his ideal weight class. Brown has already been there. Physically, that means a lot. Brown feels the same as he always has. Means has that sudden burst of added energy that was missing two years ago.
"I feel great," said the former lightweight. "It was short notice for my last fight, so I was a little fatigued, but Sullivan had 10 weeks and he was way more tired than I was. I'm happy where I'm at right now, and I have the speed advantage in the majority of my fights. I'm a sniper with straight strikes and Brown's a bomber with wide hooks, so this is a cool stylistic match-up right here."
Means is definitely the more accurate striker. Brown has a lot in his arsenal — he uses more knees and elbows — but Means doesn't just sit back and eat strikes.
"I throw punches back," Means explained. "With most of his opponents, he starts beating them up and they stop throwing. Most of the fights I've watched, he does best when guys aren't throwing back at him. When he's having to curl up and turtle and duck and walk away and stuff, that says something to me. It says he doesn't do good under fire. He likes to get in there, get the fight done and get out, because he doesn't like the bombs to come back his way. So I'm just going to have to touch him more times than he touches me."
Brown may be holding down the fifth spot in the UFC welterweight rankings, but with losses to Lawler and Hendricks, plus the depth of field in that division, he is a long way from a title shot. If guys like Means and Magny keep beating tougher and tougher guys, they will be in a much better position to keep moving up the ranks of the division. For Means, a win over Brown will open a lot of eyes and certainly launch him into the top 15, if not the top 10.
"He lost decisions to two champions," said Means. "When I get in there and I finish Matt Brown — two champions couldn't do it, but I could. I'm not sure where they're going to rank me, but we're going to renegotiate my contract, and those numbers will be better."
Means is a wheel that keeps on turning, can't slow down and can't stand still. Come Saturday night, if the thunder doesn't get Brown, Means will make sure that the lightning will.
Tim would like to thank all of his coaches and teammates at Fit NHB, as well as Damage Control, Trent Cotney, Jason David, his fiancé and his family. Follow Means on Twitter:
@MeansTim
---
Advertisement

---