If you decide to become a professional mixed martial artist, you have to expect to eventually lose a fight. A loss, whether it is the first one or just the first in a long while, carries both a positive and negative effect on the mental aspect of a fighter. Many fighters focus on what they could have done to prevent the loss as opposed to seeing the positive in what they were able to do. Sometimes it was not implementing their game plan or being "off" on that particular night. Afterward, many fighters take time off to lick their wounds. For RFA 27's Jan "The Janimal" Jorgensen, who lost to Josh Copeland in his most recent outing in July 2014, it was truly a case of the wrong place at the wrong time.
"I feel like I learned a lot from that last fight," Jorgensen admitted to Combat Press. "I learned that the last fight was the first time I kind of fought out of the state of Utah and I was fighting in his hometown, and I think mentally I just wasn't in the right place going into the fight. I think what I learned the most is how to fight on the road, being somewhere else and being able to get to the right place mentally that I need to be in.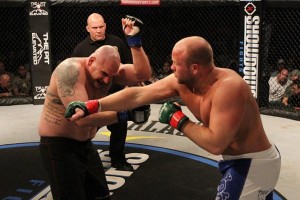 "The mental part of the game is huge. I think that it gets left out more than people realize when they talk about fights. People focus on the physical part, where[as] I feel like the mental aspect and how people handle the fight in the state of mind that they are in when they come into the fight is often times more important than the skill set. You can be the better all-around fighter and you could have the better skills. You could be the one who is the better stand-up guy or better on the ground. But if you are not there to perform when it's time to perform, then a much lesser fighter will beat you on that night."
---
Advertisement

---
After coming up short in an RFA heavyweight title fight against the now former UFC fighter Copeland at RFA 16, Jorgensen took some time off.
"Oh man, I've been doing a lot of things in that time off," Jorgensen said. "I've been training a bit and doing a lot of things with life. I taught for a semester [for] high school, coached a football team and decided that wasn't for me, so I started a new job. Once I started that new job, I really committed to training again back in about January [and] I've gotten really serious back in the gym again. And the reason I haven't fought since then is just a matter of finding a fight. As heavyweights, even when you are fighting for RFA, it's not always the easiest thing to do. So I've just been working and training"
Jorgensen will finally get what he has been waiting for when he takes on Josue Lugo, a heavyweight with an identical record of 7-1 with one no-contest. Lugo is riding a six-fight winning streak. Jorgensen's resume boasts an impressive six finishes, but so does Lugo's record.
"I think that what I am going to do is go be myself," Jorgensen said. "When I went and fought Copeland, I tried to be a different fighter. I went with a game plan that you don't usually go with. It just wasn't how I normally approach things, and I think with this, I am just focusing more on being me and doing what I do best."
With a win, Jorgensen is hoping to be on the same road to the UFC that his last opponent, Copeland, found himself on after defeating Jorgensen. However, Jorgensen hopes to find more success than Copeland, who went on to lose two consecutive fights which led to his UFC release.
"I hope so. I think that it is everybody's hopes," said Jorgensen. "I just have to go and perform and beat who they put in front of me and then I'll kind of let that stuff take care of itself."
Mixed martial arts wasn't always Jorgensen's first love when it came to sports. From early on in his childhood, Jorgensen quite literally "played the field" and became involved in as many sports as he could. His two most prominent sports were wrestling and football. These sports probably carved the path that was necessary for Jorgensen to become a professional fighter.
"I played football, wrestled, played basketball; I played baseball. I basically played everything that I could possibly play when I was growing up. Even through high school, I did it all," Jorgensen said. "And it wasn't until going to college that I specialized and just did football. I always knew that I was going to play football, and that was kind of my sweet spot, I guess you could say — my love. So that's always what I leaned towards, but I did everything I could. It also helps being in a small town. In a small town, if you are somewhat of a good athlete, you can be the best at everything."
Jorgensen would go on to attend and play football at Brigham Young University, where he holds various records as a defensive end. At one point, he even did a radio show. While his love of football was obvious, the idea of becoming a mixed martial artist was always on his mind.
"So my college football experience was awesome. I loved it," said Jorgensen. "Playing at BYU, I had some good times, great experience and played on some really good teams. I did a lot of really fun stuff. How I got into mixed martial arts was, I remember I saw UFC 1 when I was in eighth grade, I think, and just fell in love with the sport. As I went throughout high school, I would order… there would be a pay-per-view and I would order the VHS tape off of eBay the next day. I ordered all these things, and I would get all these VHS tapes that I would order online and I would hide them from my mom because my mom would be super upset if she would have known I was watching that stuff.
"I think with just the wrestling background and growing up wrestling, I fell in love with the sport and for some reason I just wanted to do it. While I was playing football, I told myself that when I got done, if I was still single and still healthy, that I would give [MMA] a shot. And both of those things happened, so I tried it. I fell in love with it when I first watched it, and I'm just a really competitive person. I like to compete. So the fact that I gave it a shot after I was done and I fell in love with the competition of it. I kind of have that fire inside of me that needed to be working and competing in something.
"I went to BYU. I played football there. I got my degree in social studies teaching. I took a job doing that, and so I took a job as a teacher and being the head coach. It was actually my former high school that I went to. I did that for a semester just to try it out, and it was something that I had always wanted to do. It's obviously what I got my degree in [and] something that I had always planned on doing. I had taken the job months before I took my fight with Copeland. I had a hard time finding fights. I'd actually almost gone a year without fighting because I couldn't find a fight. I took that job, again thinking it was something that I had always wanted to do and I wanted to at least try. So I went and tried it.
"I think that that is the key to a lot of things in life. I think often times as a person, there's a lot of things that you would like to try, and I think it's good to go out and try those things. Sometimes you try it and you fall in love with it, and sometimes you try it and you don't really like it. Whether it's a job, fighting, a girl that you want to date — sometimes you try it and it's for you and sometimes it's not."
In 2010, Jorgensen made the jump to professional mixed martial arts. It appeared that destiny was on his side, as it just so happened that there was an MMA gym right down the road from BYU. That gym was The Pit Elevated, and just like Jorgensen's MMA career, it was in its infancy. But all that changed in just a few short years.
"It literally is just down the road from BYU," said Jorgensen. "When it first opened up, I was still playing football and I had a membership there, and I would hit up a class here and there every once in a while and would go and work out there every once in a while. But as soon as I got done playing football, I started going and training with the fight team. That's right when Court McGee got onto The Ultimate Fighter and started making a name for the gym. So it was kind of perfect timing there. And I kind of split my time. I'm there at The Pit a good majority of the time. Jason Mertlich is definitely my head coach. I also spend a lot of time up at Jeremy Horn's gym up in Salt Lake [City]. I don't need to justify why I go train with him. He's incredible when it comes to this sport. He's got some really good, talented, bigger fighters up there, so I go and train with those big bodies. I split my time between those two."
It usually isn't very difficult to find training partners in this day and age. However, as a heavyweight, the task becomes exponentially harder. Luckily for Jorgensen, he not only has reliable training partners, but he has been able to reciprocate as well.
"I would say one of my big ones is Sean O'Connell," said Jorgensen. "I spend a lot of time training with him. I spent a lot of time helping him get ready for his last fight down in Australia. He's helped me as I've gotten ready for this fight. Jeremy [Horn] will be a training partner. Damarques Johnson will be a training partner. Then, a lot of time that I spend at The Pit is just honing skills, a lot of time with my coach hitting mitts, rolling and doing jiu-jitsu with guys that are down there. When it comes to fighters, I spend a lot of time with, like I said, Sean O'Connell, Damarques Johnson, Jeremy Horn and Nick Rossborough."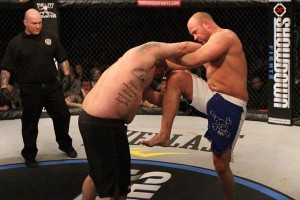 It has been the guidance of these training partners that has helped Jorgensen prepare for his upcoming opponent, who is actually a replacement for his original adversary, Dale Sopi. Lugo will actually be the second opponent change for Jorgensen.
"I've had enough time to scout him out a little bit," said Jorgensen. "He's an aggressive fighter. He's a guy that comes in and will throw a couple really big punches, then go right into the clinch and try to keep you up against the cage and just throw a lot of knees and elbows. He tried to overwhelm you really fast to get inside on you and to get into you and stay really active."
While many fighters will create a game plan for an upcoming fight, that strategy is usually easily squashed when an opponent change happens. Jorgensen's game plan, however, works for any opponent that he will come across.
"Really, it's just fight my fight," Jorgensen admitted. "I feel like most of the heavyweights that I fight against, I'm more athletic than [them] and I'm able to use my athleticism to do what I want to do in the fight, rather than what they want to do. So that's kind of my plan."
Jan would like to thank all of his training partners. He adds, "Sponsors come and go. They are hired guns. They try to get what they can out of you. It's the people who put their time in and I appreciate those people." Follow Jorgensen on Twitter:
@Janimal84
and Instagram:
@Janimal84
---
Advertisement

---