Believe it or not, mixed martial artists do not all share the same goals. It seems strange, because all fighters should, ideally, be focused on becoming a champion. If an athlete isn't focused on being the best of the best, then what's the point?
The fact is that goals can vary widely and being a titleholder is not always the primary concern. Some guys fight because they really have nothing better to do, some fight to attract love interests, and some just fight for the paycheck. There's no question, though, for why Bellator lightweight Derek Anderson fights. He has one goal and one goal only.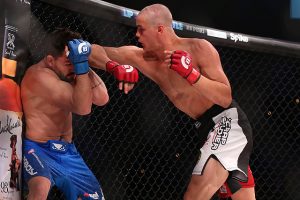 "I like Bellator, but I don't like where I'm at, because I'm not the champ," Anderson told Combat Press. "As soon as that happens, maybe I'll be a little more comfortable."
---
Advertisement

---
Most 26-year-old fighters with a 13-2-1 record would probably find a great deal of comfort in Anderson's situation. He's only been stopped once. He has finished 11 opponents by a nearly break-even split of submissions and knockouts. The six-fight Bellator veteran most recently beat promotional mainstay Patricky Freire. However, that fight went to a split decision, and that added a certain level of discomfort for Anderson that he is looking to avoid in his next fight.
Friday night at Bellator 160 at the Honda Center in Anaheim, Calif., Anderson will be back in action against another longtime veteran, Saad Awad. Awad is coming off a knockout win in May and is out to make a title run of his own.
"I'm tired of going to decision, so, I mean, you can get lucky or you can get robbed," Anderson said. "I'm going to make sure that's not a factor. I'm going to knock Saad Awad out. I'm going to finish him in one way or another. I don't care.
"I asked for him. I asked for the winner of the Patricky 'Pitbull'-Michael Chandler fight. I asked for the winner of that, and they said Saad Awad was going to get it. I said, 'Let me fight him, and the winner of us will get it.' And, they said, 'All right.' So, I got lined up with Saad. Now, they're talking about how Benson [Henderson] or Patricio [Freire] might get the shot after, but I think my performance is going to make a statement and they're not going to be able to make me wait for it."
The Bellator lightweight division has been in a state of flux for the last couple years. It started with Eddie Alvarez stealing the belt from Chandler, only to make the jump over to the UFC. Then, Will Brooks captured the strap with a win over Chandler. Brooks held the title until November, then he made a move to the UFC as well. Meanwhile, Henderson left the UFC, where he was a longtime lightweight contender and former champion, to move to Bellator as a welterweight contender, but he lost his welterweight title bid to current champ Andrey Koreshkov. Henderson is now headlining tomorrow night's event against Patricky's brother, Patricio, with the hopes of getting a lightweight title shot. Anderson's working hard to prevent that from happening, though.
"I just train all the time," said the young fighter. "I try to do some Uber or something like that, if I need to pay some bills, but fighting is way too much of a full-time job to neglect any bit of it. That's why I'll never get a job. I'm too focused on my fighting career.
"I'm in the gym so much, I don't have time for anything else. I just train, I rehab, I eat, sleep. When I get some time, I hang with my dog. I just train and get ready to be the champ. I don't need anything else in my life."
Awad is a gritty veteran who has been an active pro since 2006. He has both won and lost in every way imaginable, so Anderson is focused on getting better everywhere. Anderson trains at a few different gyms in the San Diego area to make sure he comes in with a very well-rounded approach.
"I bounce around a lot," Anderson explained. "I've got to give love to my home gym in Escondido, North County MMA. We do a lot of grappling over there. I've been rolling with my jiu-jitsu coach a lot. He's a badass, and we're bringing in a lot of good college wrestlers. We're all wrestling a lot of the time. My boxing coach, Bernie Navarro, he's world-class. I think any MMA fighter would do good to train with him a little. I'm going to show a lot of stuff I can bring to the table under him. I've been at Alliance in Chula Vista, training with all those guys. They're helping me out to get ready. I've been doing a lot of things on my own, too. I do lots of conditioning, and I'm going to be in shape. It's all going to pay off."
Anderson's opponent is no slouch, but Anderson is not too concerned given his own background. The young fighter will be taller with a slight reach advantage, and he is ready to showcase his own skills.
"I'm just a better all-around fighter," said Anderson. "I've got more power than him, and a better striking technique, and, hopefully, we can keep it on the feet. If I have to smash him on the ground, TKO him, choke him out, I'll do whatever I want.
"I don't see very many challenges from him. That's not just me being arrogant or looking past my opponent. That's just me being very confident. I know I'm more well rounded and a better athlete in every aspect of the game."
The Bellator lightweight division has seen a lot of shake-ups in the last couple years, and it's really anyone's belt at this point. Anderson has a chance to state his case tomorrow night at Bellator 160. The spotlight might be on the main event, but a big win by Anderson over Awad could turn a lot of heads and get him the opportunity he is chasing so confidently.
"I want this title shot, and I want it right now," said Anderson. "I'm going to knock Awad out, and if they want to set me up with Benson or Patricio in between then, that's their thing, but I think I've got a title shot within 12 months for sure. There are athletes in this sport, and there are fighters in this sport. I'm here to fight. There's not a lot of guys that come in with the intensity that I do. I'm just getting better at everything at the same time. I'm going to be unstoppable in this next performance."
Anderson would like to thank God and everyone else, including his coaches, training partners, family, friends, fans and sponsors. Follow Derek on Twitter:
@DerekBarbaric
---
Advertisement

---