Huntington Beach, California. It's also known as "Surf City." There are hundreds of places, if not thousands, in the world that have bigger waves. Surfing certainly didn't start there. So how in the world did Huntington Beach earn the title of Surf City? One word: consistency.
There are a lot of choices for an athletic kid growing up in Huntington Beach. Surfing, skating, basketball, baseball, football — you name it and it's there. Southern California consistently churns out top athletes in almost every outdoor sport. And then there are the combat sports. Perhaps you've heard of the "Huntington Beach Bad Boy"?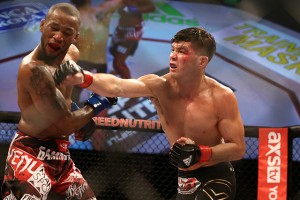 There are a ton of other MMA fighters out there also building their legacies. Marion Reneau has stormed into the women's bantamweight division in the UFC by way of the Resurrection Fighting Alliance promotion. Now, Joe Murphy, one of Reneau's friends and sometimes sparring partners, is putting himself in position to emulate her success.
---
Advertisement

---
"I am so excited for her fight against [Holly] Holm," Murphy told Combat Press. "[Reneau] is tough — it's like sparring with a beast. I think that winner might get Ronda [Rousey]. Rousey is dominant, of course. She has finished every single person she's faced, but she doesn't have a solid No. 2 yet. Miesha [Tate]'s been the closest. But she needs a good test. I'd love to see her fight [Cristiane] 'Cyborg' [Justino] but doubt that Cyborg can make that cut. Until she has a true test, I will just say she is no Serena Williams."
Murphy grew up in Huntington Beach as a huge fan of the Power Rangers, Bruce Lee and basically anything that consisted of the martial arts. He surfs, of course, plays hockey and basketball, and loves every combat sport.
"Mom got me into judo, mostly, when I was young. I wrestled in high school, but I really didn't want to wrestle in college because of the weight cuts," Murphy said, somewhat ironically. "So I found jiu-jitsu and competed in that."
Murphy is consistently looking to improve and learn his craft. However, knowledge doesn't always translate to success in the cage. So, what makes him a successful fighter?
"It's personality, I think. You either have it or you don't. I am not going to tap out if you get me in an armbar; I will watch it break off and then beat you with it. Pain is not a concern for me. In fact, during the fight nothing hurts in a fight. The next couple of days it does," smiled Murphy, "but not during the fight. I might get punched in the face and feel hot or a burn, but it doesn't hurt.
"I will do everything I can to avoid the tap. I will fight the choke till I am drooling. Even if I have to peel the fingers off one by one, I will do it. We joke around before fights saying, 'Don't forget — a DQ is not a loss.'"
It's worth noting that Murphy has been a brown belt under Master Cleber Luciano for almost four years, so his opponents would do well to keep in mind that his ground game is certainly at black-belt levels.
"He doesn't count MMA towards the JJ belt, and since that is what I have been focusing on, I will just have to wait to earn my black belt. But I have some things lined up this summer," Murphy explained.
Murphy's record stands at eight wins and two losses. His only losses have come at the hands of Carson Beebe in 2013 and in his most recent fight against Terrion Ware, who went on to fight for the RFA championship.
"It was a good fight, but of course I wish it was me with my hand raised," said Murphy. "I wish it could have been me for that fight. No excuses. It is done and I can't go back, but I really feel like it took me a long time to get started in that fight. If I could go back, the outcome would certainly have been different.
"I gave him too much respect. That first round was just not the normal me. I am more aggressive, and going into it I had every intention of taking the fight to the ground. I had to change game plans. I gave him too much credit for power and played into his game plan.
"Halfway through the fight, my corner told me, 'I don't think he can hurt you.' He was quick for sure and he was landing shots, but he wasn't really hurting me. What he was doing was scoring points.
"If there were two more rounds, I think there would have been a different outcome. One more round. Once I realized his shots weren't hurting me, I started walking through them. If you look at his last fight, his opponent must have learned from my fight and he was just wading through.
"The biggest lesson I learned from that fight is that the best of the best don't change their game plans for their opponents. They make their opponents change for them. You know, everything you see when you look someone up online is a highlight reel. It's the game — to make the fighter look better, make them look like Zeus, when they are really just a man.
"He was quick. He was as fast as I thought he was, but I have to remember that I am not fighting a highlight machine."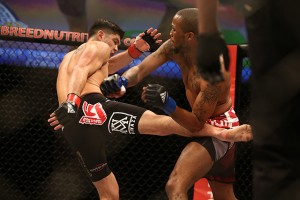 Murphy will have a chance to put his new knowledge to the test at RFA 27 in Boise, Idaho, on July 3. His opponent, Jesse Brock, has a record of 20-8 and will have the home crowd behind him.
"I love being in hostile territory," Murphy countered. "I plan on getting them even more riled up when I walk out to 'California Girls' by The Beach Boys! I want to hear some extra boos.
"Brock has a lot of experience in MMA and wrestling. He has actually fought some great guys — [Donald] 'Cowboy' [Cerrone] and Demetrious Johnson. This guy is always ready to fight and he isn't afraid to go up in weight classes. I know he is a gamer, but I hope he is coming ready to put on a show and wants to make it exciting. In some of the fights I have watched, he likes to keep people on the cage for 15 minutes and grind out the win. Win or lose, no one gets called up to the UFC with those kinds of fights.
"I like the match-up for me, though. He is strong, but not especially fast. And I don't think he will want to engage on the feet. I expect him to try to take me down, and that is just fine because I am dangerous off my back. But I am always going for the KO with my hands. I have always liked the way B.J. Penn fights, and I think that's my style too — boxing with jiu-jitsu."
Murphy has consistently improved after every fight. When he stays true to himself, he puts on a heckuva show. If he isn't already on your radar as one of the up-and-coming fighters to keep an eye on, this fight will change that.
Joe would like to thank Newaza Fight Gear, Virus, OTM Fight Shop and BSN, who has been with him since before he went pro. He would also like to thank all his teammates, friends and family for all their support and help. He would also like to thank all of Huntington Beach and everyone in Idaho. Follow Murphy on Twitter:
@jsmurf135
---
Advertisement

---