In the world of contact sports, age usually plays a pretty significant factor. Take a look at MMA fighters and you will see that there are not many pushing 40 years of age and still finding success. Mike "Quicksand" Pyle is one of the few.
Pyle will be turning the 40 in September, but he will first be competing in his 39th professional mixed martial arts bout when he takes on rising newcomer Colby Covington at UFC 187 this Saturday. Pyle has compiled a 5-2 record in his last seven fights, a feat that many cannot claim. So, does Pyle feel that it will be time to hang up the gloves soon?
"I don't know. I have no idea," Pyle told Combat Press. "Until something tells me that I need to not do it anymore, but right now I'm going strong. Whatever it might be, whether it's a shit performance like my last fight. I got caught. It wasn't like I got dominated for three rounds. I just got caught and went down. I can't judge off of that, as far as performance-wise. When I can't do it anymore, I'll know and everybody else will know. Bottom line is, my fights will tell me so.
---
Advertisement

---
"In training, I have guys that are just in their 30s, or not even in their 30s, who are bigger, stronger, younger, and they can't deal with me. I still got some fights left, and I'm just going to keep on doing it till I can't anymore. I enjoy it. I enjoy the training and the lifestyle. I'm not going to retire or quit fighting because of a number. An age. I don't feel 40. I don't look 40. I don't move like I am 40. I am a conditioned athlete and, like you said, out of the last seven, I've got five wins — and probably three or four of those are knockouts."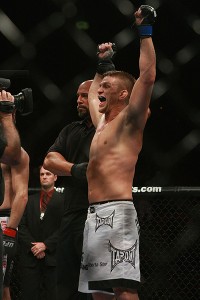 It will have been nine months since Pyle's last appearance in the Octagon, when he was stopped by Jordan Mein in the first round. He was originally slated to take on Sean Spencer this Saturday, but Spencer was pulled from the fight just a month out due to injury. Instead, Pyle will be facing Covington, a much different fighter.
"I'm a fighter and I get paid to fight whether the spelling of their name is one way or another," Pyle said. "It doesn't really matter to me [at] this point. At this point, there's not a title shot for me. It is what it is. I'm going to be honest here. Unless there was some kind of freak accident where the top 10 welterweights were hurt and unable to fight or something like that, I get the chance. I know what it is. It's not in my future. I'm going to continue to fight and be a force to reckon with.
"Coming up with Colby, it doesn't matter. I get to fight. I get to put food on the table. I get to put some money away. I was geared toward Spencer, though. I was geared toward primarily a boxer, with some decent takedown defense and [he] was a conventional fighter. Now, I get a stud wrestler that fights left-handed, so it's a complete 180, but that's fine by me. Try to wrestle me, that's fine. This isn't a wrestling match. It's a fight. Let's see how it goes."
Opponent changes affect many mixed martial artists in the sense that all the preparation has gone into that specific fighter. Pyle had not experienced an opponent change during his career until 2012, a whopping 13 years from when he first started.
"To be honest with you, my first opponent change came in UFC 142," Pyle said. "Then, the second one was Rick Story, and I was supposed to fight Gunnar Nelson. Then, there was Demian Maia to me. So, only three times has it ever been changed in my career. It's not like I had a lot of experience [with opponent changes], it's just the overall experience of being ready for a fight. Having trained for just a wrestler or just a striker, a righty or a lefty. All those other times helped me make a change when there's a guy going from a lefty to a righty and shit like that. It's not a big deal. You're in a fight and, for the most part, you rely on your reaction and your reflexes when it comes to a fight. You can have a game plan in your head and then you take a couple of lumps on the head and shit changes.
"Colby has seven fights on him, but he has a shit-ton of wrestling matches, so he knows what it's like to compete. I can't look at it like, 'Oh, he only has seven fights.' The guy probably has four or five hundred fucking wrestling matches this whole time. He knows how to compete. But this is a fight. We're not wrestling. I'm going to be punching you in the face as hard as I can at any given chance. You've got to learn to take your lumps over the years and have some fights. So, I just don't think he is going to be ready for what I've got to offer."
Pyle's decorated career goes back further than most fighters have been competing. His first professional bout that he can remember occurred in 1999 against now former UFC light heavyweight champion Quinton "Rampage" Jackson. Back then, the fighters weren't even referred to as mixed martial artists.
"That's back when we were called NHB fighters — No Holds Barred. Now, we are mixed martial artists," Pyle said. "The sport has become… you can turn on the television at any time and the UFC is playing. It's become mainstream, and along with that comes education of the sport. You know, well-spoken athletes and guys that can go and sit behind a camera and read a teleprompter and tell you a story. They've become TV personalities. And everybody is getting educated and whatnot. They don't have anything else better to do than fight."
It's always interesting to see where a fighter establishes his or her roots when it comes to the sport. There are so many different variables that can factor into the equation. In Pyle's case, the beginning came in the backyard of his parents' home.
"It was in an old shed," he said. "I'm from Tennessee in a very small town in hillbilly land and I didn't have access to martial arts training. And I always wanted to be Bruce Lee. Every time a Bruce Lee movie was on, I would get sent outside because it was time to kick and punch something.
"Being in that small town, I didn't have access to martial arts, so I created the surroundings myself. [I] bought video tapes, a grappling dummy, punching bag, threw some mats down — well, it wasn't actually mats. It was makeshift mats. It was carpeting, as much carpeting as I could find wherever I could find it, and just make it as thick as possible. The room was 13×15, if I remember correctly. It was just enough space for me to do what I needed to do. I practiced with video tapes. I practiced on a dummy — and when I say dummy, I mean my cousin. My grappling dummy and my cousin helped train with me and just had fun with and tried to learn. And that is basically how I learned how to grapple. I would train there and then I would go compete in grappling tournaments and win, and win first place and things like that, just learning on my own, and then I saw Royce [Gracie] and I started chasing him around seminars down south that I could afford to go to.
"Then, I caught a guy named Jeff Mullen, who is a part of the Athletic Commission for Tennessee now, and he had a show on Beale Street in Memphis, Tennessee. [It was] modified rules for MMA, you know — headgear, same gloves but with different punches to the face on the ground and things like that. He came to one of Royce's seminars in Memphis, and he had flyers out to come and see his show. And I asked him, 'How do I get on that show?' Here's exactly how the conversation went. I said, 'How do I get on that show and fight?' He said, 'Can you fight?' I said, 'You're damn right I can!' He said, 'Well, you are on the show.' So, that was it. And the rest is history. I started competing there and got some experience there and started reaching out to bigger organizations and slowly worked my way up the ranks, and with ranks came show status [and] getting more and more noticed through promoters and matchmakers and things of that nature.
"Pretty much self-taught man, pretty much self-taught. That was the earlier part of my career. The fight with Rampage wasn't actually my first fight. That was his first, but I can't for the life of me remember the names of the guys that I fought and, of course, they can't put up question marks there. I had about five fights before that match. I was undefeated until then."
That was 16 years ago. Since then, Pyle has fought some of the who's who when it comes to the UFC's welterweight division. He has notched wins against tough competitors like Josh Neer, Ricardo Funch, Rick Story, Ricardo Almeida and T.J. Waldburger.
Most recently, though, Pyle faced a new type of adversity. It turned out to be his toughest competition to date. That, of course, would be fatherhood.
"Raising my son [Max] — being a dad — it's awesome," Pyle said. "It's the best thing ever. It really is. It is super cool, super fun. I recommend it for everyone."
With the addition of little Max, who is now two years old, a big change was made in the family makeup of the Pyle household. Like the veteran he is in the cage, Pyle was able to solve the puzzle and use his experience outside of the cage to get the victory.
"The wife, for the first year or so, was home and then she went back to work. It was just tough sharing the responsibility and getting to train and things like that. It was a little rocky," Pyle confessed. "I got it figured out. I just made her quit work. I just had her just freaking quit work so that I can concentrate on what I need to do, because I have a business that I run as well. So, alongside with that, I'm just too busy and she just needs to be home with my son. It had to be done. It's hard. It takes a lot of time and energy. It's not easy. So, as much rest as I can get and the ability to be able to recoup and recover from hard training, I'm all about it. I just had her quit to be home with our son. That way, if I need to go to Los Angeles and take care of things with the business, it's just a bigger help and he's with mom most importantly. He's with family throughout the day instead of daycare, where you don't know how he's getting treated and things like that."
Now that Pyle doesn't have to worry about little Max's surroundings, he is able to focus on the task at hand. Pyle trains out of Syndicate MMA and has been there almost his entire career. Pyle has split time at Xtreme Couture as well, and it is there that Pyle found the perfect training partner for this camp.
"When I get into camp, I was going over to Xtreme and training with some of the guys over there and just getting different looks and bigger guys. Like right now, Tom Lawlor was giving me a good push," Pyle said. "You know, he's 220, 225 pounds. The kid's a big boy, and he's a wrestler and he's a lefty, so he and I have been getting after it. There's not a fucking welterweight right now that will be able to deal with me and take me down. To be able to take me down at 170 pounds, you know, versus a 220-pound guy. So, if I can stuff his shots and keep that big bear off of me, Mr. Covington ain't got a chance.
"I will choose someone's style that best fits or reacts — maybe not the exact same fight style, but reacts to pressure in certain areas in the same way. For instance, I was fighting somebody who likes to stand in the pocket and just throw. That's how they react. When you put pressure on them, they aren't going anywhere. They're going to stand right there and they are going to try to slip, rip, dart, dodge and roll and try to knock your head off and stay right there, versus a guy who may start to Muhammad Ali and start moving around.
"Tom's already at the gym and he trains there all the time. He's the exact same height as the guy and he is a wrestler — a better wrestler than Colby — and he's a lefty and he's got better boxing than Colby. He's just better all-around, and he outweighs the hell out of him. So, I got a beast standing in front of me who's trying to kick my ass and trying to pin me up against the cage and hold me down and beat my ass and he's having a hard time. So, you put somebody who is my weight, my size and it's on.
"I'll be honest with you right now. With the way that I have been training, I don't even know what it's like to grab a lighter guy like that right now. I don't even have a clue, because I have just been getting after it with bigger, heavier guys. Give me somebody my weight. Please. I can't fucking wait to have somebody that's a lot closer to my weight than 35 pounds. I'm ready to go fight a 205er right now and move his weight around and get his big ass off of me."
Pyle is ready for his fight, but there will be another change after the bout. In July, the UFC's "mega" deal with Reebok goes into full effect. It has been met with pushback from all sides of the coin. Pyle is another one of the voices that need to be heard. He provided some words of wisdom to the less experienced.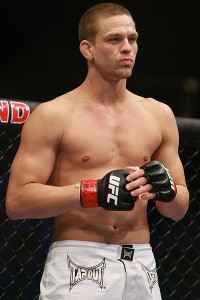 "I don't like it. It's a cut for me," Pyle revealed. "The company claims that it's a sweet deal and that we will get royalties from the merchandise. We get royalties from the merchandise from the kit that we choose with our name on it. So, if you're not that hot of a commodity, you're not making any fucking royalties off of it. Only your big stars are, which you're making money off of. You need to make sure they are being taking care of so that they can take care of you. The rest of these, what I would consider grunts, are not getting paid the money that they could. I think it's a shitty deal and I don't like it. I don't have much else to say about it, but it sucks.
"I don't make tens of thousands more than what my 'tier' is, but I do make more than that. And I have a kid. I have a future. They just took that… so, thank you. You're just taking money from me and then you claim that, 'Oh, the kits and things that you choose and all that, that are sold online [count toward pay].' Well maybe you're not that popular of a fighter. I don't think I'm a popular enough fighter to make a substantial amount of money to sustain [or] to help make up for what they have taken away from me. That's my opinion. Then you'd better be 'an exciting fighter,' and you're putting it on me now. Where's the balance at? Now, I gotta go and do something different to make more money? Be a different fighter? Come on. And [UFC President] Dana [White] has already said that there are separate deals made with the more marquee fighters.
"Whatever. I can't focus on that. I gotta focus on my fight and what I've gotta do and focus on my family, and they can continue to do whatever it is that they are doing, because I don't have a lot of years left.
"The only good thing is that after this fight, I fall into the next tier — into the 16-20 [fight tier]. So, after this one, I'm a bit more happy. But, right now, I am not. But it does not affect me with this fight. On a larger scale, it affects all the fighters and the sport that I am involved in. I think it sucks. Giving $10,000, $20,000 to the big guys and $2,500 to the grunts, and tell them, 'Oh, but it's okay. You get royalties and blah blah blah…" and blow smoke up their ass, because those kids probably don't know shit about royalties but I do. If you're not generating any revenue with your name on it, you don't get no royalties."
Pyle will be 100 percent focused on his upcoming opponent, Covington, this Saturday at UFC 187. His fight airs live on the UFC Fight Pass prelims, and had just a few parting words of wisdom to all fighters and fans alike.
"Sometimes, you're the bug. Sometimes, you're the windshield in this work."
Mike would like to thank his coaches and training partners. He would like to thank Nate Petit, Jimmy Gifford, Tom Lawlor and Miles Hunsinger. He would also like to thank Syndicate MMA. He would also like to ask fans to check out his fly fishing apparel business at
Fishonenergy.com
. Follow Pyle on Twitter:
@Mike_Pyle
---
Advertisement

---