Performance records mean different things to different people. Whether in business, sports, academics or any other endeavor where scores are kept, records are held in very high regard, especially by the individuals they are attached to. In sports, going through an entire career without a single defeat is a very rare occurrence. Even Floyd Mayweather Jr., who is undefeated as a professional boxer, lost a couple times at the Olympic level. Michael Jordan, Tiger Woods, Michael Phelps and even a juicing Lance Armstrong have suffered multiple defeats in their pro and/or amateur careers.
However, when it's a team sport, it's never just one person that loses. It's the whole team. In tennis, golf and many other individual sports, it's not a one-on-one affair. Every one of those competitions consists of an entire field of athletes. Combat sports are very different. In boxing, grappling, kickboxing and mixed martial arts, records arguably mean more than in any other sport. At the very highest levels of combat sports, a fighter might only go to war a few times per year, so every single fight matters in the grand scheme of things. Just ask UFC veteran Joseph Benavidez.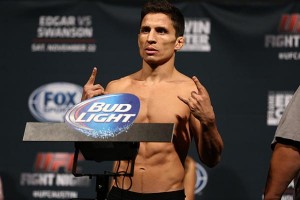 Benavidez has an amazing record. In his nine-year pro career, he has faced the who's who of the lighter weight divisions and has only lost to two men, UFC flyweight champion Demetrious Johnson and former UFC and WEC bantamweight champion Dominick Cruz. A 21-4 mark against the best guys in the world may seem like a huge accolade, but there is some important information being left out.
---
Advertisement

---
"I'm glad you brought up my record, because when someone mentions that, I have to remind myself that I have five other wins that aren't even on my record," Benavidez told Combat Press. "It always pisses me off, because the record's nice, but it would look even better with five more wins, all finishes as well. But, I have four losses to two guys, and two of them are split decisions, which kills me too. I mean, if you're going to lose to someone, both of the guys are world champions and I'm the only guy to give either of them split decisions."
Somewhere buried in the archives of the ever-developing MMA record-keeping system are the other five wins that Benavidez mentioned. Five finishes to add to the 15 on his official record, which means that of his 26 total wins, he stopped 20 of his opponents. On paper, that does look better than 15 stoppages in 21 wins, but this athlete is impressive no matter how a person looks at it. What is even more impressive is his handful of losses.
At WEC 42, Benavidez went the distance with a pre-title Cruz in what was one of the best fights of 2009. While Cruz took the unanimous nod, both men earned "Fight of the Night" accolades, as Benavidez was able to push the pace against a much rangier opponent who typically stays on the outside. When the two met again, it was for Cruz's first title defense at WEC 50, and that fight ended in a split decision. The whole Cruz saga lasted about a year and a half, and within seven months, the young Texas native was fighting in the UFC.
After a couple bantamweight fights for Benavidez in the Octagon, the UFC implemented the new flyweight division and Benavidez went down to his ideal weight class. With an extremely successful bantamweight career, he was poised to be a monster at 125 pounds, and that's exactly what happened.
At UFC on FX 2 in March 2012, Benavidez knocked out Yasuhiro Urushitani in the second round of their flyweight tournament semifinal match-up. The next fight was six months later at UFC 152 to crown the inaugural UFC flyweight champ. Standing across the cage was Johnson. In a back-and-forth war, Johnson took a split decision, and the feeling returned from Benavidez's last loss to Cruz. So close, yet so far away.
After running through three more top flyweights, Benavidez got his second chance at Johnson at UFC on Fox 9. The result was something that nobody would have ever predicted, as the champ dropped Benavidez with a punch in the first round to hand him the only knockout loss of his career. How badly does this 30-year-old want another shot at both of these guys?
"It's not so much about looking forward to them or anything concrete, like a result," Benavidez said. "It's more looking forward and doing everything I can each and every day to get better. I can't control whether or not I will fight them again, but I can control the path to getting there. I think about the stuff I can control during my workouts."
Benavidez is one of the veterans of Urijah Faber's Team Alpha Male in Sacramento, Calif. After joining the team in 2008, he quickly excelled in the sport. While Alpha Male is his primary home, especially during camps, he, along with other members of the team, like to get out and train with other teams.
"When I'm in fight camp, I spend all my time at Alpha Male in Sacramento — that's my home," explained the Texas native. "But, for instance, I haven't fought since November, and it's hard to stay in one spot. When I'm in Sacramento, I'm going hard. I'm going to two to three practices a day, because that's what's going on. That's my life here. It's kind of hard to do that from November on, so I like to mix it up.
"I'm in Vegas now, so I spend some time there. I've been there since Thursday, so I have a place to stay and get in some training there — a little lighter, more technical work with my boxing coach Jimmy Gifford or Robert Drysdale sometimes. Before T.J. [Dillashaw] was going to fight [Renan] Barao, we all made a trip to Denver and stayed out there a few weeks — we've made two trips to Denver — and got some training in with Duane Ludwig and the guys at MusclePharm and Easton Jiu-Jitsu. Any time I can mix it up is nice, but if I'm buckling down and getting ready to perform at my best, I'm always out in Sacramento."
From December 2012 to May 2014, Ludwig, a longtime UFC vet, served as the head coach of Team Alpha Male. During that time, the team went on an incredible run, winning most of their fights while clearly displaying a much-improved striking game. Since Ludwig has been back in his home state of Colorado, the Alpha Male guys have made some trips out to continue training with their former head coach.
"I think it's pretty incredible out there," Benavidez said. "Duane is the best coach there could be in MMA. He knows his stuff, and he's a mad scientist, literally, when it comes to mixed martial arts. His passion and everything is so contagious. There is no way to not work hard and improve under Duane Ludwig, whether you're trying to fight and be a world champion, or you're just trying to have fun. The martial arts, the discipline and to get in shape — I don't think there's a better place to be.
"I really enjoy my training in Denver, and any time you get to go mix it up at different gyms is great. The MusclePharm gym is an incredible facility. The wrestling coach, Leister Bowling, was excellent and there are a lot of really good fighters there. My experience in Denver was awesome, man. I felt that elevation is not a good experience in the beginning, but when you get back to sea level, it pays off. I think Duane's awesome, and I get out there whenever I can."
The last outing for Benavidez — the first since Ludwig moved back to Colorado — was in November 2014, when he took a unanimous decision from a gritty Dustin Ortiz at UFC Fight Night 57. The fight before that was a dazzling submission of Tim Elliott the previous April. It was a relatively slow year for Benavidez in 2014, but he was happy with the results.
"My assessment of my last two fights? They've been good," said Benavidez. "I fought two really great opponents — scrappy guys, to say the least — and they've been some of the harder guys to deal with. Tim Elliott's been giving everyone at the top level problems, and Dustin Ortiz is tough as nails. I feel like I hit him with every shot I could, and he didn't go down.
"Both fights made me better, and I can't complain about that. With Elliott, I got a submission that has never been seen before in the Octagon — 'Submission of the Year' on a few peoples' polls. I'm happy with it. Any win in the UFC is nice. You know, you're fighting tough guys, and you can go out there any night and lose, so when you come out with a victory over a top-notch fighter in the world [it] is nice."
Top-notch fighters are lining up for a shot at Benavidez. These fighters are hungry for title shots, and Benavidez's only flyweight losses are to the first and only UFC flyweight champ. In fact, he hadn't even left the venue from his last fight before the challenges started to arise.
"After my last fight with Dustin Ortiz, Wilson Reis literally tweeted me while I was at the press conference saying, 'Hey [UFC matchmaker] Sean Shelby, I think me and Benavidez is the next match-up to make,' and I was like, 'This is awesome,' because I can fight right away and I'd like to fight three times a year, every year," stated Benavidez. "Once I heard that, I told Sean Shelby I'd fight Wilson Reis, and he told me he had [John] Moraga in mind, and I thought that was good too. It's a good match-up for me, and I'm excited to go and take part."
Moraga is a flyweight standout who was an All-American wrestler at Arizona State University and has tremendous striking prowess. Four of his five UFC wins have ended in finishes, and one Octagon loss was a doctor's stoppage, while the other was a submission to none other than Demetrious Johnson. Reis would have been another great opponent, but Reis hasn't quite cut his teeth at the same level as Moraga. Benavidez knows both men well and he is very happy with his next match-up, which is set for UFC 187, this Saturday night at the MGM Grand Garden Arena in Las Vegas.
"He's well rounded, you know?" admitted the former title contender. "Everyone in the UFC is. There's not one particular thing I'm looking at, because I feel that I can compete with anybody in the division anywhere. Just him in general, being a tough guy, being a good athlete and being good everywhere. He has some good experience, has been in with tough guys, and it's a fight."
A fight it is, which, for a guy in Benavidez's position, has become something that is too few and too far between.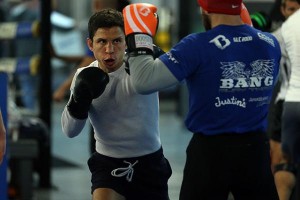 Benavidez competed in only two fights in 2014, and this will be his first bout of 2015, so it's not looking much better this year. Prior to the UFC's absorption of the WEC's lighter weight divisions, the veteran was fighting at least three times a year, but his fight schedule has slowed down quite a bit. He really would like to get in two more fights before the end of the year to keep bolstering that record, while also getting back in line for another title shot.
"It would be nice, because in three of the last four years, I've only fought twice," Benavidez elaborated. "One year, I fought four times, and I loved it. I know three's the average, and that's always good, but I understand that the division's small and it's hard to get some match-ups. I just know I'm in my prime and I'm working hard every day and I'm performing at the top of my game. It's an injustice if I'm only fighting two times per year. That's like another third of my income and stuff. I can only do this so long, and I'm trying to get as many fights in and make as many memories for people and fans in anything I can."
For all intents and purposes, the life of Benavidez revolves around training, but with a wedding on the horizon, he is traveling a lot to Las Vegas to spend time with his fiancé, Megan. The fact that his next fight is there makes this an easy trip.
"I try to spend time with my fiancé whenever I can," said Benavidez. "We have a long-distance relationship with her living in Las Vegas and me living in Sac. So, anytime I feel like I can take off a week from training and do some wedding planning or something like that, I'll just go to Vegas to be with her.
"I'm pretty chill, man. I'm pretty boring. I just like to watch movies at the house, and there's not a lot of time when I'm not training. That's what I like to do anyway. Now that the summer is coming up in Sacramento, we like to hit up the river and do some stuff like that. Other than that, man, I don't go out and drink or party or anything. If I'm not in the gym, I'm just enjoying my downtime."
Just for the record, Benavidez is anything but boring. The guy is unofficially 26-4 as a pro fighter, plays basketball and volleyball when he's not in the gym, is set to get married later this year, and, in between camps, he travels to other gyms around the country to get in in as much training as possible as he prepares for his next battle.
In MMA, arguably more than any other sport, records mean everything, and Benavidez has one of the best records in the game. He has only lost to two guys, and they are both world champions. At UFC 187, he has the chance to bring one more win to his record and move himself that much closer to another shot at the UFC flyweight title.
Joseph would like to thank all of his coaches and training partners at Team Alpha Male, Duane Ludwig, and the guys at MusclePharm and Easton Training Center in Denver. He would also like to thank his family, friends, fans, fiancé Megan, and sponsors: Mark Bell's Sling Shot, howmuchyabench.net and MusclePharm. Follow Benavidez on Twitter:
@JoeJitsu
---
Advertisement

---