In life, we are all faced with many obstacles that may get in the way of our hopes and dreams. For some, those obstacles can be very minimal and easily overcome. Then there are some that face the daunting task of making life choices that can either be a game changer or a devastating blow to their respective career.
Bojan Velickovic finds himself in the latter situation.
Born and raised in Serbia, the mixed martial artist made the decision to leave his family and his home country in pursuit of his dream to become one of the top fighters in the world. MMA is not as established in Serbia as it is in the United States, so the move made sense from a career perspective. Home to some of the world's best fighters, coaches and gyms, the United States offers so much for a growing fighter, and the move is almost necessary for some young men to reach that elusive goal.
---
Advertisement

---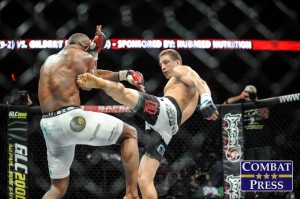 Some fighters are hesitant to make the move, and understandably so. Just put yourself in their shoes. You leave the place you have known all your life. You leave behind your family and life-long friends who have been there with you every step of the way. Add in the fact that you are coming over essentially to get beat up by some of the top fighters in the world on a daily basis and the idea becomes even more absurd.
However, Velickovic felt it was the right decision for him and his future. He jumped at the opportunity.
"So far, it's been amazing," the 26-year-old told Combat Press. "The only reason why I moved to the States was to get better in MMA, and I think I've made that progress so far. If you take a look at my last couple of fights, I think I am making a huge progress. I am very happy that I am here and I have the opportunity to work with so many good coaches and such a good team."
Though things have gone well thus far for the Serbian fighter, there are still things he misses about his native land.
"I miss my family, first of all, then friends and always the food," he said. "I miss the feeling of when you are around family and friends with a little bit of music and having a good time. The culture, I also miss, because Europe is completely different than the States. In Europe, we have a lot of historical places, and the United States don't really have that part, but it has a lot of other things that attract people from around the world to achieve their dream."
Another not-so-publicized aspect to the level of training and knowledge in the United States compared to other parts of the world is the nutrition side of things. Weight cutting has been a staple in the wrestling culture, and the United States wrestling roots grow deep. Velickovic, who has struggled to make 170 pounds in the past, has benefited greatly from that practice.
"Now, it's a piece of cake," he said. "The first weight cut was real hard because I didn't know if I was going to make it, because some people were questioning me. They said I had this and that and I had a lot of muscle and I need to lose a lot, and that created pressure on me. But I think I handled that pressure well.
"My first weight cut was for a fight in Europe against a Russian guy for the title, and I won that fight in the second round via choke — and, at that point in the fight, I felt really great. My cardio was better and I was moving faster, punching faster. My reaction was a lot better than before and I loved it. From that point, I knew 170 was going to be my weight class."
When the UFC announced the new season of The Ultimate Fighter would pit super camps American Top Team and the Blackzilians against each other, many people thought it would be a no-brainer that a talent like Velickovic would make it on to the show. When the names of the cast members were released, though, his name was not on the list. It came as a shock to many fans and other fighters.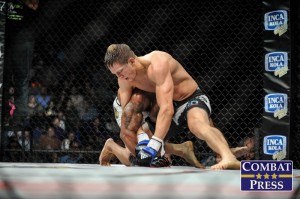 "I'm not really the person that can give you that kind of answer," he said when asked about the show. "I was training for that show. It was 15 of us, and just eight guys get into the house — and I wasn't one of those guys. I was a little bit surprised because some coaches told me that I needed to stop working because they wanted me to be 100 percent in the gym because they want me on the team. Then, the coaches said it wasn't their decision — that the UFC was choosing the team — and then the UFC people told me they had nothing to do with it and it was all the coaches' decision.
"I really don't care, because I am really happy how things worked out for me. I tried out for the show in 2013 and I didn't make it to the show. I was training for this particular show and I didn't make it to the show, and there is obviously a reason."
Though things haven't panned out the way he would have liked, Velickovic is still certain he will be where he set out to be when he left his home. Of course, that final destination is the UFC. He will just have to take the longer route to get there, but given how much he's already sacrificed to get to this point, that is nothing he can't handle.
"I know that I am going to make it to the UFC. I think The Ultimate Fighter show is a shortcut for some fighters. I don't think I need any shortcuts. I'm going to grind my way there and earning it through my fights and that's it. I know my potential and I just needed this kind of environment of a team that supports me and believes in me, and I have that right now. I'm super happy to be with these people and these coaches that I have right now. I found great people in ATT and in Denver, and I am looking forward to putting on a great performance this Friday night. It's only a matter of time till my full potential comes out and you will see."
---
Advertisement

---