When you have been fighting as long as Bellator's Fernando Gonzalez you might learn a thing or two. Gonzalez started his mixed martial arts career way before a fighter could make decent money competing — a time where the UFC was nearly bankrupt and Tito Ortiz was the face of the sport.
It all started from humble beginnings. Most kids that grew up in Southern California have a choice of two sports: football or boxing. Boxing was Gonzalez's choice, and it was the avenue that kept him off the streets.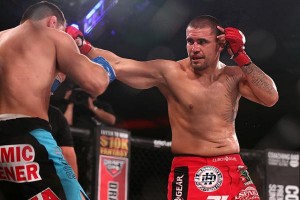 "Ever since I can remember, I was fighting as a kid," Gonzalez told Combat Press. "My parents put me in boxing to keep me out of trouble. It all motivated me. Growing up I watched all the great boxers from the '80s."
---
Advertisement

---
Fast forward to the present day.
When Gonzalez looks back at the era when most guys fought because they just loved to fight, he reflects on one thing that might have progressed his career a little bit faster.
"A lot has changed," he said. "These guys are getting better. I think the thing that has helped the game a lot is the amateur ranks now. Back when I started, it was either go pro or go home. A lot of these guys are getting experience racking up amateur records now. In my case, I had to grow and learn as I went along in my pro career."
Yet, Gonzalez would not change the path to where he is now.
Tonight, at Bellator 137, Gonzalez looks to add another win to the 23 that he already has on his resume. He knows that it will not come easy, though. His opponent, Curtis Millender, is coming into the fight fresh off a loss at Bellator: British Invasion.
"I don't underestimate anyone that is willing to sign their name on the dotted line," Gonzalez said. "If they feel that they can beat me — and I know he is not going into the fight thinking he is going to lose — anybody that is coming into the cage with that mindset is always dangerous.
"To me, it does not matter who it is or what their record is. He has already showed that he has the guts and skill to be in Bellator — the guts to just jump into the pool like that — on a card that big, with all the hype around it. [It] just shows how dangerous he is, no matter what his record is."
When Gonzalez enters the cage, he will be looking to make it four wins in as many tries. He feels that Bellator is the home that he has needed for his career to flourish the way he always knew it would be.
"They have treated me great," he said. "Since the beginning, they have given everything that I have wanted. I'm an older guy, or getting older as far as the sports goes, with my record and all. I felt I wanted to jump in to fight the very best guys and not start at the very bottom. I wanted to show that, in my heart, I could compete with the best. Just the guys that I have been training with over the years, I knew I could jump in and start making a name for myself in my division. I never had the opportunity to show my skills. Now, in Bellator, they have given me that shot. I am going to try and make the best of it."
It does not take much to add your name into the mix for a Bellator title shot these days. Yet, no one is really talking about Gonzalez, despite his three-fight winning streak. Those wins came over former Dream titleholder Marius Žaromskis, former Bellator title contender Karl Amoussou and former World Extreme Cagefighting champion Karo Parisyan. If Gonzalez walks away with his hand raised again after fighting Millender, it could be his time.
"I really think that will come down to the promotion," he said. "I don't think anyone is doing what I am doing right now, as far as going in there and trying to put on a good performance and get finishes. Some are, but the ones that get the talk for title shots only have like two wins in a row. This will be my fourth win in a row, if I come out with the victory. As far as putting in the work, I have done what I have needed to do to get my title shot. I will be ready for it when they come calling."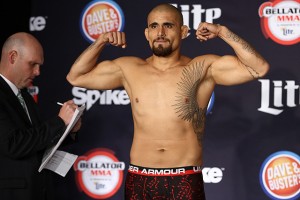 At the end of the day, Gonzalez knows what MMA means to him. He knows that win or lose, it is not a matter of life or death. It is a job.
"I try not to take anything too seriously," he said. "At the end of the day, it is just a fight. Everyone is trying to win that title. The more you put pressure on yourself, the more hesitant you are going to fight. You are worrying about the next guy when the guy in front of you is just as tough.
"I think the more relaxed you are and just go in there and perform — just go out there and fight the way you know how and train your ass off and put on a good show — win, lose or draw, the people will know how much you put into it by the way you fight. The more you let the hype get to you and you get the mindset of I have to win, I feel it slows you down. For me, it did. I have to go out there and fight one fight at a time. I just go out there and put on the best performance for me and my family."
Fernando would like to thank Clinch Gear, Dr. Toy Chiropractic, Duello Sports Management, Esparza Plastering, Heritage Tattoo's, Nutrition Zone and Juan Pollo Taco's. Follow Gonzalez on Twitter:
@menifeemaniac44
---
Advertisement

---