It has become common knowledge that if you win an RFA title, the call up to the UFC is inevitable. Most fighters who sign with the promotion strive to reach the belt and then wait for the call that could possibly change their lives. This is the position where Terrion Ware finds himself as he prepares to face Luke Sanders on Friday, May 8, at a super card co-promoted by the RFA and Legacy Fighting Championship.
When the Los Angeles native Ware defeated Joe Murphy in February at RFA 23, he was unclear of what the future would bring. Though Ware has compiled an impressive professional record during his young career, a win over Murphy never guaranteed him a shot at RFA gold.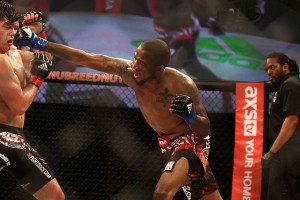 "I wasn't sure, but I am stoked that I did," Ware told Combat Press. "I had a good performance, and I am glad RFA chose me and gave me the opportunity to represent them as their champion."
---
Advertisement

---
This championship thing is nothing new for Ware. During his short, but very active, career, Ware captured BAMMA USA's bantamweight title in March 2014 and defended it successfully later in the year against Jeff Martin. Since his one successful title defense, Ware hasn't fought for the promotion again. Although Ware hasn't competed for BAMMA USA, he still considers himself the champ since, well, no one defeated him to take the belt away.
"Technically, I am still the champion," said Ware. "But I am under contract with RFA. I talked to [BAMMA USA CEO] Brett [Roberts] at the last show. We had some guys fighting there, and he asked if I wanted to come back and defend my title. I told him I don't know how that works, because I am under contract with RFA, so that will be something we will have to discuss. Right now, for me, RFA is proving the names and the match-ups that I need to get to the UFC. If something can be worked out and it's something I can't pass up, then we'll see. But so far, as of now, I am under contract with RFA."
Ware can become one of the few fighters in the modern era to hold belts from two respectable organizations. To achieve that honor, Ware will have to do what no one other man has done. He'll have to beat Luke Sanders.
Sanders is arguably one of the most promising prospects in the game today and many have pegged him as someone to really keep an eye on. That hype only grew when he captured the RFA gold and took part in some highly entertaining fights. If he wants to walk away with the belt, Ware knows he will have to bring something to the table that Sanders hasn't seen before.
"I don't think he's fought anybody like me, and, in my case, I've fought plenty of guys like him," Ware explained. "I've won, I've lost and I have the experience. I think my experience fighting the high-level guys and the higher-level competition than him is going to be the advantage that I bring in there. It's going to be something new for him, and whether he is able to step up to the table and prove me wrong, it's on him and we'll see when the fight comes.
"I also bring a different level of athleticism, and some of the guys he's fought have missed weight and they seem like they are out of shape and they gassed out. That is not going to happen with me. No disrespect to those guys, but I am not those guys. He is going to have to step up to the plate and prove than he can fight that caliber of opponent."
Needless to say, Ware walks into his battle with Sanders with extreme confidence that he will emerge as the RFA champ. Although the complete history will tell us otherwise, the common trend hasn't been kind to some RFA champions. Whereas the RFA title always meant a UFC call in the past, it isn't such a slam dunk in today's landscape.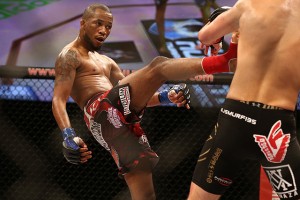 There is perhaps no better example of this than Ware's upcoming opponent. Sanders has all the tools and skills that usually warrant a UFC call-up. On top of his promising upside, Sanders captured an RFA belt, the same gold that has led to so many fighters getting the call they all dream about. Instead, Sanders finds himself in a very tough match-up against Ware. Should Sanders lose this fight, his path toward the UFC could take a detour. Fighters are becoming aware of the shifting trend for RFA champs.
"I don't plan on sitting and waiting," Ware said. "I think if I can get a win against one of the top five prospects in the world, then I have nothing else to prove. I think in Luke's situation, if you look at his record, I think the UFC might have looked at some of the opponents he has fought and for whatever reason they decided to not pull the trigger. Or maybe they didn't like his style. I truly don't know. I totally expected him to get the call to the UFC. I didn't really think he is ready to go to the UFC right now, and I am pleased I get the opportunity I get to fight him.
"But, in my opinion, this fight should be happening in the UFC. Things don't always go the way we plan, and the UFC has their way of doing things. And hopefully when I do win the title, I do get the call to the UFC and I don't have to defend my title."
Obviously, none of this talk will matter unless Ware goes in and defeats Sanders, a task that none of the reigning champ's previous nine opponents have been able to accomplish. Once Ware and Sanders go in the cage and a winner is crowned, we will have a lot more questions than answers concerning their immediate future.
---
Advertisement

---